Delta Psi, Alpha Chapter (St. Anthony Hall)
Introduction
The building at 434 Riverside Drive is the Delta Psi, Alpha Chapter fraternity house and was built for the organization in 1898 or 1899. Only one block from Barnard College and Columbia University, the five-story plus basement building is faced in white limestone and red brick and faces west toward Riverside Park. The building was entered in the New York and National Registers of Historic Places in 1996 for its architectural significance. It is an example of Early French Renaissance design and the work of two prominent architects, George C. Palmer and Henry F. Hornbostel, who were both Columbia U. graduates. The building is one of over 120 contributing to the Broadway-Riverside Drive National Register Historic District, between W. 107 and 119th Streets. It continues to serve as the Delta Psi House.
Images
2007 photo of Delta Psi, Alpha Chapter House (BoolaBoola2)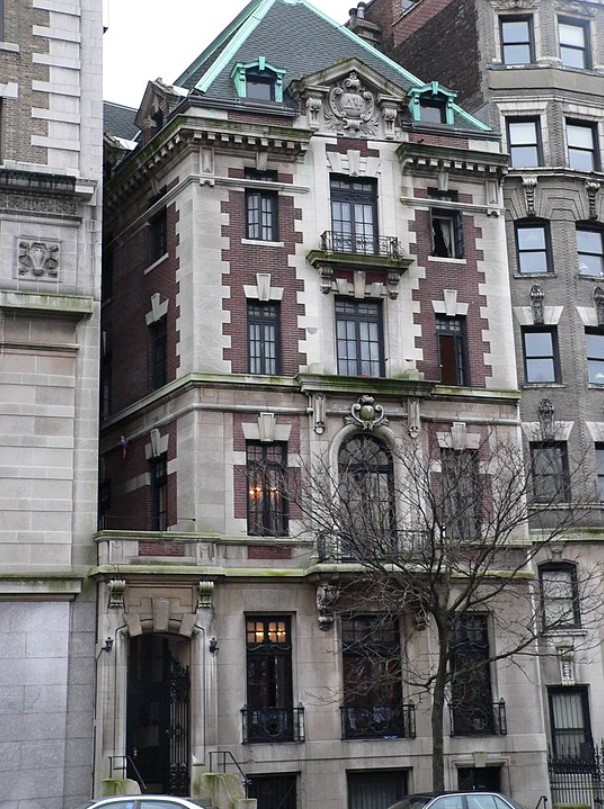 Delta Psi House in 1996 along Riverside Drive, looking northeast (Bill Irvine)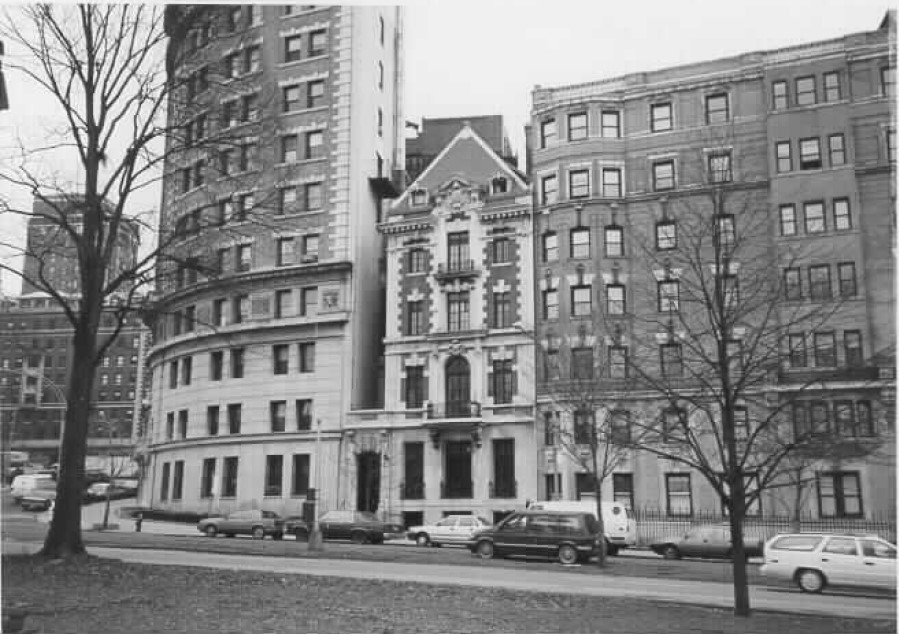 Building lot (purple) for Delta Psi House on 1894 map; old corridor Bloomingdale Road in blue (Bromley p. 38)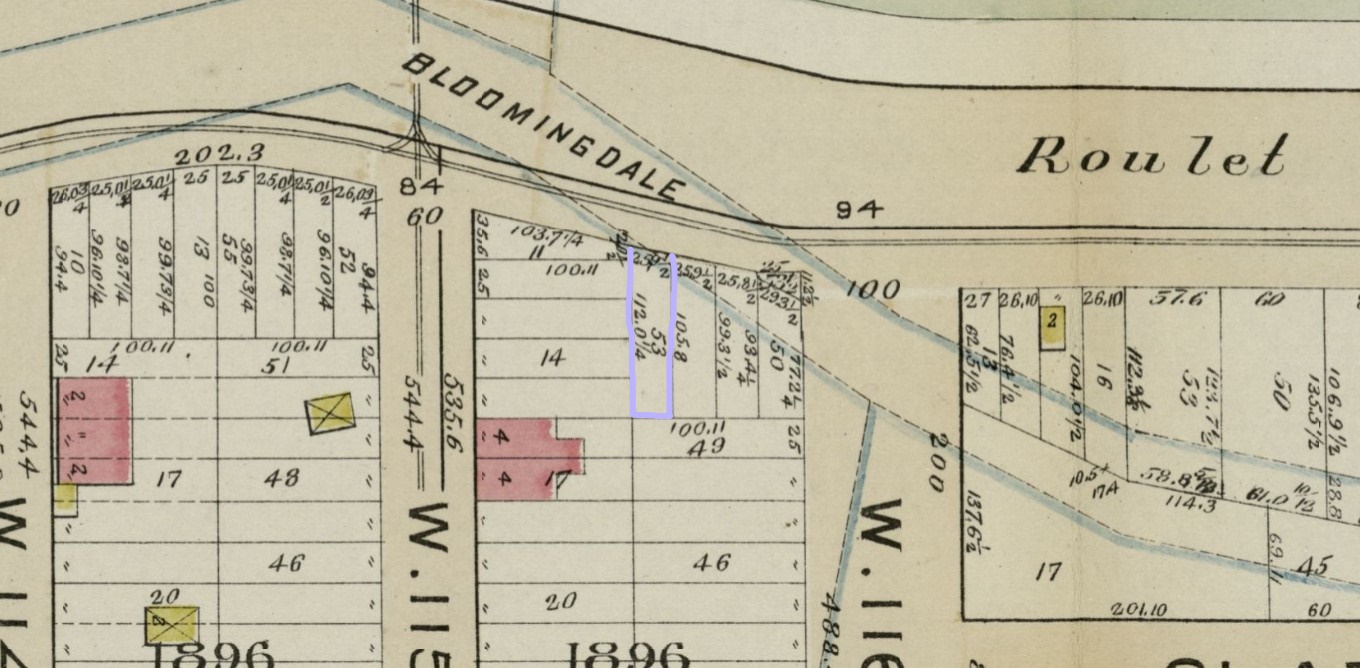 Second floor balcony supported by ornate brackets on west facade of Delta Psi House in 1996 (Bill Irvine)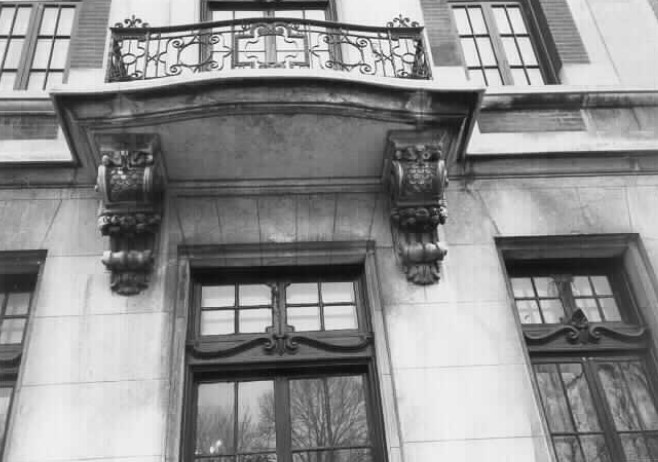 Backstory and Context
Columbia University's new campus (after a move from Madison Avenue) was established in the Morningside Heights neighborhood of Manhattan in 1897 on the grounds of a former insane asylum. The Delta Psi fraternity house was the first building constructed in Morningside Heights to house college students. The fraternity is the fourth oldest at Columbia and was organized in 1847 at Columbia College; since the Columbia chapter was the first Delta Psi, it is also known as the Alpha Chapter or the Alpha Club.
The Delta Psi alumni organization for all chapters (the St. Anthony Society) hired the architectural firm Wood, Palmer & Hornbostel in 1898 to design their new house in Morningside Heights, sometimes called St. Anthony Hall. One of the organization's alumni, George Carnegie Palmer (1861-1934), was a Delta Psi and a member of Columbia U.'s class of 1883. Palmer, the son of New York banker Nicholas F. Palmer, grew up in Manhattan on affluent Madison Avenue. The other architect responsible for the house's design, Henry Frederick Hornbostel (1867-1961), also was a Columbia U. graduate (1891) and a native New Yorker. Hornbostel studied at the Ecole des Beaux Arts in Paris from 1894 to 1897. From 1897 to 1900, Hornbostel served as an instructor in Columbia U.'s School of Architecture; he taught advanced students in design. Hornbostel relocated temporarily to Pittsburgh, Pennsylvania in 1905 and established the new department of architecture at the Carnegie Institute of Technology. The two architects designed a stadium for Columbia University in 1907 that was to be built on made land in the Hudson River adjacent to Riverside Park; funding didn't come through and the project was never built. Palmer and Hornbostel won a design competition for the vast temple-like New York State Education Building in Albany in 1907. The pair designed four city halls around 1909 to 1910, for Hartford (CT), Wilmington (DE), Pittsburgh (PA), and Oakland (CA). Hornbostel designed Hell Gate Bridge, a steel arch railroad bridge between Astoria, Queens and Randall's and Wards Islands, Manhattan, built in 1917. While working frequently in Pittsburgh, Hornbostel retained his main residence in New York's Upper West Side at 311 W. 77th Street until moving to Pittsburgh with his wife and children around 1921. The third partner in the firm in 1899, George Edward Wood (born 1862 in New York City), was a graduate of the Columbia School of Architecture (1886) and a member of Zeta Psi fraternity.
While the lots along Riverside Drive between W. 115th and 116th Streets were vacant in 1894, the newly-built Delta Psi House soon had a neighbor directly to the south, Columbia Court. The seven-story apartment building was constructed around 1900. Unlike most of the other ivies, Columbia University did not offer dormitories on campus, so apartment houses soon sprung up in Morningside Heights. The twelve-story apartment house to the north of Delta Psi, the Colosseum, wasn't built until 1910. The Delta Psi House is one of only three specifically built in Morningside Heights as a fraternity house and the lone example that retains it original function.
Sources
CultureNOW. Hell Gate Bridge, Museum Without Walls. Accessed October 6th 2021. https://www.culturenow.org/index.php?page=entry&permalink=10073.
Dolkart, Andrew S. Morningside Heights: A History of Its Architecture and Development. New York, NY. Columbia University Press, 1998.
Michelson, Alan. Henry Frederick Hornbostel (Architect), Pacific Coast Architecture Database (PCAD). January 1st 2021. Accessed October 6th 2021. http://pcad.lib.washington.edu/person/2088/.
Michelson, Alan. George Carnegie Palmer (Architect), Pacific Coast Architecture Database (PCAD). January 1st 2021. Accessed October 6th 2021. http://pcad.lib.washington.edu/person/2087/.
Waite, Diana S. Architects in Albany. Albany, NY. Mount Ida Press and Historic Albany Foundation, 2009.
Zeta Psi Fraternity. Person, Israel Coriell. Zeta Psi Fraternity of North America: Semicentennial Biographical Catalog. New York, NY. John C. Rankin Company, 1899.
Image Sources
https://en.wikipedia.org/wiki/Henry_Hornbostel#/media/File:Chapter_House_of_St._Anthony_Hall,_Columbia_University_NYC.jpg

New York State Cultural Resource Information System (NYS CRIS): https://cris.parks.ny.gov/

Library of Congress (LOC): https://www.loc.gov/item/2010587355/

NYS CRIS: https://cris.parks.ny.gov/