McDonald–Wait–Newton House (1836 Club)
Introduction
Now home to the 1836 Club, the McDonald–Wait–Newton House is a historic home located on the southern bank of the Arkansas River. It was built by U.S. Senator Alexander McDonald in 1869 and is the only surviving home built soon after the Civil War along what became known as "Carpetbagger's Row" (the term "carpetbagger" is a derogative term used to castigate Northerners who moved to the South, claiming that they did so to exploit political or financial opportunities. It's worth noting that the term often has a racial component as some of the people labeled "carpetbaggers" were white and African American teachers who worked at new schools created for the formerly enslaved). The house is named after McDonald and two subsequent owners: William B. Wait and brothers Tom and Robert Newton. In terms of architecture, the house is also historically significant as a fine example of the Second Empire style. It was added to the National Register of Historic Places in 1978. It is not open to the public. Today, the historic mansion is home to a social club named for the year of Arkansas statehood.
Images
The historic McDonald–Wait–Newton House, which is now home to the 1836 Club, was built in 1869 by U.S. Senator Alexander McDonald. Designed in the Second Empire style, it is the last of the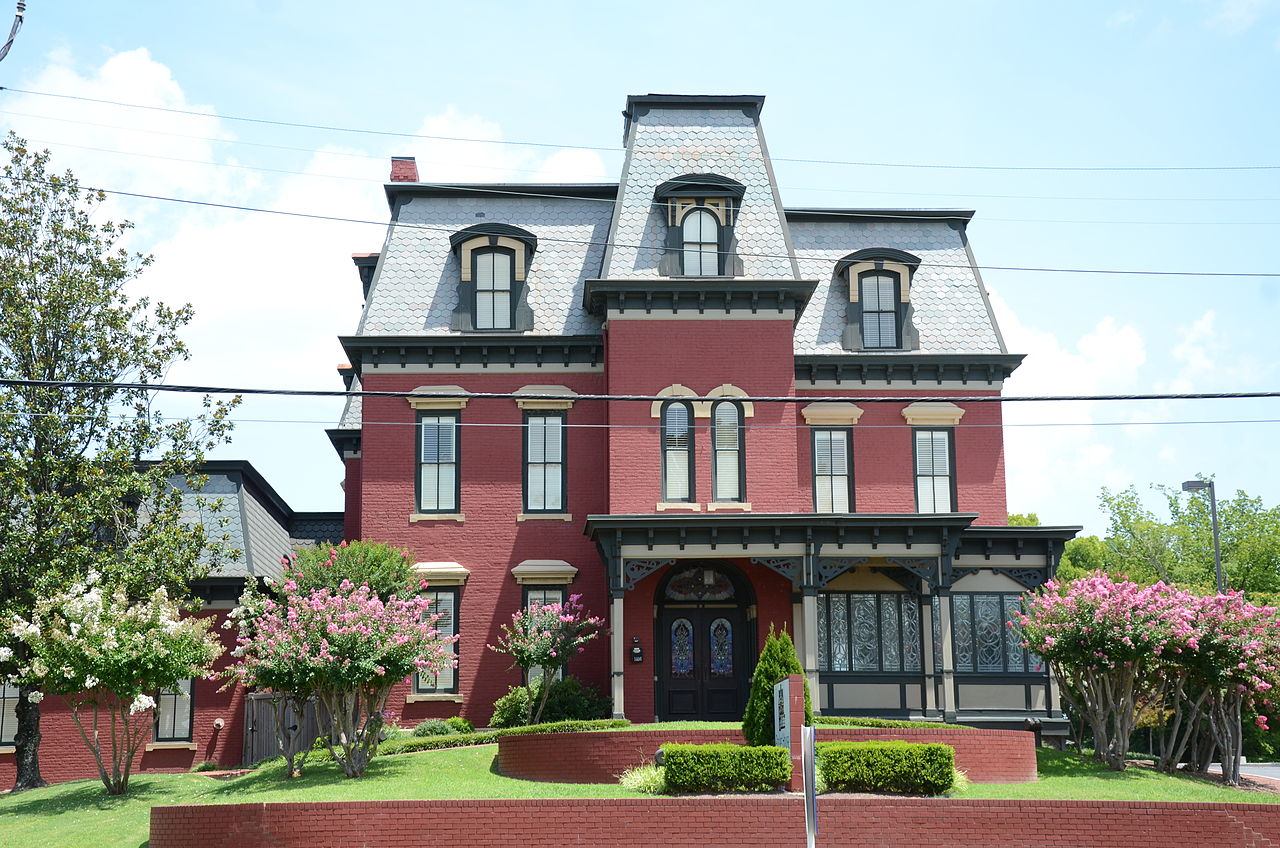 Backstory and Context
Alexander McDonald
Alexander McDonald was born on April 10, 1832 in Pennsylvania. He was one of seven children to parents John and Lucy McDonald. As a young man, he studied at Dickinson Seminary (now Lycoming College) and Lewisburg University (now Bucknell University), both of which are in Pennsylvania. When he was around 25 years old, he and one of his brothers went to the Kansas Territory and opened a sawmill. The business evolved into freighting and banking, and by 1860, McDonald was in Fort Scott, Kansas with a wife and two daughters. He would later have another daughter and one son.
During the Civil War, McDonald became captain of the Frontier Guard at Fort Scott and later became a supplier to the Union Army. He and a partner also established a bank at Fort Smith. Before the end of the war, he established the Merchant National Bank in Little Rock and served as its president. In this role, he worked to restore the city's and state's economy. McDonald also became involved in the railroad industry, serving as president of the Little Rock and Fort Smith Railroad. He also served as president of the Arkansas Bridge Company, which built bridges over the Arkansas River. As a result of these business activities, McDonald was believed to be one of the wealthiest men in the state.
It appears his foray into politics began in 1868 when he attended the state's constitutional convention. The state legislature named him as one of the two candidates to become U.S. Senators and both were sworn in on June 22, 1868. McDonald's main contribution to his one term was supporting President Andrew Jackson, who was impeached and helped convince other senators to allow Johnson to finish his term. McDonald failed in his attempt to be reelected in 1871 and never again returned to politics. He sold this house in 1874 and moved to New York. President Chester Arthur appointed McDonald in 1885 to review the finances of the Northern Pacific Railroad. He died in New York on December 13, 1903, at the home of one of his daughters.
McDonald–Wait–Newton House
McDonald sold the house to William B. Wait in 1874. Wait was a successful businessman, real estate agent, and banker from Knoxville, Tennessee. Wait and his family were known for hosting card-playing parties and musicals. The next owner was Ann McHenry Reider, whose two daughters and their families moved into the house. The daughters married brothers Tom and Robert Newton. The Newton family owned the house until they sold it in 1946 to new owners who renamed it the Packet House and converted it into 12 apartments. Around 1978, the house was sold to new owners who converted it into office space. The building was later converted to the headquarters of the 1836 Club.
Sources
"About." 1836 Club. Accessed July 28, 2021. https://the1836club.com/about/#.
McDougal, Susan & Miller, Frezil. "McDonald–Wait–Newton House." National Park Service - National Register of Historic Places Nomination Form. July 14, 1978. https://www.arkansasheritage.com/docs/default-source/national-registry/PU3243-pdf.
Teske, Steven. "Alexander McDonald (1832-1903)." Encyclopedia of Arkansas. Last Updated July 1, 2021. https://encyclopediaofarkansas.net/entries/alexander-mcdonald-4638.
Image Sources
Wikimedia Commons: https://commons.wikimedia.org/wiki/File:McDonald-Wait-Newton_House.JPG

Additional Information