Banneker-Douglass Museum
Introduction
The Banneker-Douglass Museum, formerly known as the Mt. Moriah African Methodist Episcopal Church, was originally built in 1875 and then renovated and officially completed on February 24, 1984. "The Victorian-Gothic structure was included in the Annapolis Historic District in 1971 and placed on the National Register of Historic Places in 1973." The museum just celebrated 30 years of operation back in February of this year; it is a must-see museum filled with historical and prestigious displays. In honor of Benjamin Banneker and Frederick Douglass, the museum also exhibits the lives of other famous Maryland residents who devoted their time to the advocacy of anti-slavery and racism.
Images
The Banneker-Douglass Museum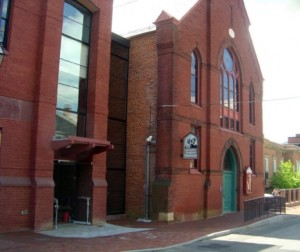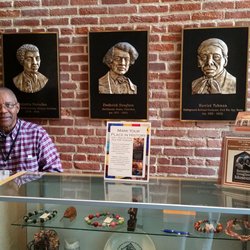 Backstory and Context
The Banneker-Douglass Museum portrays life during the harsh times when slavery prevailed; highlighting two very famous advocates, Benjamin Banneker and Frederick Douglass. Benjamin Banneker was born a free African American on a tobacco farm in Baltimore County, Maryland. He is known as the first African American of science and mathematics. Recognized as astoundingly intelligent, growing up he mostly taught himself everything that he came to know about science, astronomy, and mathematics; soon after, he published several almanacs. In addition to the almanacs, Banneker is also known for being an anti-slavery advocate. "In a bold 1791 letter to Thomas Jefferson, Banneker compared the righteous fight for freedom by the Colonists to the plight of the enslaved person in America. Since Jefferson's response seemed to acknowledge Banneker's reasoning, he wisely published their correspondence in one of his almanacs." A man with many talents and a strong mind, he was a strong-willed man seeking justice for all.
Like Banneker, Douglass was also very well known for his support of anti-slavery. Frederick Douglass was from Talbot County, Maryland. However, unlike Banneker, he had to escape slavery, which he did in 1838. "Frederick Douglass was the first African American to gain international prominence as a social crusader. With his commanding presence, Douglass was a tireless advocate for the anti-slavery movement and also supported the woman's suffrage campaign." Douglass' passion and desire for peace and justice translated to his speaking skills as he joined the American Anti-Slavery Society as a represented speaker.
The Banneker-Douglas Museum features many exhibits incorporating Benjamin Banneker and Frederick Douglass for their honorable aspirations to end slavery. In addition to their achievements, the works of Rosa Parks, Harriet Tubman, and Thurgood Marshall can also be found in the museum's displays. This historical museum represents the hardships, triumphs, and foreshadowing that developed our nation's history and heritage.
Sources
http://bdmuseum.maryland.gov/history/
Additional Information