Pacific City Hall
Introduction
Pacific City Hall at 122 Main Street originally was a cash grocery and feed store on the lower level, with town governance meetings held upstairs. The land and building were owned by one of the founders of Pacific City, land developer Phillip Stanton. Stanton either constructed or moved the wooden building to Pacific City between 1901 and 1903.
Images
The Pacific City Hall building at 122 Main Street, circa 1903. Photograph courtesy of the Helme-Worthy Collection.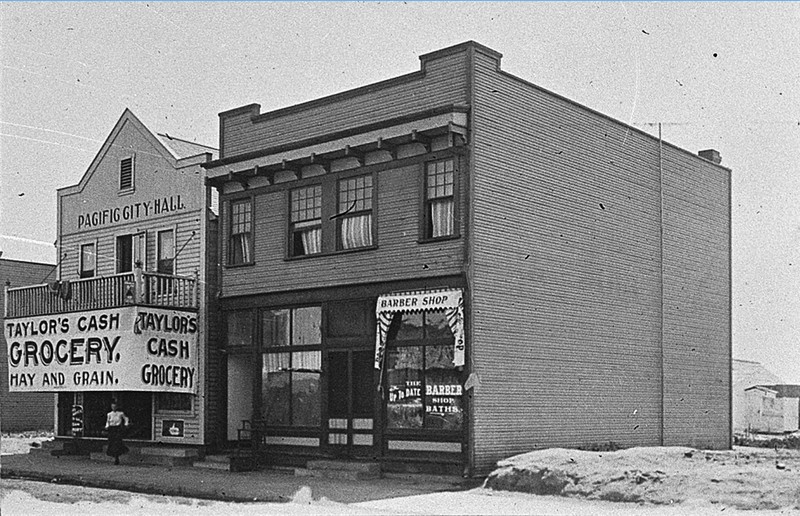 Main Street in 1907. Pacific City Hall can be seen at left, midway down street. Source: City of Huntington Beach archives.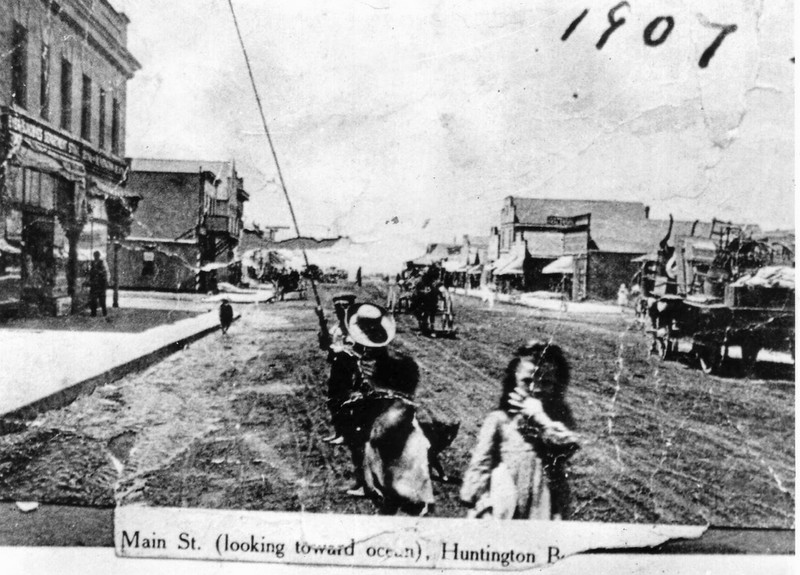 Backstory and Context
Pacific City Hall is where perhaps the first discussions were held about how to get Henry Huntington to bring the Pacific Electric Railway to town. Before its demolition, it was the oldest wooden building in downtown Huntington Beach, dating back to the city's infancy.

The false front commercial building type of Pacific City Hall was an icon of the pioneer West. For a developing town in the early 20th Century, the false front commercial building was an economical solution that allowed building owners to budget their major spending on a facade while using lesser expensive materials or treatments on the secondary sides of a building.

The Pacific City Hall building also was home to the first post office in 1904, a time before home delivery when residents came to collect their mail. With a cash grocer on the street level and a barbershop next door, almost everyone in the Huntington Beach Township would have passed through its doors.

In 1916, the Sarrabere family's 65-year ownership of the building began. They operated a family dry cleaning business there until 1981. Pacific City Hall survived an earlier threat of demolition in 1989, after community outcry saved it. In more recent years, a gelato shop operated in the building, while the second floor interior remained untouched from pioneer days.

In 2015, the Huntington Beach City Council voted to approve the demolition of the majority of the Pacific City Hall building for new development, requiring the builder attempt to save the Western false front facade as an architectural treatment for a new four-story building.




Sources
Penner, John. "HUNTINGTON BEACH : 'Shrine' a Target for Condemnation." Los Angeles Times(Los Angeles)December 05, 1989. . http://articles.latimes.com/1989-12-05/local/me-222_1_huntington-beach

Urashima, Mary. Pacific City: Our first City Hall. Historic Huntington Beach. December 11, 2014. Accessed April 15, 2018. http://historichuntingtonbeach.blogspot.com/2014/12/pacific-city-our-first-city-hall.html.

Milkovich, Barbara. Huntington Beach. Huntington Beach Public Library. . Accessed April 15, 2018. https://www.huntingtonbeachca.gov/files/users/library/complete/070806-7.pdf. A 4-page document on the history of Huntington Beach dating from 1784 to the late 1980's.

Urashima, Mary. Dreaming big: Pacific City 1903. Historic Huntington Beach. October 22, 0012. Accessed April 15, 2018. http://historichuntingtonbeach.blogspot.com/2012/10/dreaming-big-pacific-city-1903.html.

Historic Context and Survey Report. City of Huntington Beach. . Accessed April 15, 2018. https://www.huntingtonbeachca.gov/files/users/planning/Historic_Context_and_Survey_Report_Final_Draf....