Hot Corner
Introduction
Located at the intersection of Washington and Hull streets, "Hot Corner" has been an important professional, social, and commercial hub for African-American residents since the mid-20th century. It is centered around the Morton Building, a building complex which houses the prominent Morton Theatre and which has historically housed many Black-owned businesses. Hot Corner has been integral in promoting African-American entrepreneurship in the downtown area. During the 1950s, 60s and 70s especially, Blacks owned or managed the majority of professional practices and family businesses there. Two such establishments, Wilson's Styling Shop and The Manhattan Cafe, are still in business today. In addition to its economic significance, this district served as a vibrant meeting place for the Black community of Athens and Northeast Georgia for decades.
Images
Black-owned businesses have thrived at Hot Corner since the 1950s. Featured above is M.C. Wilson's styling shop and restaurant, circa 1981.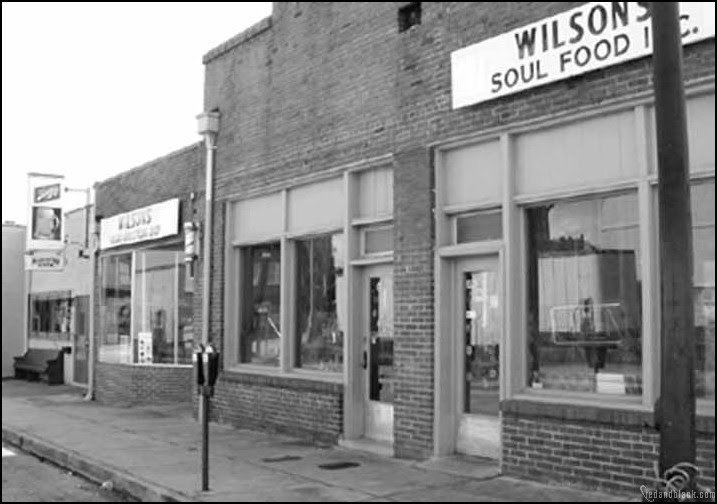 Here are some of the women of Wilson's Soul Food Inc., including Angelish Wilson (center), daughter of M.C. Wilson, who helped to maintain the home-style eatery for 30 years.
The Morton Building has housed an array of Black-owned businesses for more than a century, including barber shops, doctors' offices, a funeral home, a dentistry practice, drugstore and, most famously, the Morton Theater.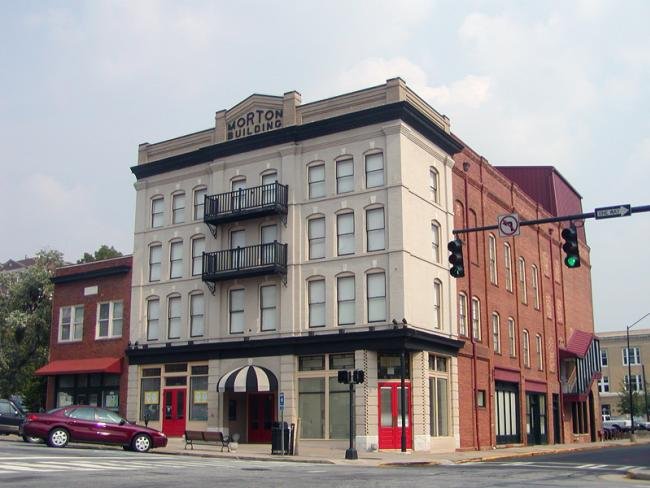 Backstory and Context
"Hot Corner" is a historically Black business district1 located at the intersection of Washington and Hull Streets in downtown Athens, Georgia. It originated in the early 20th century and can be linked to the naissance of the Morton Building in 1909. This large, four-story, brick and marble-faced building complex was the creation of prominent businessman, politician and former slave Monroe Bowers "Pink" Morton2. It houses the Morton Theater, originally a vaudeville theater which opened in 1910. It was the first of its kind in the United States to be built, owned, and managed by an African-American2. The Morton Building is now listed in the National Register of Historic Places3. Over the span of about three decades4, the theater saw the likes of renowned African-American performers such as Duke Ellington, Louis Armstrong, Bessie Smith and Cab Calloway5. This site established a prominent African-American music and entertainment scene in Downtown Athens that was otherwise non-existent during the Jim Crow era.
The Morton Building also housed multiple businesses, historically owned by Blacks. Such businesses included drugstores, doctors' offices, barbershops, and pool halls6 as well as the dentistry practice of Ida Mae Hiram, the first Black woman to pass the Georgia dental board exams5 and the office of Dr. Blanche Thompson, Athens' first Black surgeon7. Athens' first drugstore owned and operated by an African-American, E.D Harris Drug Store, opened here before relocating to the Samaritan Building1, also on Washington street. In the 1990s, all businesses besides the restored theater left the Morton Building as it was converted into a complete performing arts facility4.
Numerous Black-owned businesses separate from the Morton Building crowded Hot Corner from the 1950s through the 1970s. Some even considered this district to be the "Mecca" of Northeast Georgia for Black professionals6. Many of these were family businesses. The Manhattan Café, now Manhattan Bar, was owned and run by the Wade family for decades6. During the early 1960s, civil rights demonstrators would stop by Hot Corner for free lunch and a safe place to unwind10. Wilson's Styling Shop as well as other businesses became gathering places for the Black community to discuss current events. Politicians and pastors would often stop by to give word about local elections or other news6. In the late 70s and 80s, many Black-owned businesses at Hot Corner started to move to booming shopping malls outside of downtown6.
M.C. Wilson and his family made a particularly lasting impact on Hot Corner. M.C. Wilson, a railroad worker from Madison County, GA who cut hair as a side job, went into partnership with Otis Wade in 1963, acquiring the barbershop of Ed Gillum6. This same building once housed The Athens Republique5, an independent Black newspaper that was in print from 1919 to 19234. In 1968, Wilson bought the building outright and renamed the barbershop "Wilson's Styling Shop," transforming the establishment into a more versatile salon for both men and women6. M.C. and his wife Elizabeth opened Wilson's Soul Food8, in 1981, purchasing the space adjacent to their hair salon. The restaurant was open until 2011 and is now the site of The World Famous12. All the children of M.C. Wilson have been closely involved with both businesses over the years, including the eldest son Homer Wilson, who would go on to take over his father's styling shop in 20089 and to help found the Hot Corner Association in 20146.
The Hot Corner Association puts on an annual festival at the intersection of Washington and Hull streets. Its goal is to celebrate the contributions of African-American residents to the city of Athens7 and to promote Black-owned businesses downtown6. This lively event includes gospel and hip-hop music, street vendors, and soul food11, gathering the community to acknowledge the past and look towards a future of diversity and entrepreneurship.
Sources
1. Reap, James K. Athens: A Pictorial History. Edition 3. Virginia Beach, VA. The Dunning Company Publishers, 2001.

2. Beynon, Valerie. Morton Theatre. New Georgia Encyclopedia. August 13, 2013. Accessed April 19, 2018. www.georgiaencyclopedia.org.

3. www.npgallery.nps.gov

4.Thurmond, Michael L. A Story Untold: Black Men and Women in Athens History. Edition 2. Athens, GA. The Green Berry Press, 2001.

5. African-American Athens Driving Tour (not sure how to cite?)

6. Wilson, Homer. "Interview with Homer Wilson." Interview by Stephens, Alexander. Athens Oral History Project. June 25, 2014.

7. Bledsoe, Madison. Cornering History: A Look at the Hot Corner of Athens. Georgia Political Review. January 22, 2018. Accessed April 20, 2018. www.georgiapoliticalreview.com. from GPR's Spring 2017 Magazine

8. Evans, Amy C. Wilson's Soul Food. Southern Foodways Alliance. November 21, 2006. Accessed April 22, 2018. www.southernfoodways.org.

9. Coltrain, Nick. Wilson family bound by father's legacy of business ownership. Athens-Banner Herald. February 23, 2013. Accessed April 23, 2018. www.onlineathens.com.

10. McKinley, Bennie. "Interview with Bennie McKinley." Interview by Stephens, Alexander. Athens Oral History Project. July 11, 2014.

11. The Red and Black. "Saturday at Hot Corner Festival in Athens 2016." Filmed [June 2016]. Youtube video, 2:33. Posted [June 2016].https://www.youtube.com/watch?v=4EzLiJ2H4Os.

12. Once segregated, this Georgia neighborhood finds new life by welcoming new communities. PBS News Hour. May 18, 2017. Accessed April 23, 2018. www.pbs.org. Interview by Charlayne Hunter-Gault


Additional Information