Old Wayne County Jail
Introduction
The Wayne County Jail opened in 1865 in downtown Wooster. 130 years later, a Wayne County resident bought the building and converted it into a restaurant called The Olde Jaol Restaurant and Tavern, a quintessential American steakhouse. Today, it is owned by Dave and Dalila Schauble and guests can dine in a variety of settings, including historic jail cells. The jail has a rich history and was added to the National Register of Historic Places in 1982.
Images
"Side View of Old Jaol" by Sofia Biegeleisen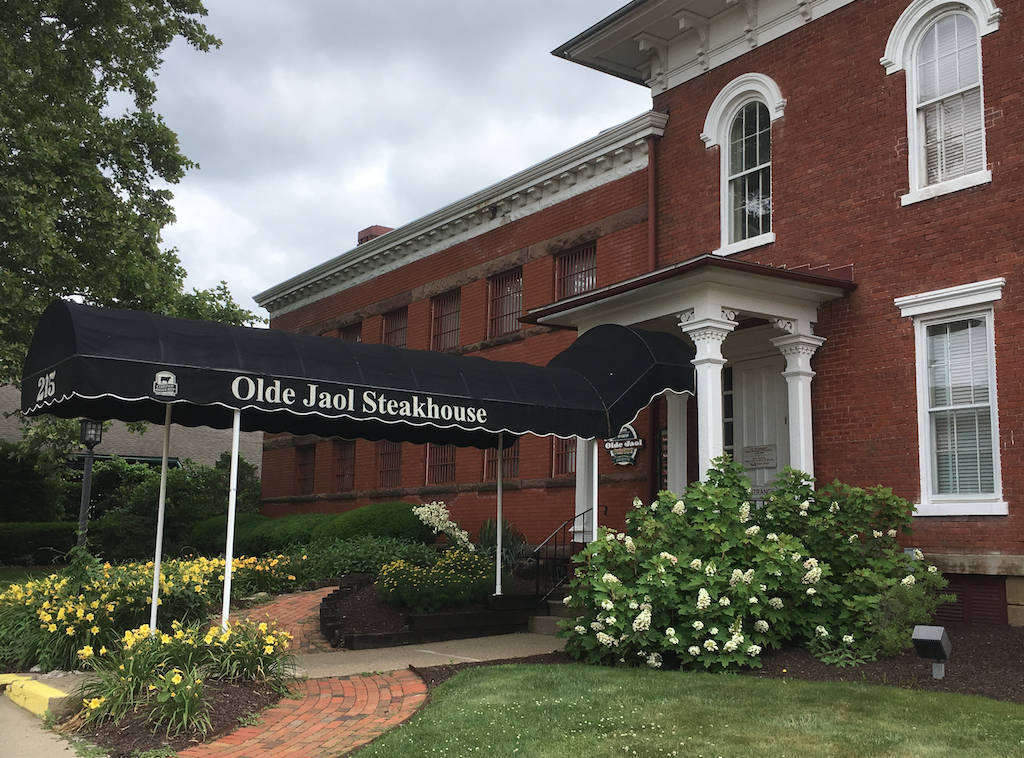 "Old Jaol Sign" by Sofia Biegeleisen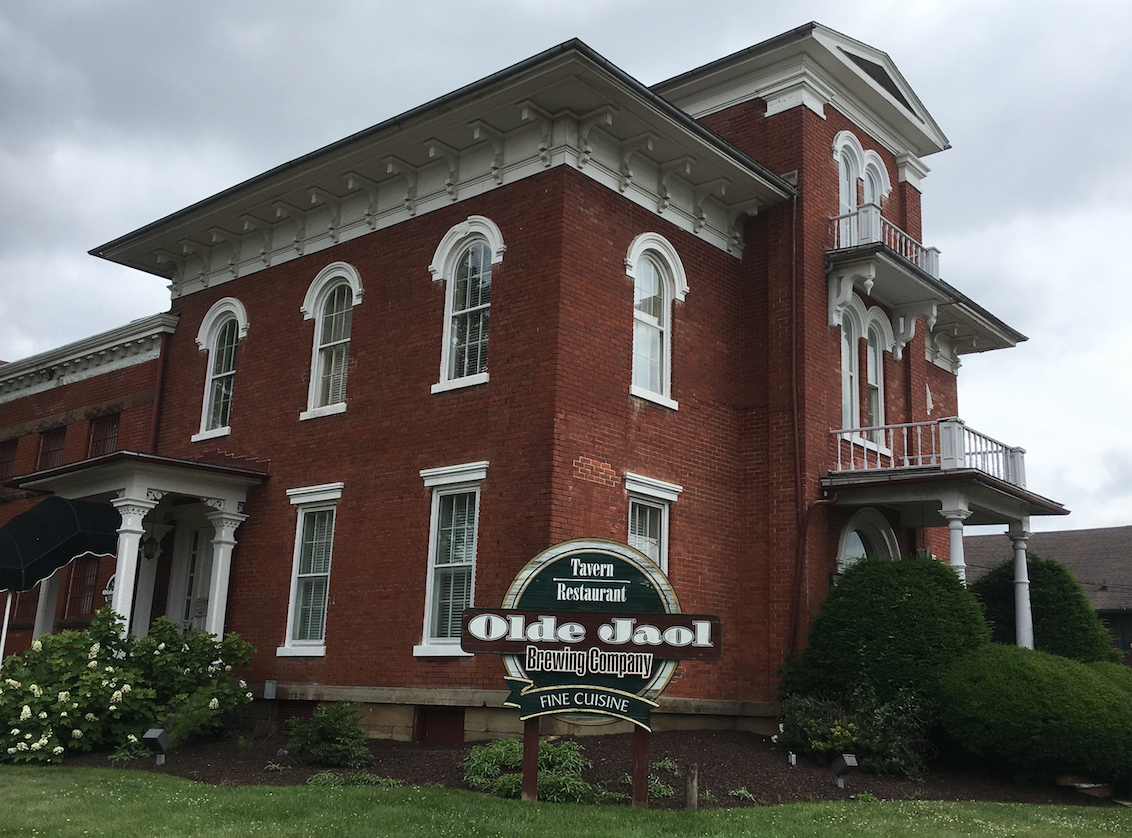 "View of Windows and Lamp outside" by Sofia Biegeleisen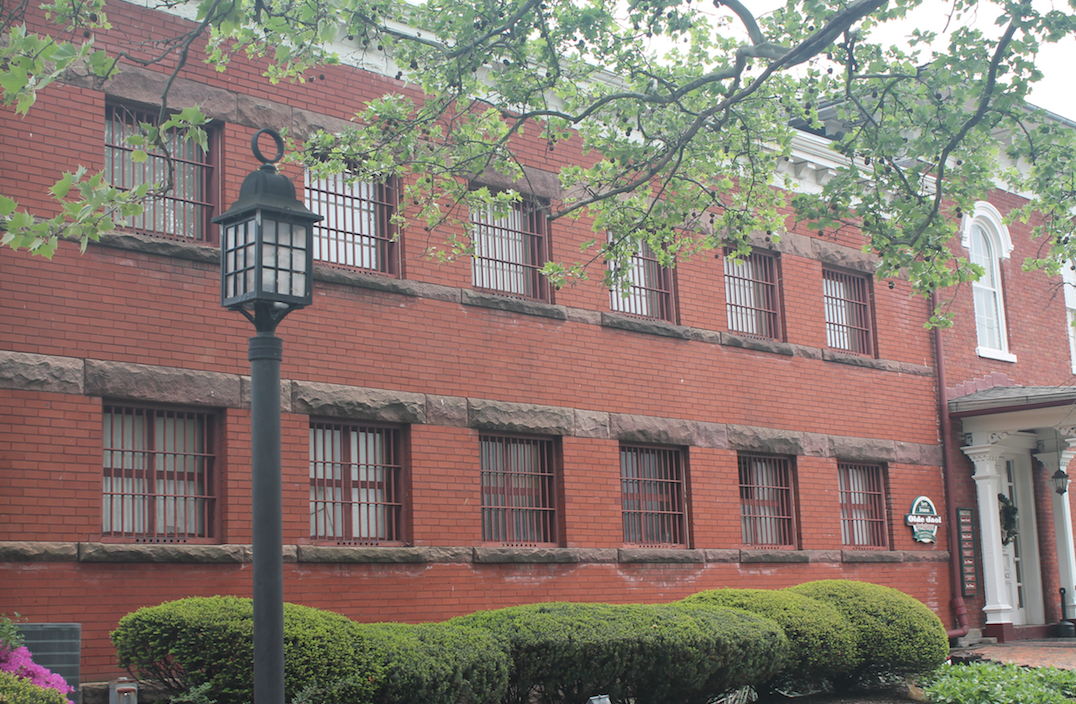 "Street View of Old Jaol" by Sofia Biegeleisen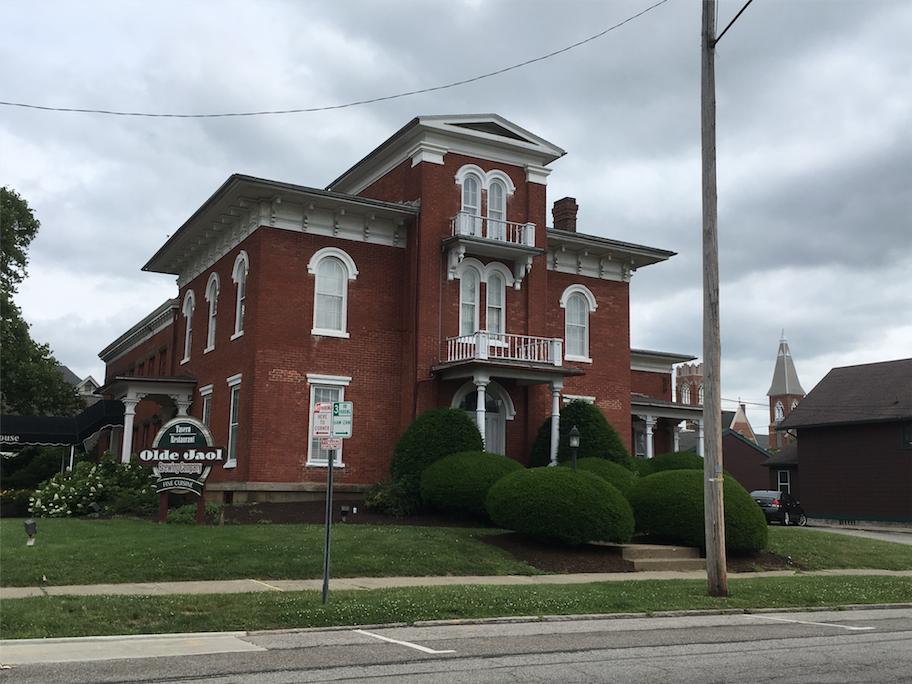 Backstory and Context
One of the more notorious aspects of the restaurant's history is its time as the Wayne County Jail, when it was the site of the only public hanging in Wayne County's history. On October 2, 1879, John Callahan killed John Tormie at the old Wayne County Fairground following a brawl between Callahan and his friends and Tormie and his brother-in-law. Tormie's murder provoked public outrage, as he was an esteemed member of the community. Contrastingly, John Callahan, a second-generation American whose father was an Irish immigrant, was the victim of the anti-Irish sentiment of the time period. According to a previous exhibit by the Wooster Digital History Project, "Many Woosterites interpreted Callahan's actions as typical of the 'belligerence of being an immigrant' or, as some put it in the local newspaper 'the drunken Irishman' acting out". This sentiment may have been connected to his eventual public execution, as Callahan, who was twenty-two years old at the time of his death, is the only person to have been hanged as a means of execution in Wayne County. Although 2,000 members of the community appealed to Governor Charles Foster to spare Callahan's life, their attempt was unsuccessful. 5,000 people attended the hanging and 3,000 came to see Callahan's body the next day.
A fascination with death links the history of public executions to today's dark tourism. Although dark tourism, in which people travel to locations remembered for their macabre history, is not a new phenomenon, the way many business owners now brand their location— emphasizing the site's grim history— is a recent development. Olde Jaol is particularly interesting because it combines the histories of food and death. Olde Jaol exemplifies this, as the restaurant's aesthetics are based on the building's dark history. For example, the tavern menu advertises "bail burgers" such as the "bandit burger" and the "bounty hunter's burger." Is it morally correct to eat an Executioner's Chicken Sandwich, which Olde Jaol claims is a "perfect last request" at the site where a real person was hanged publicly? What is the appeal and what are the drawbacks of this kind of marketing? Dark tourism marketing raises complex ethical questions. Is it appropriate to visit sites where extreme violence has happened in the past? What type of attitude should one have when visiting one of these sites? Should ethics matter to business owners? While these questions have no definitive answers, they show that location and the nature of its history matter when considering the use of local spaces as commercial food-based attractions.
Conversely, location can also enhance the dining experience. Recently, Olde Jaol added the "Prohibition Room" as a third option for guests. This room, which is designed to be reminiscent of a Prohibition era speakeasy, does not serve food but is intended to be a place for guests to enjoy a drink before or after their meal. This room features a wide variety of bourbons, whereas the tavern and main dining rooms primarily serve wine and beer. Olde Jaol uses Certified Angus Beef®, providing customers with the highest quality meat. Although the Certified Angus cattle are not raised locally, the headquarters are located in Wooster. Many restaurants choose to work with Certified Angus, in order to receive guaranteed high quality products. Olde Jaol's fine dining menu is comprised of traditional steakhouse cuisine, including a variety of Certified Angus steaks and ribs, as well as classic appetizers such as the shrimp cocktails. The tavern offers a much more casual fare, and is a charming and less formal setting than the steakhouse itself. The tavern's menu consists of a collection of soups, salads, sandwiches, and as well as other meat, seafood, and pasta dishes. The beer cheese soup is a local favorite, which many guests choose to enjoy on the covered patio. The patio brings a tropic feel to Ohio, although indoor seating is also available. Both menus also include alcoholic beverages.
Sources
1. 1879 Murder at the Wayne County Fairgrounds. Wooster Digital History Project. Accessed June 05, 2018. http://woosterhistory.org/exhibits/show/1879-murder-at-the-wayne-count.

Butler, Stephanie. A Rare History of the Steakhouse. History. November 24, 2014. Accessed June 05, 2018. https://www.history.com/news/a-rare-history-of-the-steakhouse.

Gasbarre, Ann. One Went to Gallows. The Daily Record. June 23, 2017. Accessed June 06, 2018. http://www.the-daily-record.com/lifestyle/20170623/one-went-to-gallows.

Menus. Olde Jaol Restaurant. Accessed May 06, 2018. http://oldejaolrestaurant.com/menus/.

Muriel's Jackson Square. Accessed June 15, 2018. http://muriels.com/.

Reid, Robert. Is "Dark Tourism" OK?. National Geographic. April 26, 2016. Accessed June 07, 2018. https://www.nationalgeographic.com/travel/features/is-dark-tourism-ok-chernobyl-pripyat-disaster-sit....

Restaurant 1833. . Accessed June 25, 2018. http://www.restaurant1833.com/.

Mosser, Tami. Olde Jaol's "Prohibition Room" a Nod to an Earlier Time. The Daily Recrod. June 24, 2018. Accessed July 02, 2018. http://www.the-daily-record.com/news/20180624/olde-jaols-prohibition-room-nod-to-earlier-time.