Cape Girardeau Court of Common Pleas
Introduction
Sitting on top of a hill a couple of blocks away from the Mississippi River is the Cape Girardeau Court of Common Pleas courthouse building, which was first erected in 1854. The Federal-style building features a red brick facade and a cupola; the Classical Revival portico with the four columns was added in 1888. When it was built, it was one of only four common pleas courthouses in the state. Today, it is the only one remaining of the common pleas court system in Missouri. The building was added to the National Register of Historic Places in 2010. There are monuments and memorials on the courthouse grounds, including a Vietnam War Memorial and a statue of a Union soldier sitting atop a water fountain. A new courthouse is set to open in 2020. It is unclear what will happen to the Court of Common Pleas.
Images
The Cape Girardeau Court of Common Pleas is situated prominently on a hill overlooking the Mississippi River. It was built in 1854 and has served as a courthouse ever since.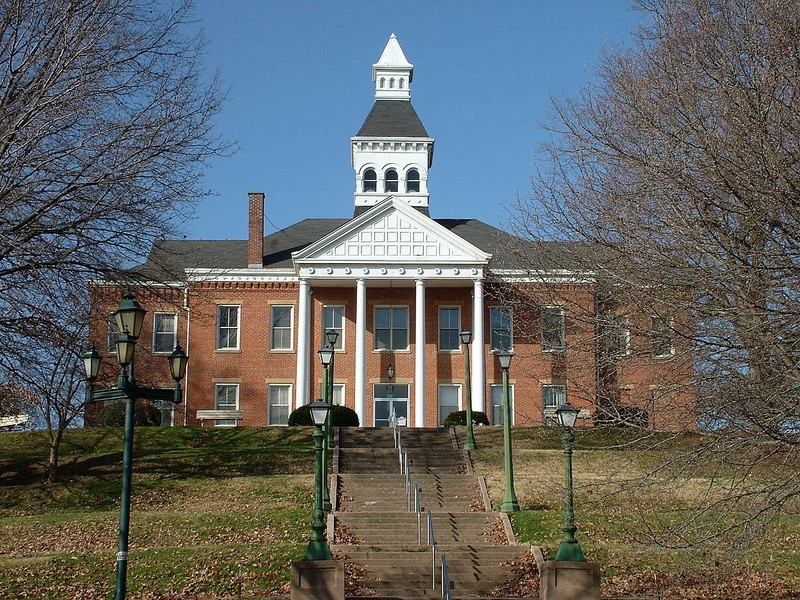 Backstory and Context
Over time, the courthouse gradually evolved from dealing solely with common pleas cases (when a private citizen could file a legal grievance over another private citizen) to handling probate, civil, and criminal cases as well. As such, the courthouse serves as a reminder of the evolution of the state's legal system.

During the Civil War, the courthouse became a major headquarters for the Union Army. This included the establishment of federal provost marshal's office in 1862, which replaced civil courts, giving him the authority to conduct investigations and enforce federal law. As a result, Confederate soldiers and supporters of the Southern cause were imprisoned here in a jail built behind the building. Provost marshals had a lot of power since they were generally not overseeing by anyone of any legal body. They could even declare martial law.
Sources
Jackson, Aziza. "Officials Break Ground on Cape Girardeau County Justice Center." Correctional News. November 6, 2018. http://correctionalnews.com/2018/11/06/officials-break-ground-on-cape-girardeau-county-justice-center.

Mainor-Anderson, Robyn et. al. "Cape Girardeau Court of Common Pleas." National Park Service - National Register of Historic Places Nomination Form. October 25, 2010. https://dnr.mo.gov/shpo/nps-nr/10000856.pdf.

Photo: Wikimedia Commons
Additional Information