Hartsdale Railroad Station
Introduction
Constructed in 1914, the Hartsdale Railroad Station is an excellent example of an early-20th-century train station in Westchester County. Designed by architects Warren and Wetmore in the Tudor Revival style , the station was a selling point in the development of Hartsdale from a rural community to an growing suburb. Although numerous changed have been made to the station over the past century, the main building itself has changed little and maintains a great deal of its original integrity.
Images
Interior of the Hartsdale Railroad Station in the 1980s.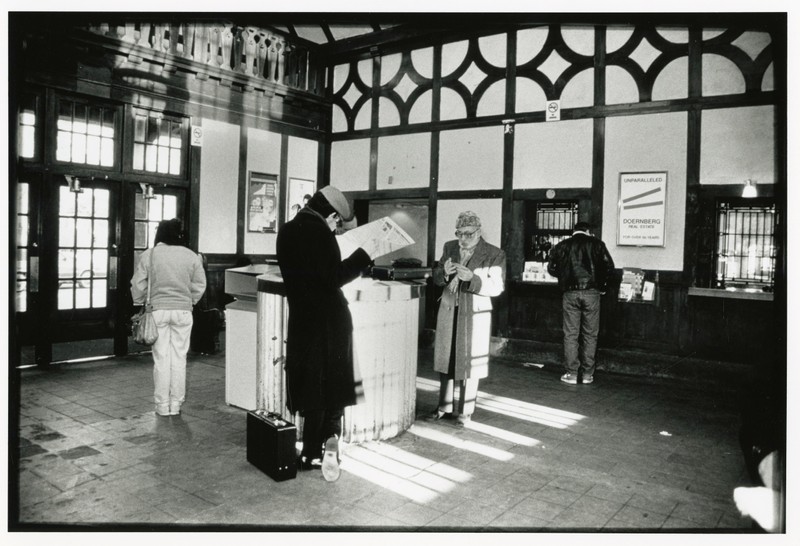 Hartsdale Railroad Station.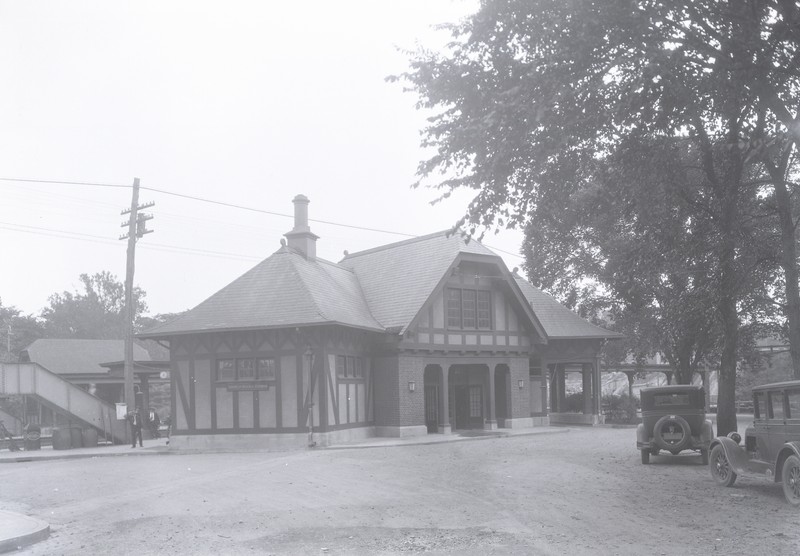 Hartsdale Railroad Station, c.1975.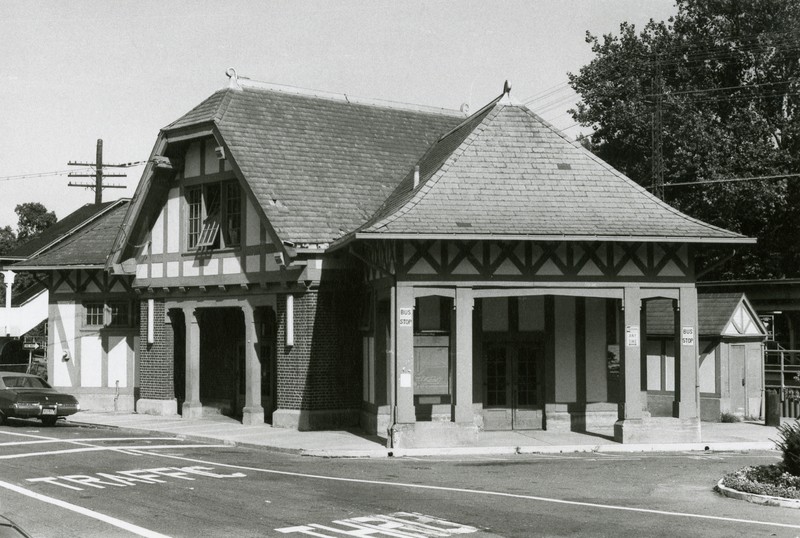 Backstory and Context
The New York & Harlem Railroad first reached present-day Hartsdale, then a rural community, during the mid 1840s. The station had several* names, including Moringville and Harts Corners Station, before it was given the name Hartsdale in the late 19th century.
The New York & Harlem Railroad built the present Hartsdale Railroad Station in 1914 to replace an earlier wooden structure. The station was designed by architects Whitney Warren and Charles Wetmore, who were well-known for their designs of railroad stations, including Grand Central Terminal in Manhattan and the Yonkers Railroad Station on the New York & Hudson Railroad. Warren and Wetmore chose a Tudor Revival design for the Hartsdale station. The structure is comprised of brick, stucco and wood. Originally, the interior of the station included a waiting room, baggage room, ticket office and restrooms. The interior has been remodeled, and today the baggage room is now an office while a coffee shop has been added to the waiting room. Some details of the original interior still remain, including wooden windows, built-in benches on the west side of the waiting room and cast-iron ticket window grilles.
The platforms and tracks on the east side of the railroad station are of more recent construction. The overpass that connects the southbound and northbound platforms was built by McClintic-Marshall Company in 1911. Between the southbound and northbound railroad tracks are 21 silhouette figures representing the various kinds of workers that would have been employed by the New York & Harlem Railroad. This artwork, called Workers, was produced by artist Tom Nussbaum and installed in 1991.
Since 1983 the trains the serve the Hartsdale Railroad Station have been operated by Metro-North Railroad. Nearly 3,000 commuters use the station each weekday. The 1914 station building was added to the National Register of Historic Places in 2011.
Sources
Barry, Jennifer. National Register of Historic Places Nomination Form: Hartsdale Railroad Station. May 2011.
Bloodworth, Sandra. Ayres, William. New York's Underground Art Museum. New York. The Monacelli Press, 2014.
"Whitney Warren, Architect; Center of Louvain Controversy." Brooklyn Eagle (Brooklyn, N.Y.) January 25th 1943, 7.
Image Sources
Westchester County Historical Society.

Westchester County Historical Society.

Westchester County Historical Society.

Additional Information