Roye-Williams Elementary School
Introduction
Roye-Williams Elementary School, located near route 40 and the border of Havre de Grace and Aberdeen, was one of the first consolidated schools in Harford County to desegregate and allow children of all races to learn together. In 1953, Havre de Grace Colored Schools from K-12th grades were combined and moved to a brand new building, Havre de Grace Consolidated School. This building would later be known as Roye-Williams Elementary School, eventually named after the former principals of Havre de Grace Consolidated, Mr. Leon S. Roye, and Bel Air Central Consolidated, Dr. Percy V. Williams. The school is still open to this day and ranking in the top 20% of Harford County Public Schools. The people who patroned Harve de Grace Consolidated School had to put up a fight to fulfill their newly found constitutional right to an equal education that politicians were trying to slow down as much as possible. Roye-Williams Elementary is important to reveal the progress of civil rights in Harford County from the 1960's to today.
Images
Image of Roye-Williams Elementary School after the third renovation in 1968.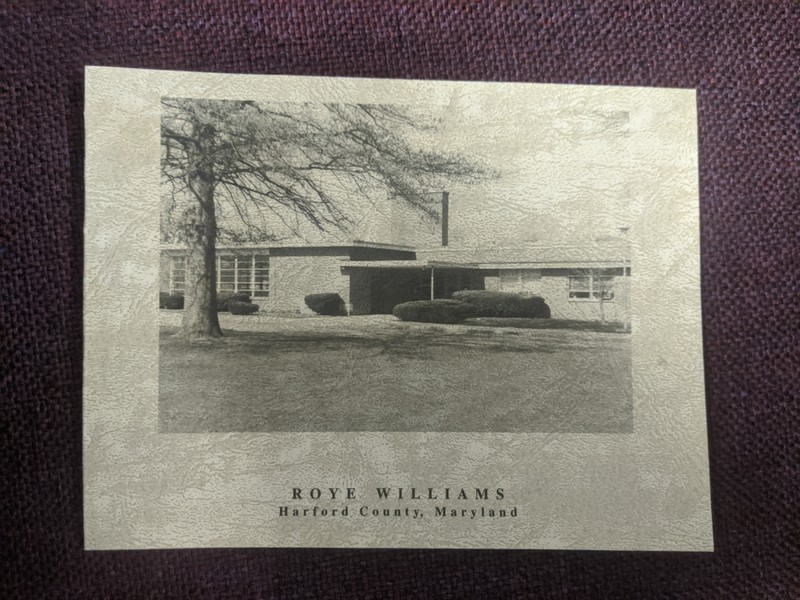 Portrait of Percy Williams currently hanging in the school.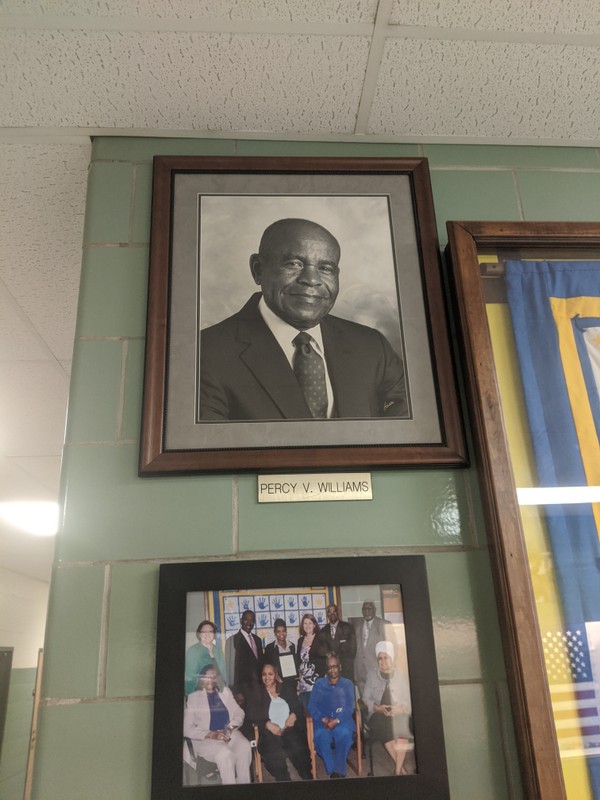 Portrait of Leon Roye currently hanging in the school.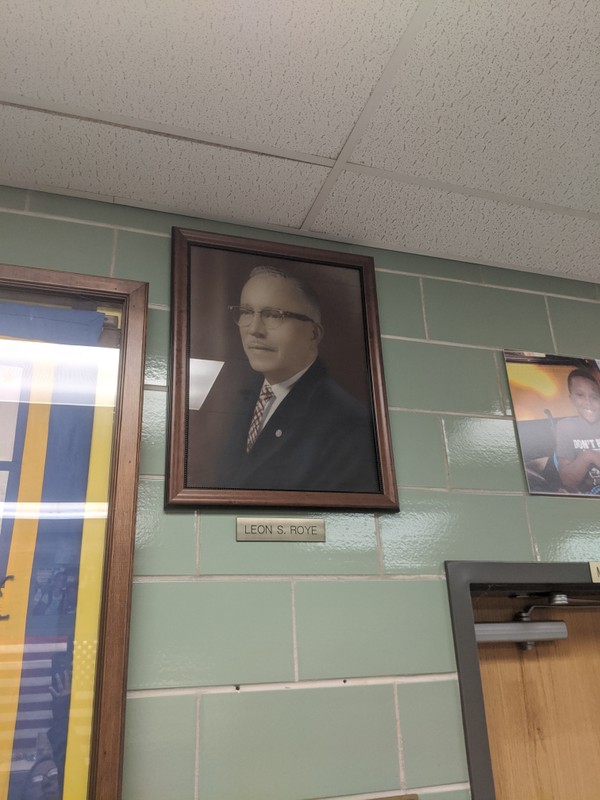 Plaque in dedication to Roye and Williams.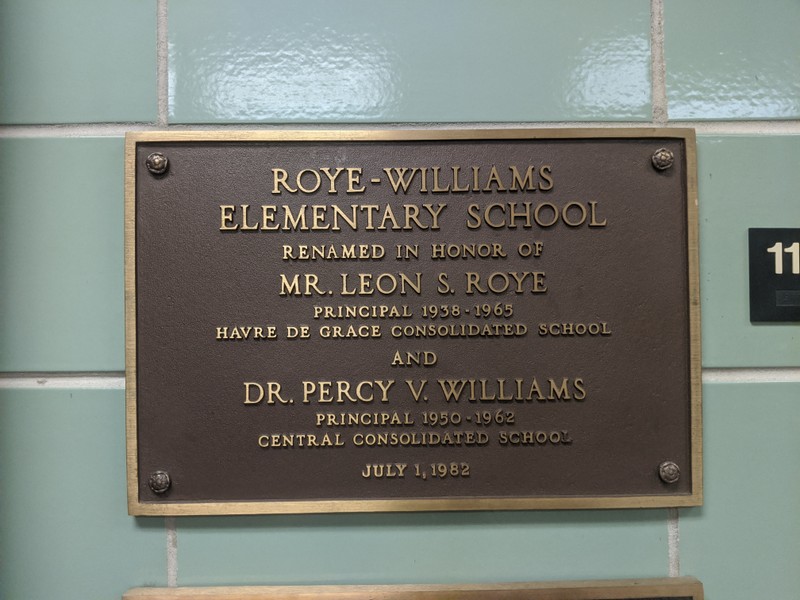 Letter signed by President Obama to acknowledge the 50th Anniversary of the first graduating class of Oakington Elementary.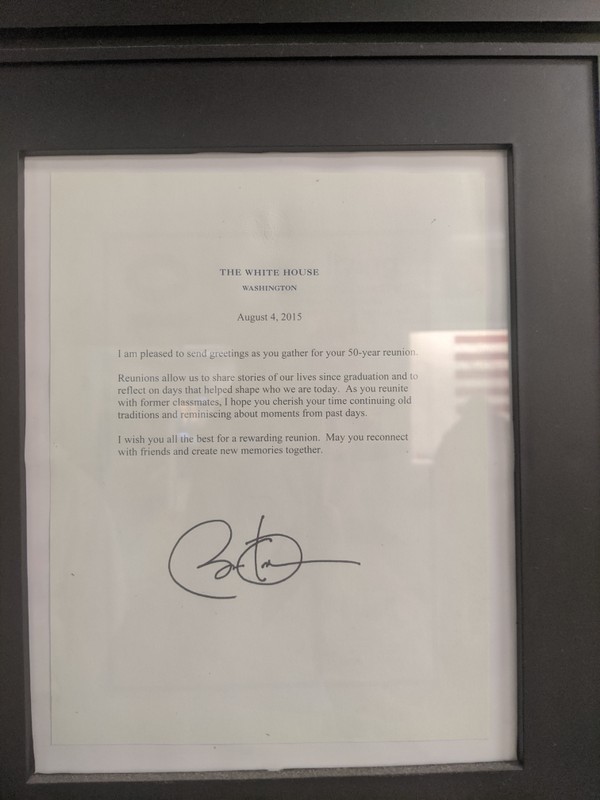 Class photo from Oakington Elementary.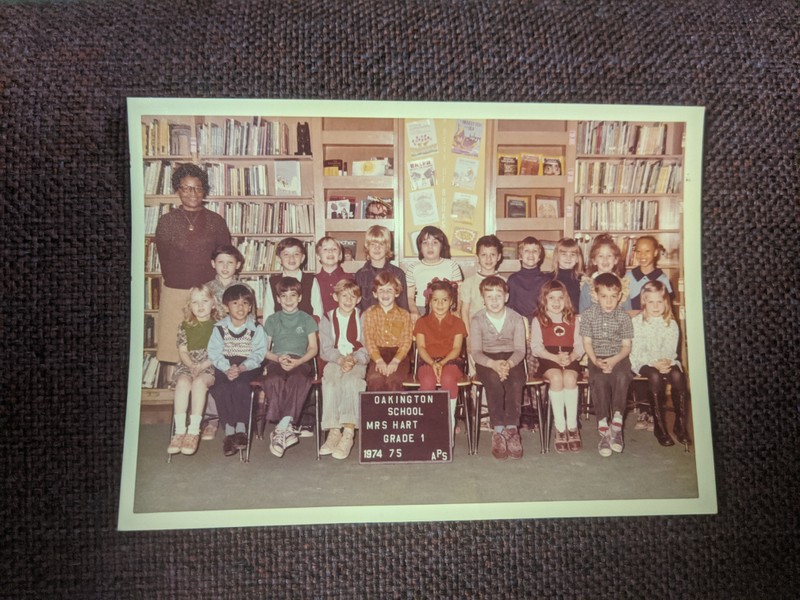 Reveal of the Renaming of Oakington to Roye-Williams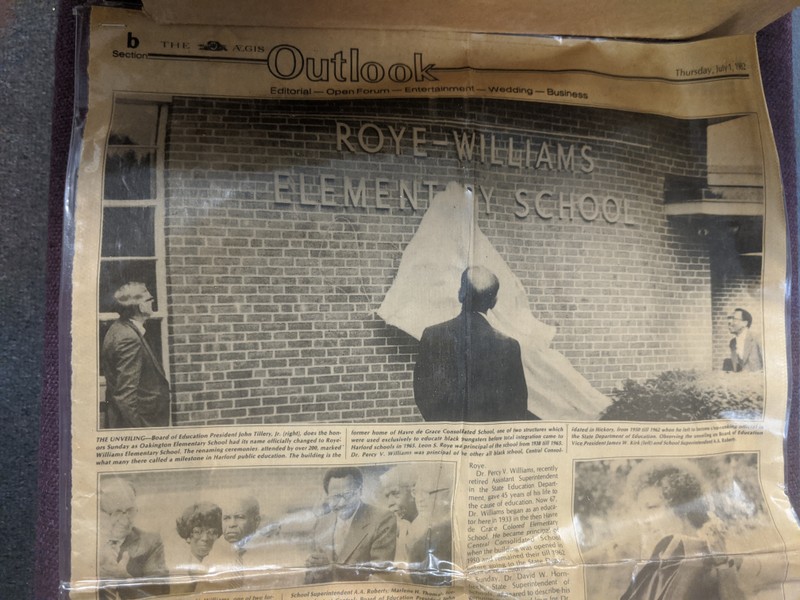 Backstory and Context
Havre de Grace Consolidated School, now known as Roye-Williams Elementary School, is a historical landmark for the Civil Rights movement in Harford County, Maryland. The Havre de Grace Consolidated class of 1949 is classified as the last class who graduated after completing the eleventh grade. Beginning in 1950, students of Havre de Grace Consolidated School were now required to complete all twelve grades in order to graduate. Ganice Grant was one of the few African American teachers to have taught at Havre de Grace consolidated school after being a part of the first high school class to finish 12th grade and go to college at UCLA in California. She is a local hero for civil rights that participated in every type of protest from marches to sit ins to getting hosed in Aberdeen just with the hope of gaining equality for people with a different skin tone.
In 1953, Havre de Grace Colored School moved to its current location, 201 Oakington Road, Havre de Grace, MD. Havre de Grace Consolidated School officially broke its racial segregation during the 1964-1965 school year. This school year marked the final graduating class before its name was changed to Roye-Williams Elementary School in honor of late Mr. Leon S. Roye and late Dr. Percy V. Williams. Mr. Leon S. Roye served as the principal of Havre de Grace Consolidated, and Dr. Williams served as the principal of Bel Air's Central Consolidated.
The Baltimore Sun even contained specific accounts of African-Americans being denied from integrating into pre-established white schools such as Aberdeen High School by biased and racist officials. Back to 1955, Robert B Watts and Tucker Dearing filed suits for twenty African-American children that the system had failed to integrate, forcing them to travel up to 15 miles to the consolidated schools. Four of those students had to travel 6 miles to get to Havre de Grace Consolidated when Aberdeen High was within 3 miles from them. The suits were challenging the local officials to follow the "prompt and reasonable" ruling of the Supreme Court since they were making no effort to desegregate. There was also a set of twin boys in 1961 who had "failed a written test" to get in but were not notified of that until 3 days into the school year when the transfer request had been filed 3 months prior. Obstacles include the inability of teachers to demonstrate in March of 1964 when they are reprimanded by Charles Willis for attempting to get their voice heard. The group of Havre de Grace Consolidated teachers walked out as a protest to the four-year desegregation plan was way too drawn out to be reasonable that they deemed was demoralizing and supporting the "stigma of inferiority unjustly stamped on our people." 
Finally, in May of 1964, the combination of suits and protests accumulated to a federal judge ordering Harford county school authorities to show why they can't integrate within the next school year of not only the students but the qualified teachers as well. The ruled in a case against the Board of Education of Harford County and Charles Willis that at least 500 African-American children will be integrated by necessity and finalizing the closing of the two main African-American schools, Central and Havre de Grace Consolidated. Resulting in the formation of Hickory and Oakington Elementary Schools. Current articles are still referencing back to this time period in honor of Dr Percy Williams such as an article in 2005 commenting on his life achievements along with Leon Roye such as having a school named after them. Roye-Williams is thought to be the only school in the state named for two people. This version of the story shows that the representatives of NAACP, including the Harford chapter President Laura Copeland, and the family of Dr. Williams were disappointed to not be able to rename Hickory as well but had to settle for the hyphenation.
Roye-Williams elementary is an important part of Harford County's history. It encompasses the Havre de Grace consolidated school which was one of the places where segregation was most predominant. Even after the supreme court decision of Brown vs. Board of Education, Harford County was still very segregated. The proposition of "separate but equal" was not incorporated for a very long time in our history. It is crucial to the understanding of how systematically embedded racism has generated much of modern-day issues in Harford County that can be seen as separated by race in the realm of education. For example, Joppatowne schools are less well kept than for example Bel-air or Patterson Mill, and this comes from the stem of years of racism in the Harford County education system. Roye-Williams elementary is one of the standing examples of this and it is crucial in the understanding of how education plays a vital role in shaping the generations of the future and why it should be provided to its fullest extent. Harford County schools are now desegregated after a long fight but the effects are still lingering and it is up to us to fix that so that future generations can obtain the best education possible regardless of their race, ethnicity, religion, gender, or any other factor. 
Sources
C, G. (1961, Sep 18). SCHOOL PLAN PLEA SLATED: HARFORD HEARING SOUGHT IN REJECTION OF 2
NEGROES. The Sun (1837-1994) Retrieved from https://ezproxy.harford.edu/login
url=https://search.proquest.com/docview/540515600?accountid=11292
Father disputes integration test. (1959, Oct 18). The Sun (1837-1994) Retrieved from
https://ezproxy.harford.edu/login?url=https://search.proquest.com/docview/540063082?accountid=11292
Fenton, J. (2005, October 23). The long road to recognition. The Baltimore Sun.
Hendricks, T. W. (1964, May 04). HARFORD SCHOOLS GET COURT ORDER: ASKED TO SHOW WHY THEY
CAN'T INTEGRATE NOW. The Sun (1837-1994) Retrieved from https://ezproxy.harford.edu/login
url=https://search.proquest.com/docview/540005538?accountid=11292
INTEGRATION SUIT IS FILED IN U.S. COURT: HARFORD COUNTY BOARD CHARGED WITH MAKING NO
SCHOOL PLANS. (1955, Nov 30). The Sun (1837-1994) Retrieved from https://ezproxy.harford.edu/login
url=https://search.proquest.com/docview/541346773?accountid=11292
Pickett, E. G. (1964, Mar 20). FACULTY MOVE HELD ILLEGAL: NEGRO TEACHERS SCORED FOR
MEETING AT SCHOOLTIME. The Sun (1837-1994) Retrieved from https://ezproxy.harford.edu/login
url=https://search.proquest.com/docview/540212949?accountid=11292
SOLLERS PT. WINS, 63-61: RALLIES TO EDGE UNBEATEN HAVRE DE GRACE FIVE. (1963, Jan 09). The
Sun (1837-1994) Retrieved from https://ezproxy.harford.edu/login
url=https://search.proquest.com/docview/540214447?accountid=11292
The Havre de Grace Colored School Museum and Cultural Center, Inc. (n.d.). The history. Retrieved from
https://www.hdgcoloredschool.net/the-history
Washburn, D. (2016, March 26). Interview with Janice East Moorehead Grant. Retrieved from
https://collections.digitalmaryland.org/digital/collection/hclt/id/350/rec/1