Vestibule and Entrance Hall
Introduction
Visitors arriving through the double Black walnut front doors opening from the porte-cochere enter the Vestibule, just as the Lockwood and Mathews families and their guests would have entered the Mansion. The plaster walls and ceilings have been repaired and restored back to their original Lockwood colors in 1976.
Images
Historic Entrance to the Lockwood Mansion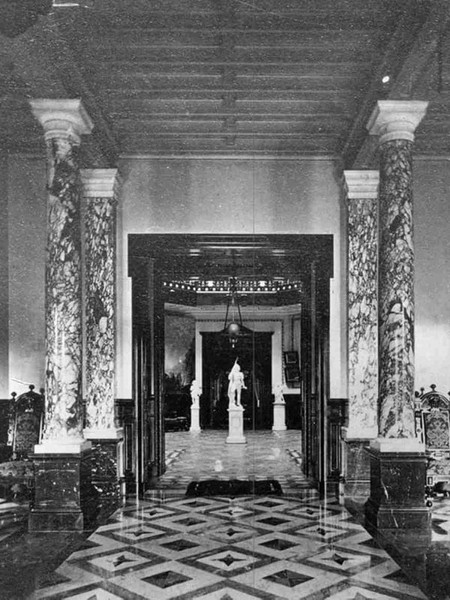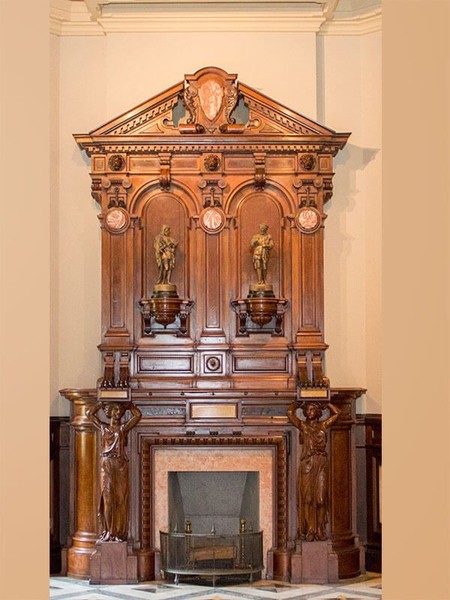 Detail on a Herter Brothers' Chair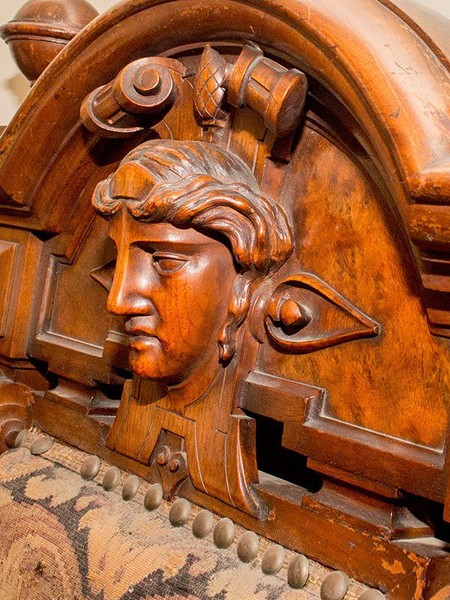 Backstory and Context
A variety of colored marbles are found within the floor, complimented by eight-pointed star motifs. The same marble is used in a similar pattern for the Entrance Hall.On either side of the Vestibule doors are etched glass panels that pivot open and are part of the original ventilation system for the house. Four columns of polished Florentine marble dominate the Entrance Hall. Visitors can see two Herter Brothers chairs which are of the Lockwood era. Also original to the room are two statues by the American sculptor Joseph Mozier, Pocahontas and The Wept of Wist-Ton-Wish, which were part of LeGrand Lockwood's impressive art collection.
Sources
Vestibule and Entrance Hall, "Vestibule and Entrance Hall" The Lockwood-Mathews Mansion Museum. Accessed April 22nd 2020. https://www.lockwoodmathewsmansion.com/vestibule-and-entrance-hall/.
Image Sources
Sarah Grote Photography, 2015

Sarah Grote Photography, 2015

Additional Information