Dr. Benjamin E. Mays House Museum
Introduction
This was the childhood home of Dr. Benjamin Elijah Mays who was a civil rights leader and mentor to Dr. Martin Luther King Jr. while serving as the president of Moorehouse Collge. The home was originally located fourteen miles from this site and was moved to this location and converted into a museum that shares the history of sharecropping families and other African Americans in South Carolina from the turn of the century to the civil rights movement. Dr. Mays was civil rights leader, writer, and minister whose thousands of articles and speeches on nonviolence and civil resistance established the foundation for African Americans' fights for equality in the U.S. Mays presided over Moorehouse for almost thirty years and many students credited him as an influence. Martin Luther King, Jr. called Mays his "spiritual mentor," for encouraging his involvement in the Montgomery Bus Boycott of 1956. Mays was chosen to deliver the invocation prayer at the 1963 March on Washington for Jobs and Freedom, and publicly backed King's opposition to the Vietnam War.
Images
Dr. Benjamin E. Mays's birthplace and historical marker.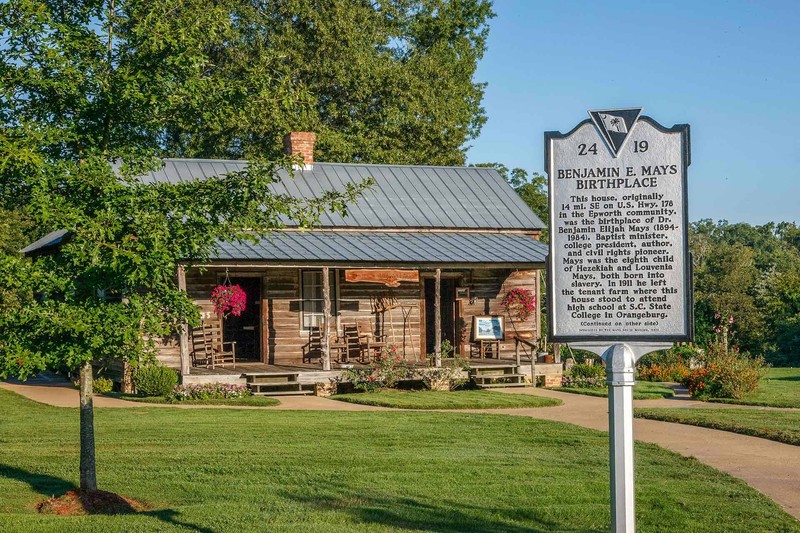 A statue of Dr. Mays which stands outside of his birthplace.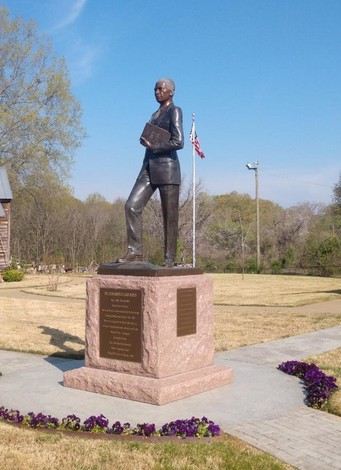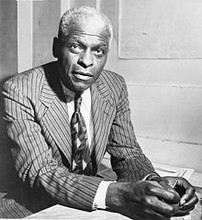 Mays and Martin Luther King, Jr.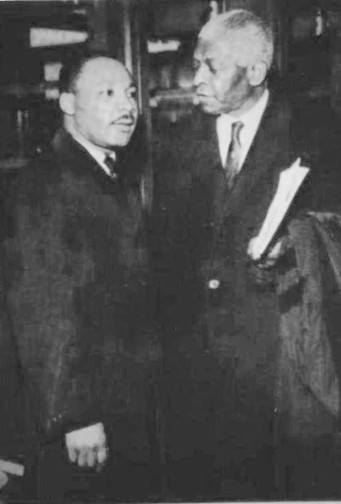 Backstory and Context
Dr. Benjamin Elijah Mays (1894-1984) was born in Epworth, South Carolina on August 1st, 1894 to his formerly enslaved parents, Hezekiah and Louvenia Carter. During his childhood, Mays faced a number of instances of pervasive racism towards himself and his family; lynchings and violence towards African American citizens were common in his neighborhood. While experiencing these hardships, Mays decided that he wanted to get an education in order to improve his circumstances. He eventually accomplished this goal, earning his BA from Bates College in 1920. He was ordained as a Baptist minister the following year, then went on to earn his MA and PhD from the University of Chicago. After earning these degrees, Mays served as the dean of the School of Religion at Howard University from 1934 to 1940. Following this position, Mays became president of Morehouse College, where he met a young student, only fourteen at the time, named Martin Luther King Jr.
Mays and King immediately began a mentors/student relationship upon their introduction at Morehouse College of Atlanta, Georgia, which evolved into a lasting friendship. As president, Mays delivered weekly addresses at the college's chapel services. These addresses created an abundance of conversation for the pair, as King would often follow Mays to his office after them to discuss theology and current events. Mays eventually became a mentor to King, even becoming a regular guest at King's family's Sunday night dinners. In a 1956 interview, King stated that in Mays he could see "the ideal of what I wanted a minister to be." Mays reciprocated this admiration for King, stating King was "mature beyond his years."
Eventually, Mays's and King's close mentor/student relationship would lead Mays to defend King's introduction into the fight for civil rights. In 1956, in the wake of the Montgomery Bus Boycott, the police of Montgomery, Alabama indicted over 80 of the boycott leaders in an attempt to stifle the protest. King wanted to remain involved in the protest, but his father strongly opposed this idea, likely fearing for his son's safety. As King's father began to ask acquaintances to dissuade Martin from involvement, Mays strongly defended his right to protest.
In 1957, when Morehouse College awarded King an honorary Doctorate of Letters, Mays referred to him as a man "more courageous in a righteous struggle than most men can ever be, living a faith that most men preach about and never experience." Throughout King's life, Mays remained one of his staunchest supporters, delivering the prayer at the 1963 March on Washington for Jobs and Freedom and publicly backing King's protestations of the Vietnam War in 1967. After King was assassinated in 1968, Mays spoke of his dedication to fighting injustice through nonviolence, calling King "a man who believed with all his might that the pursuit of violence at any time is ethically and morally wrong; the God and the moral weight of the universe are against it...that only love and forgiveness can break the vicious circle of revenge."
Mays played a major role in the civil rights movement, mentoring a number of civil rights leaders, including Julian Bond, Maynard Jackson, Donn Clendenon, and other others. Mays became the first Black president of the Atlanta Board of Education, served on the Advisory Council of the Peace Corps, and served on the board of the directors of the United Negro College Fund and of the National Commission for UNESCO. When Mays passed away in 1984, he had received 28 honorary degrees for his work and the Spingarn Medal, which is the highest honor awarded by the NAACP. Mays also published thousands of articles and nine books at the time of his death.
Dr. Mays's birth home had been listed as one of South Carolina's most endangered historic properties. Today, the home has been preserved and moved to create an educational museum honoring the minister and other African Americans in the Greenwood community. Dr. Mays's birth home was originally located in Epworth and now contains a variety of exhibits along with early 20th-century furniture thanks to the SC Palmetto Conservation Foundation. The yard surrounding the homesite was also made to look as authentic as possible, as a cedar post clothes line, wash pot with rinsing tubs, chopping block, tree swing, old well, original outhouse, and family garden surround it. Visitors to the Mays house museum can tour his former home and learn about Mays's extraordinary career and involvement with the civil rights movement. In addition to Mays's birth home, the historic site also has a modern museum and theater, a large collection of May's books, speeches, and personal items, and the original Burns Springs one-room African-American schoolhouse, which was also originally located in Epworth.
Sources
"Benjamin Mays Historic Site." Discover South Carolina, https://discoversouthcarolina.com/products/3658. Accessed 26 April 2020.
"Mays, Benjamin Elijah." The Martin Luther King, Jr. Research and Education Institute, Stanford University, https://kinginstitute.stanford.edu/encyclopedia/mays-benjamin-elijah. Accessed 26 April 2020.
"Mays House." GLEAMNS Human Resources Commission, Inc., http://www.mayshousemuseum.org/menus/benjamin-e-mays-history.html. Accessed 26 April 2020.
Image Sources
https://civilrightstrail.com/attraction/benjamin-mays-boyhood-home/

https://www.gafollowers.com/dr-kings-history-felt-benjamin-e-mays-site-greenwood-sc/

https://en.wikipedia.org/wiki/Benjamin_Mays

http://www.mayshousemuseum.org/menus/benjamin-e-mays-history.html

Additional Information