Gandy Farmstead
Introduction
The J. W. Gandy Farmstead, circa 1815, includes a period house / museum with a barn, root cellar, smoke house, woodshed, privy, ice house, well sweep, grape arbor and orchards. The Gandy House was built in 1815 by Joseph Falkinburge, as a tenant farmer house. From 1815 to 1950, this house sheltered, and the land supported generations of farmers, mariners, shipbuilders, weavers, preachers and public office holders. The Gandy House is listed on both the NJ State and the National Register of Historic Places.
Images
Gandy Farmstead - Grape Arbor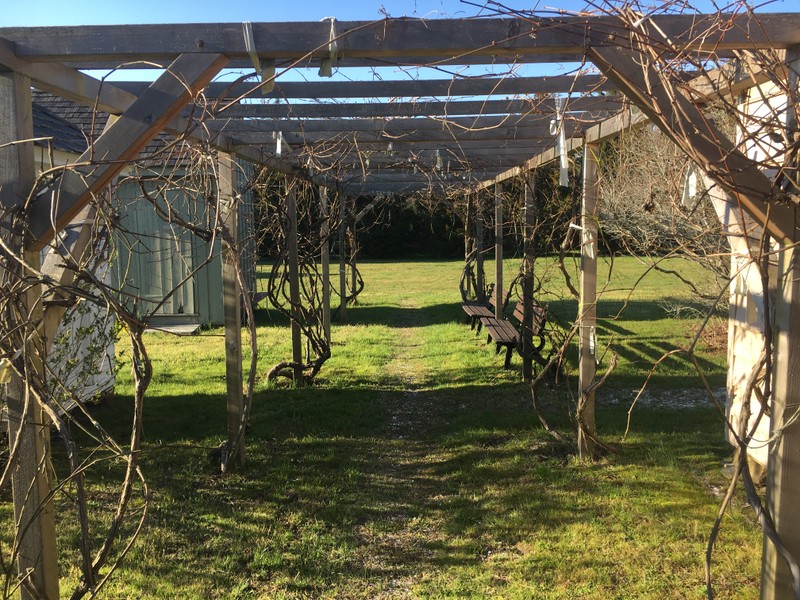 Gandy Farmstead - Period house / museum.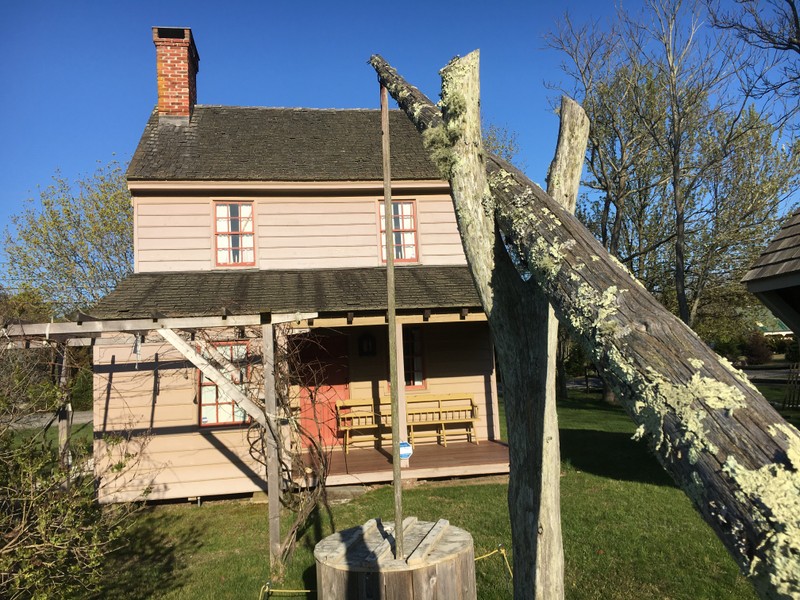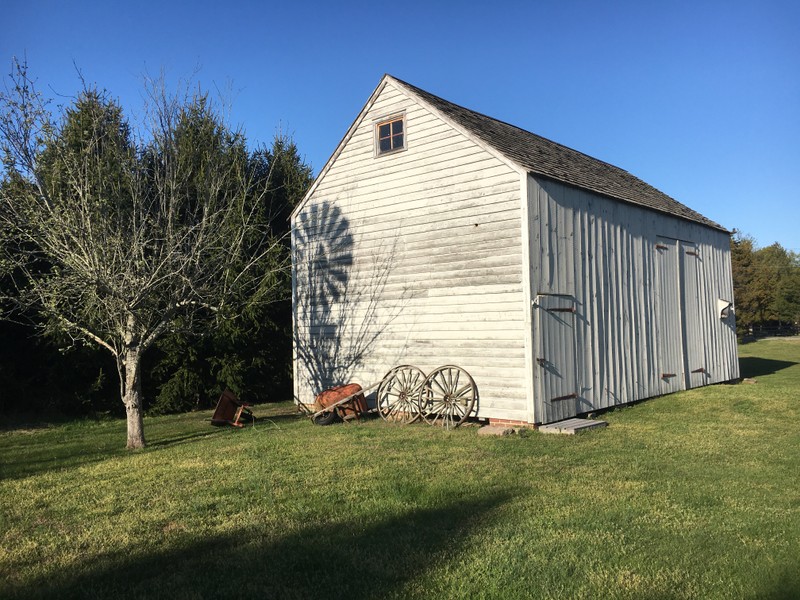 The Gandy Farmhouse as it looks today. (Front view on Tyler Road)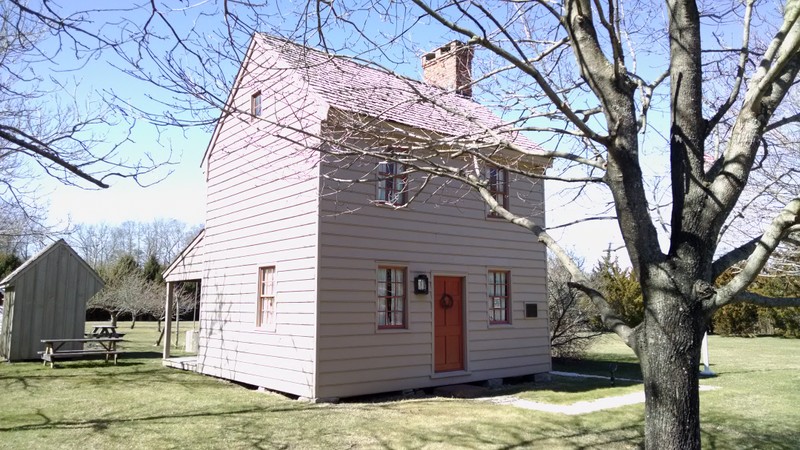 The Gandy House in its early stages of restoration. @1980 The members of the restoration crew are from left to right:James Siegrist, Paul Kuhnle, Sonia Forry, and Reynolds Schmidt.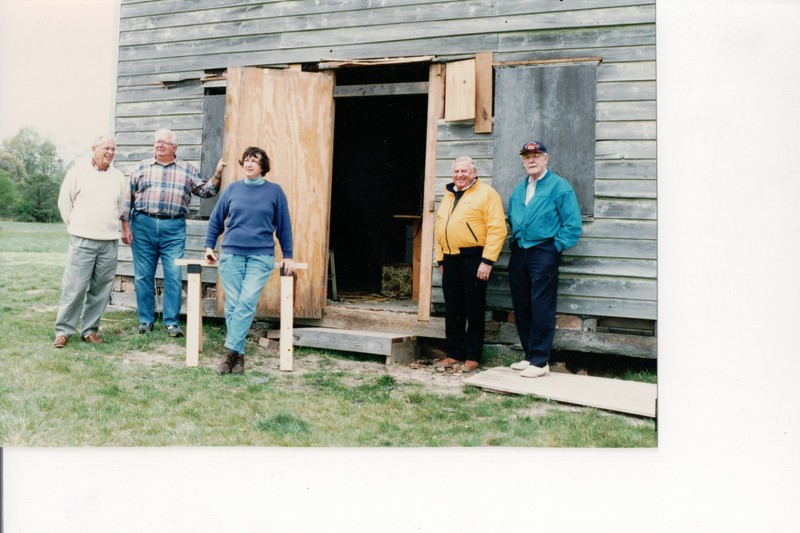 Backstory and Context
John Wesley Gandy, born in 1847, and his wife, Emma Lavinia Van Gilder, were both descendants from Cape May County pioneering families.
John Wesley Gandy was a farmer, minister, constable and district superintendent of schools and was a manager of the Cedar Swamp Meadow Company.
The Gandy family has a proud heritage in the settling of Cape May County and in 1996, the heirs of Winifred Gandy donated the house and one acre of land on which it stands to the HPSUT that is may be preserved and named to honor the memory of the Gandy Family.
According to Joan Berkey, Architectural Historian:
The house stands on land purchased by Henry Young from the West Jersey Society in 1725. The land had frontage on Cedar Swamp Creek, which became a busy maritime center with ship building yards and docks in the 18th and 19th centuries.
In 1776, Young willed a portion of the plantation to his son, Job.
In 1809, Job's daughter, Elizabeth Young Corson received 137 acres of the bland her father had inherited and in 1811, she sold the 137 acre parcel to Joseph Falkinburge.
The house was probably built shortly after Falkinburge )1769-1846) bought the property. Falkinburge had immigrated to cape may County from Atlantic County in 1790 and married into the wealthy whaler yeoman Ludlam family. He was a successful businessman and politician, serving in the NJ Assembly from 1803-1804 and 1810-1811., then in the Senate from 1808-1809 and again in 1812-1814. He became one of the county's land barons holding 1,000 acres of farm land, building lots, and town lots. He also built the first brick house in the county. The house wa probably used as a tenant house during Falkinburge's ownership, and in 1833 he sold the property to Shamgar and Nicholas Corson.
In 1845, Albert G. Corson purchased the property from the estate of Shamgar Corson. A farmer, he lived there for 15 years, then sold the property to Edwards asa Charlotte Corson in 1860. Edwards Corson was a ship carpenter who possibly worked at DStephen Young's Shipyrad, and he also served as manager of the Cedar Swamp Meadow Company in 1863 and 1864. This company was formed in 1815 by those who owned the valuable property along Cedar Swamp Creek with the purpose of banking and damming the meadows against overflow of the tides to create farm and grazing land.
In 1878, Emma Van Gilder Gandy, wife of John Wesley Gandy, purchased the property from Edwards and Charlotte Corson. John Gandy (1847-1929) was a farmer, minister, constable, and district superintendent of schools. He lived here until his death in 1929.
In 1996, the heirs of Winifred Gandy gave the John Wesley Gandy house with one acre to the Historical Preservation Society of Upper Township to be preserved in its original farmland setting. The township of Upper took title to the property and now leases it to the society and cares for the upkeep of the building and grounds.
Sources
HPSUT Tri-Fold information pamphlet
Berkey, Joan. The John Wesley Gandy House (#5) from her book, "A Survey of 80 Historic Buildings and Sites in Upper Township, Cape May County, NJ", Invalid date. Accessed May 4th 2020.
Holden, Robert. "Upper Township and its Ten Villages", Arcadia Publishing, Mt. Pleasant, SC, 2020
Image Sources
HPSUT

HPSUT

HPSUTD

Robert F. Holden - author of: "Upper Township and Its Ten Villages"

Additional Information