The Pyle House Museum
Introduction
The Pyle House Museum salutes the Pyle Family, a pioneering family of South Dakota. Parents John L. Pyle, Mary I. (Mamie) Pyle, and daughter, Gladys Pyle, significantly changed history locally, state-wide, and nationally. Their Queen-Anne Victorian Home is now a historic house museum that celebrates their tory and the history of Women's Rights in South Dakota. Particularly Mamie and Gladys were changers in the field of women's history, one fighting for the right to vote and one breaking glass ceilings.
Images
Motor Vehicle License signed by Secretary of State, Gladys Pyle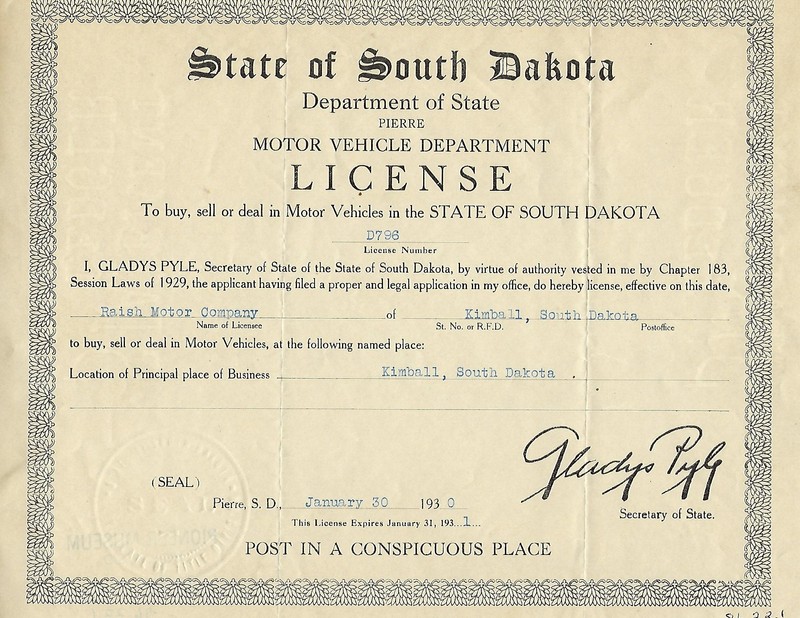 Backstory and Context
The Pyle House Museum, the Queen-Anne Victorian Style Pyle family home, is a tribute to a pioneering family.  The Pyle family consisting of John L. Pyle and Mary I. (Mamie) Shields Pyle, and children John S., May, Nellie, and Gladys, lived in the house from the time it was built in 1893-94 to 1987, when the youngest child, Gladys, entered the nursing home. It was added to the National Register of Historic Places in 1974, while Gladys lived there. 
John L. and Mamie Pyle commissioned the home in 1893 from Redfield, SD architect, James H. Albrigtht. Common of the Queen-Anne Style, the house is asymmetrical with 3 stained-glass windows, 2 beveled glass windows, bay window, decorative sunbursts and starbursts, and scallops at the top of the east and west sides. Much of the house remains untouched, as John L. died in 1902 and left the family without "regular income". The radiant Heat warms the Pyle House, the water originally was gravity flow ad a drainage system in the basement helped keep the water out. With many 'modern' amenities, the Pyle House was far ahead of its time.
John L. was the Attorney General for the State of South Dakota from 1899-1902. Son to abolitionists Levis and Mary (Dean) Pyle, he was born in 1860 in Coal Run, Ohio. From Raritan, Illinois, the family moved to Miller, Dakota Territory in 1882. John L. would become interested in the law and studied under Mr. M. E. Williams of Miller. In 1886, he passed the bar examination to practice at the Territorial Bar. He would become Hand County's state's attorney just six months after passing the bar. In 1889, now married to Mamie Shields and with children, he moved his family to Huron, South Dakota. John L. went into practice with Mr. Alva Taylor. He was later elected in 1898 and in 1900 as South Dakota Attorney General, the first person from Beadle County to hold a state office. He supported the State Historical Society, temperance, Huron College, the Presbyterian Church, and many other fraternal organizations. After contracting typhoid while on a case in Montana, John L. Pyle died at the age of 42 in 1902. 
Mary Isabella (Mamie) Shields Pyle became the lead Suffragist in South Dakota. Born to Hugh Philbin (Harry) and Sarah Jane (Overend) Shields, Mamie was born in Orange, New Jersey in 1866. In 1873, the family moved to Pleasant Grove, Minnesota and later the family moved to Miller, Dakota Territory. Mamie became a teacher in a rural school that would be named after her, the Golden Shield School. May 26, 1886 Mamie married John L. Pyle and would have 3 children in Miller. The fourth child, Gladys, would be born when the family moved to Huron in 1890. By 1902, tragedy would strike as John L would pass away from typhoid. A 37-year-old widow, Mamie picked up where John L. had left off in many ways. She filled in the vacancy left by her husband on the Huron College Board of Trustees. Despite the fact that the family had very little income, Mamie championed the right to vote for women. She became president of the Universal Franchise League and led the fight that won South Dakota women the right to vote in 1918 – two years before the 19th Amendment went through in 1920. She worked tirelessly for South Dakota to be a part of the two-thirds majority that would ratify the 19th Amendment. Mamie was also the first recipient of The Mother of the Year award in 1947, as her home was always a welcome place for her children and their friends. Mamie was very active in her community even as her work spread nationally. Mamie Pyle would pass away in 1949 at the age of 83.
Gladys Shields Pyle, a woman of many firsts, was active locally, state-wide, and nationally. Born October 4, 1890 in Huron, SD, Gladys was gifted in school and excelled in the Huron College Academy. She, along with sisters May and Nellie, would graduate from Huron College in 1911. Mamie would then close down the family home and take the girls to Chicago for further study, where Gladys would study music at the American Conservatory of Music. Upon moving back to Huron, she became a teacher, and the principal of Wessington, South Dakota. She always felt that educating was the most important thing she'd ever done. After spending some time with her brother, John S., Gladys would become a lecturer focusing on "Citizenship", encouraging women to vote. Eventually, Gladys was called into service. In 1922, she would become the first woman elected and then re-elected the South Dakota Legislature, as a Representative from Beadle County. In 1923, she became Assistant Secretary of State for South Dakota. By 1926, Gladys would become the First woman to hold a constitutional office in the state, as Secretary of State. When United States Senator Peter Norbeck died in office in 1936, a special election was had. In 1939, Gladys would become the first woman elected, without previously being appointed, to the United States Congress. With this honor, she would become the first Republican woman elected, and the first unmarried woman to be elected to Congress. Gladys served for around two months, and arranged for Olaf, the heir apparent of Norway and his wife, Princess Martha to visit Sioux Falls. Gladys would go on to serve the community and state in many various capacities, much through volunteerism. She did run for governor of South Dakota and mayor of Huron, and did not receive the nod for either of them. She was an insurance saleswoman and underwriter, a member of the Presbyterian Church, and was involved in the YWCA, many sororities, and the Red Cross. Gladys also understood the importance of having both genders on a jury, something for which she fought tirelessly. In 1947, Gladys sat on the first US District Court grand jury that allowed women to serve in Deadwood. This was a huge victory for her. Gladys would continue to be active in politics and in the community. Gladys lived in the Pyle House until 1987, when she went into Huron Nursing Home. Gladys Pyle died March 14, 1989, her legacy as one of the Grand Dames of South Dakota continuing. 
The Pyle Family left a legacy that is tangible through their home. Virtually untouched, the Pyle House tells the family story as well as the story of the movement of the Queen Anne Style across the prairie. As a family home, it still holds the love that made it special. As a landmark, it is a place where time is frozen and history is relived.   
Sources
Thorpe, Cleata B. The John L. Pyle Family: Dakotans Extraordinary, January 1st 1973. Accessed May 5th 2020.
Image Sources
Dakotaland Museum Collection