Lang Southern Pacific Station
Introduction
Lang Southern Pacific Station is a Historic Landmark from an event held on September 5, 1876, at the first Lang Train Station. The newly-established railway was a vital connection to transcontinental railways, simultaneously cutting California travel time from 70-90 hours to only 10. The tunnel and tracks, however, were built on the backs of 3,000 Chinese immigrants who did not receive credit for their work for over 100 years. The Landmark location is currently located in Canyon Country, Santa Clarita, California. The Lang Southern Pacific Station was designated a California Historic Landmark on May 22, 1957.
Images
Lang Southern Pacific Station Marker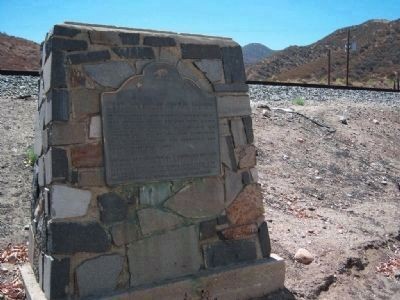 Lang Southern Pacific Station Marker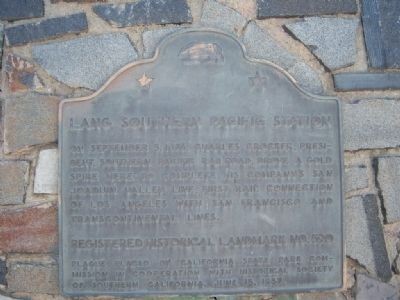 The fourth iteration of Lang Station, 1936 view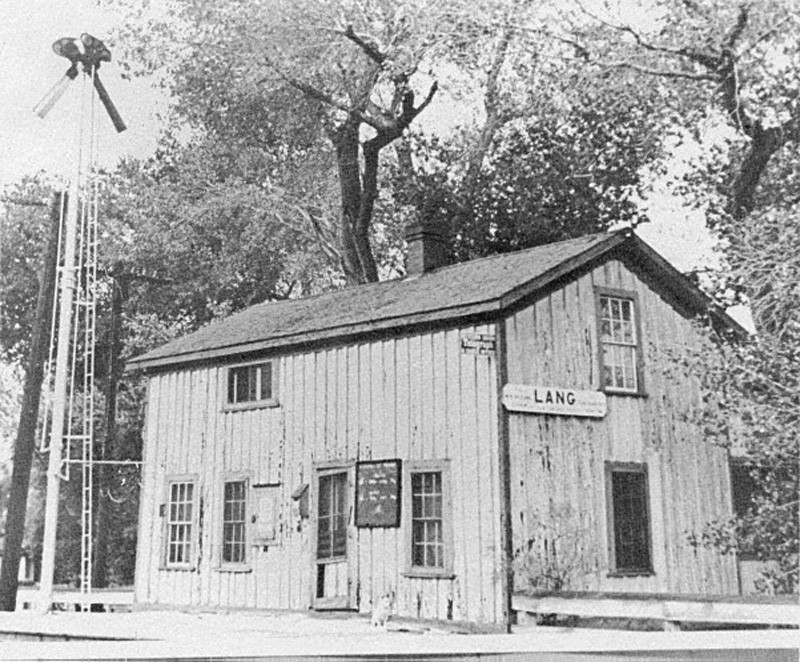 Lang Station Historical Marker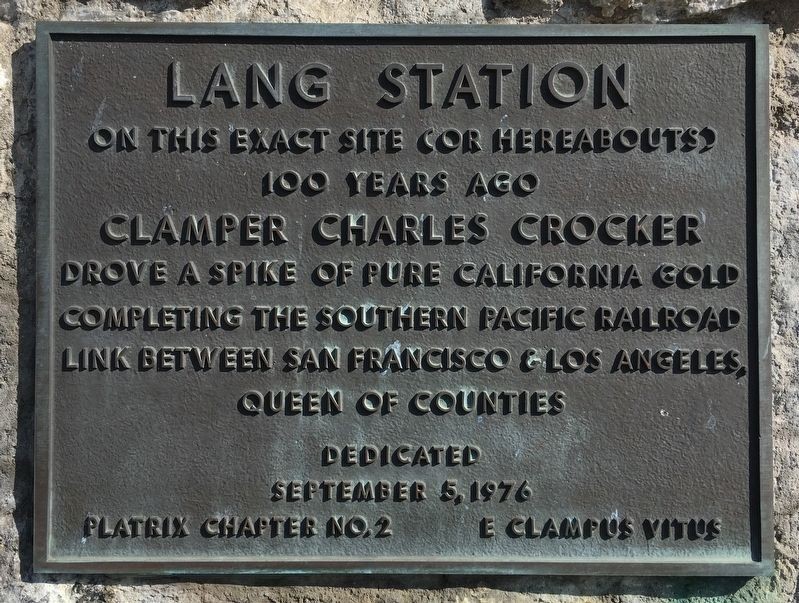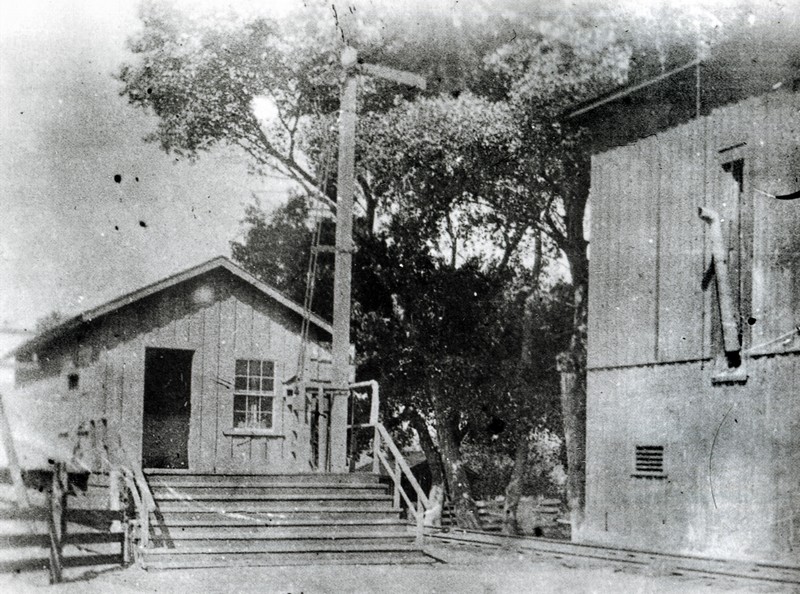 Backstory and Context
On September 5, 1876, Charles Crocker, the president of the Southern Pacific Railroad, drove a golden spike to complete the company's San Joaquin Valley Line, with the first steam engine passing through that year on August 12. It was the first rail connection of Los Angeles with San Francisco, making transport for people and goods more accessible not only across the state, but also to major cities such as Chicago and New York by the Transcontinental Railroad that was constructed seven years earlier. Originally, travel through California took 70 hours by boat and 90 hours by stagecoach, but that number was cut to 10 hours via the railway. The railway, however, was the effort of great labor by Chinese workers who went unrecognized for over a century.
A critical part of the route was what is now the San Fernando Tunnel, built through the San Gabriel Mountains south of Newhall. The tunnel was chiseled through solid granite by a workforce of 3,000 Chinese laborers who were paid $1 per day and were often killed or injured due to collapsing tunnels. Built with horse-drawn plows, picks, shovels, drills, and explosives, workers started at both ends of the mountain, being only half an inch off when finally meeting in the middle. Upon its completion, after over a year of work from March 1875 to July 1876 and at a cost of $2 million, the tunnel was 6,940 feet long, making it the third-longest in the nation and fourth-longest in the world at the time. The last 1,000 feet of track, however, were laid by Caucasian workers, meaning the Chinese who did a majority of the work were unseen.
According to historian John Sweetser, the first Southern Pacific depot at Lang was established in 1884, recorded in the Los Angeles Daily Herald on August 29 of that year. However, three more buildings would be constructed before the final was standing. Lang Station was created in the town of Lang in Canyon Country where cattle ranger John Lang built a hotel and spa near Sulphur Springs in 1871. Originally serving as a stage station for Remi Nadeau's freighters from the Cerro Gordo mines, it was used as a depot for cattle, ore, ang grain. The station burnt down in 1887 and was rebuilt, opening again in January of 1888 before burning down once again just seven months later on August 14, 1888. On October 5, 1906, it burnt down once more, before the final depot was established in a section of the building of the foreman's house, where it remained until its closing on May 9, 1968.
The closing of the station occurred due to the opening of the Palmdale cutoff in 1967, which diverted freight traffic, diluting the need for train order offices. In 1971, the passenger service was discontinued and the building demolished, with the depot that had replaced the fire-stricken one in 1907 already dismantled in 1968-1969, right after its closing. On September 5, 1926, railroad enthusiasts and history buffs descended on Lang for a 50th anniversary celebration of the driving of the golden spike. A modern Southern Pacific engine was outfitted with a smokestack and renumbered 38 for the occasion, the same number borne by the 10th-wheel engine that lumbered south from Tehachapi in 1867 to meet the 8th wheel engine number 25 that drove north from Las Angeles.
A half century later, on September 5, 1976, historians gathered at the site to commemorate the 100th anniversary, where credit was finally given to the 3,000 Chinese immigrants who built the railroad, battling solid rock, cave ins, heavy winds, and blistering heat as they cut their ways through the mountains. Members of the Santa Clarita Historical Society, San Fernando Valley Historical Society, Chinese Historical Society of Southern California, Railway & Locomotive Historical Society, and E Clampus Vitus were all present for the event. The historical marker for the depot can be found from Lang Station Road 0.2 miles south of Soledad Canyon Road. When traveling east, it is located on the right.
Sources
Lang Southern Pacific Station , Wikipedia . March 9th 2020. Accessed April 27th 2020. https://en.wikipedia.org/wiki/Lang_Southern_Pacific_Station.
Lang Station , Explore APA Heritage . September 1st 2018. Accessed April 27th 2020. https://exploreapaheritage.com/index.php/sites/lang-station/.
Lang Station: Recalling A Forgotten Monument, Los Angeles Times. December 5th 1993. Accessed September 6th 2020. https://www.latimes.com/archives/la-xpm-1993-12-05-me-64418-story.html.
Lang Southern Pacific Station, Historical Marker Database. Accessed September 6th 2020. https://www.hmdb.org/m.asp?m=122365.
Worden , Leon . Lang Station , scvhistory. Accessed April 27th 2020. https://scvhistory.com/scvhistory/hs3601.htm.
Image Sources
Photo by Konrad R. Summers, Historical Marker Database, August 1, 2008

Photo by Konrad R. Summers, Historical Marker Database, August 1, 2008

SVC History

https://www.hmdb.org/m.asp?m=133821

https://en.wikipedia.org/wiki/Lang_Southern_Pacific_Station

http://www.westernpacificdepotsandstations.com/sp_depots.htm

Additional Information