Lee's Headquarters, Slaty Fork, WV
Introduction
During the early stages of the Civil War, Valley Mountain was the location of General Robert E. Lee's headquarters. From July till September of 1861, the area had dual use, soldiers guarded the road access to southern Virginia and formed a base camp for the newly constructed Confederate troops. At this location, Lee would direct the Battle of Cheat Mountain (aka Battle of Cheat Summit Fort), which took place from September 12-15th of 1861. The natural and tactical challenges would lead to the Confederate failure of this campaign.
Images
Picture depicting Cheat Mountain Summit, sparse and mountainous.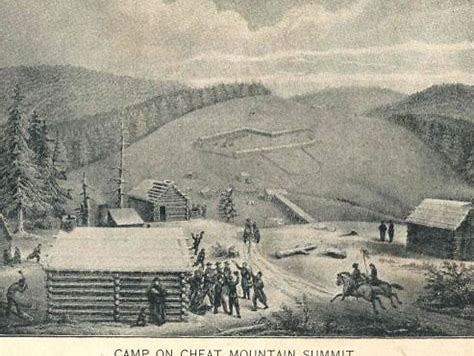 Robert E Lee, age 63. It is said that Lee's hair turned gray as a result of the Civil War.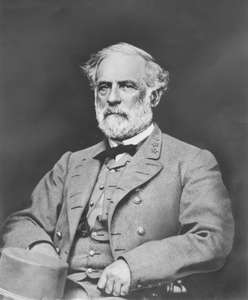 Partial Virginia map showing Cheat Summit Fort, Rich Mountain, Camps, and towns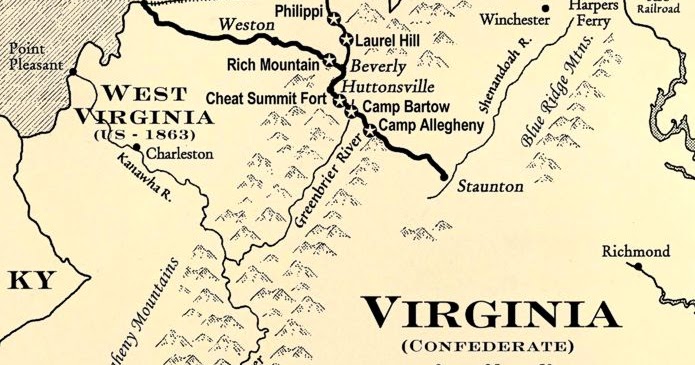 Backstory and Context
Robert Edward Lee was born on Jan 19th, 1807, to Ann Hill Carter and Colonel (Light-Horse Harry) Henry Lee. His father, Henry Lee, fought in the American Revolution and served as Governor for Virginia from 1789-1791. Henry Lee passed away, and with limited resources to provide Robert E. Lee with a University education, Lee joined U.S Military Academy, graduating in 1829.  Lee first experienced combat during the Mexican-American war. Lee served under General Winfield Scott; who later wrote that Lee was "the best soldier I ever saw in the field".
General Lee surfaced to military prominence in the United States' Civil war. Lee opposed secession and war, but would not fight for the Union against southern states, or fight against his native state of Virginia. After serving for thirty-six years, Lee resigned from the US Army and was appointed commander in chief of Virginia forces. Lee commanded his home state's militia and organized with Confederate troops to lead forces in battles that included: the First Battle of Bull Run, Battle of Fair Oaks, Seven Days Battle, Antietam, and Chancellorsville. On April 9, 1865 with ravaged, demoralized, and starving troops, Lee surrendered to General Ulysses S Grant. The Battle of Cheat Mountain was General Robert E. Lee's first offensive battle of the Civil War that he commanded.
Cheat Mountain Campaign in West(ern) Virginia during the Civil War.
General Lee, in an attempt to control western Virginia and to disrupt the voting for West(ern) Virginia secession, led the uncoordinated Cheat Mountain Campaign. The adverse conditions of fog, terrain, weather, and dense forests reduced visibility for maneuverability. Without a good understanding of the territory, Lee led his first offensive fight of the war against Brigadier General Joseph Reynold's troops in Cheat Summit Fort, in the valley of Tygart, near present day Pocahontas and Randolph county lines.
General Lee struggled to institute five columns, going together through narrow passes. Though the men were willing to assume orders, their commanders were not able to create collective or coordinated movement for attack. Due to the strong federal defense, the leader of the confederate attack under Lee, Colonel Rust, incorrectly assessed the Union force as much larger in size. Lee terminated the attack and withdrew from Valley Head on September 17th 1861.
A subsequent operation against Union forces at Laurel Mountain was again mobilized in October by General Lee with General Loring's and General Floyd's troops, but was called off due to weather, lack of proper supplies and inferior communication. The aftermath, a total of eighty Union force casualties and approximately ninety to one hundred Confederate Virginia troops were lost. The battle had minimal impact to both the campaign and the war; neither side showed any major gains or losses. In October, Lee was recalled back to Richmond after performing dismally in western Virginia.
Sources
Dowdey, Clifford. Accessed April 28th 2020. https://www.britannica.com/biography/Robert-E-Lee.
Accessed April 28th 2020. civil-war-journeys.org/cheat_mountain_wv.html.
Accessed April 28th 2020. https://ehistory.osu.edu/battles/cheat-mountain-cheat-mountain-summit.
Accessed April 28th 2020. https://www.ohiocivilwarcentral.com/entry.php?rec=703.
Image Sources
http://civil-war-journeys.org/cheat_mountain_wv.htm

Encyclopedia Britannica

blogspot.com

Additional Information