Original Location of MOVE
Introduction
Before the MOVE bombing occurred at compound located at in the Cobbs Creek area of West Philadelphia, the MOVE organization lived in another home. The house was located in Powelton Village at 311 North 33rd Street. As with the Cobbs Creek home, the original location of MOVE caused issues with their surrounding neighbors and the police.
Images
MOVE Members In Front of Original House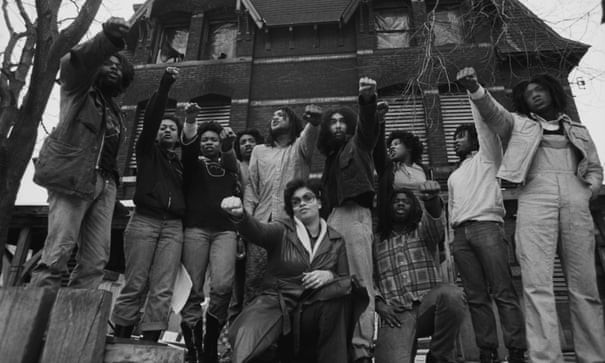 Front Image of MOVE's Original Location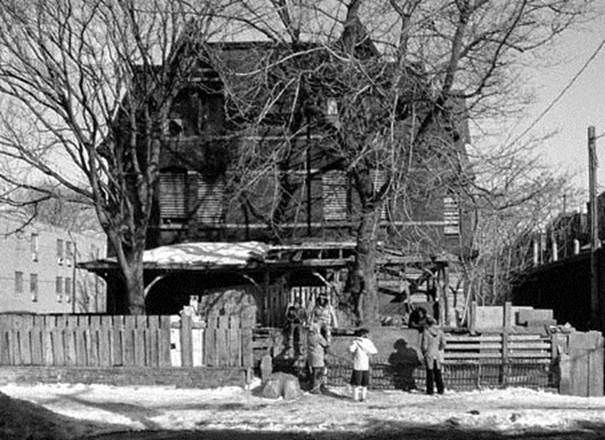 Backstory and Context
When MOVE moved into the home in Powelton Village, it was not long at all until the life style of the group created tension among the neighbors, who then made complaints with the police. In 1977, Mayor Frank Rizzo obtained a court order requiring MOVE to vacate their house. Due to this, MOVE created a treaty with Philadelphia Police Department (PPD) that stated the group would move out of the premise and surrender their weapons if the police released their members from the city jail. While the police released the MOVE members from prison, the organization failed to comply with their half of the deal.
Almost a year later, a standoff occurred between police and the MOVE members who still occupied the house. When the PPD attempted to enter the home, shots were fired. PPD officer James J. Ramp was shot in the back of the neck and killed. There is still uncertainty as to who fired the shot that killed Officer Ramp. MOVE members claimed that he was facing the house at the time. MOVE insisted he was killed by shots fired by fellow police officers. Prosecutors stated that Officer Ramp was facing away from the home at the time he was shot. Prosecutors charged Sims Africa and the other eight members with collective responsibility for Officer Ramp's death. The standoff lasted for roughly an hour before the MOVE members began to surrender.
In 1981, MOVE relocated to a row house located at 6221 Osage Avenue in the Cobbs Creek area of West Philadelphia.
Sources
Demby, Gene. I'm From Philly. 30 YEars Later, I's Still Trying to Make Sense of the MOVE Bombing, National Public Radio. May 13th 2015. Accessed Invalid date. https://www.npr.org/sections/codeswitch/2015/05/13/406243272/im-from-philly-30-years-later-im-still-trying-to-make-sense-of-the-move-bombing.
Pilkington, Ed. MOVE 9 Women Freed After 40 Years in Jail Over Philadelphia Police Siege, The Guardian. May 25th 2019. Accessed Invalid date. https://www.theguardian.com/us-news/2019/may/25/move-9-Black-radicals-women-freed-philadelphia.
Image Sources
https://www.theguardian.com/us-news/2019/may/25/move-9-black-radicals-women-freed-philadelphia

https://www.phillytrib.com/news/timeline-of-the-move-organization-leading-to-may/article_91170189-7446-5a6b-97cc-db04660d69a6.html