Early Manufacturing
Introduction
During the early years of the 19th century, manufacturers in Licking County served the needs of local farmers, residents, and area travelers. Sawmills, flour mills, tanneries, and a few iron furnaces dotted the landscape. By 1820, Licking County manufacturers were beginning to produce a variety of items on varying scales.
Images
This stove was manufactured at the Mary Ann Furnace, Licking County's earliest factory.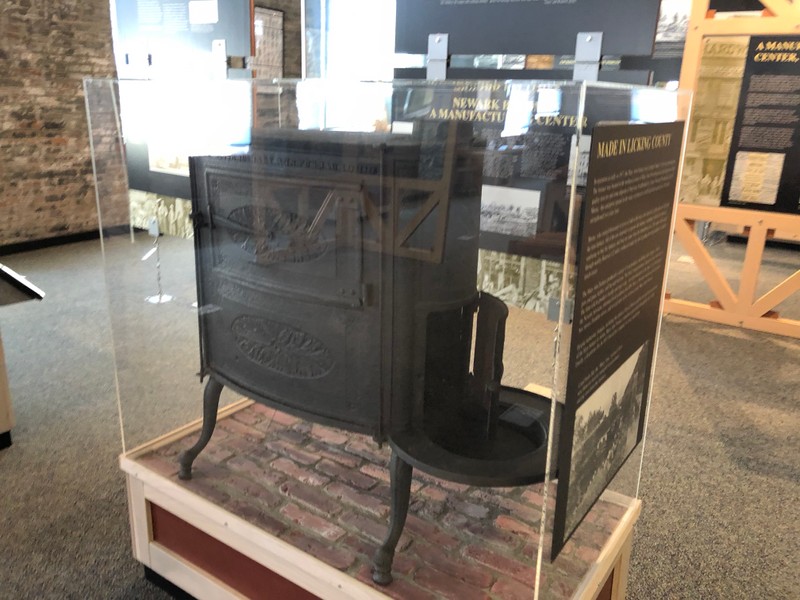 This is a two-piece double weave coverlet made of cotton and wool on a Jacquard loom. In the lower left corner it reads, "Wove at Newark, Ohio by G. Stich 1846."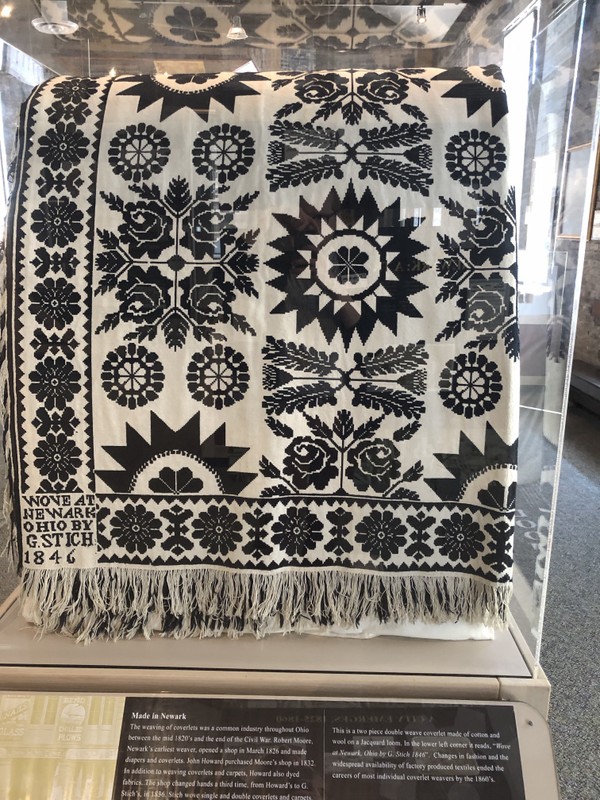 These guns were made in Licking County. The top is a half-stock muzzleloader made in Granville by Merrill J. Hough around 1865. The bottom one is a full-stock muzzleloader made in Newark by John Hetrick sometime between 1850 and 1870.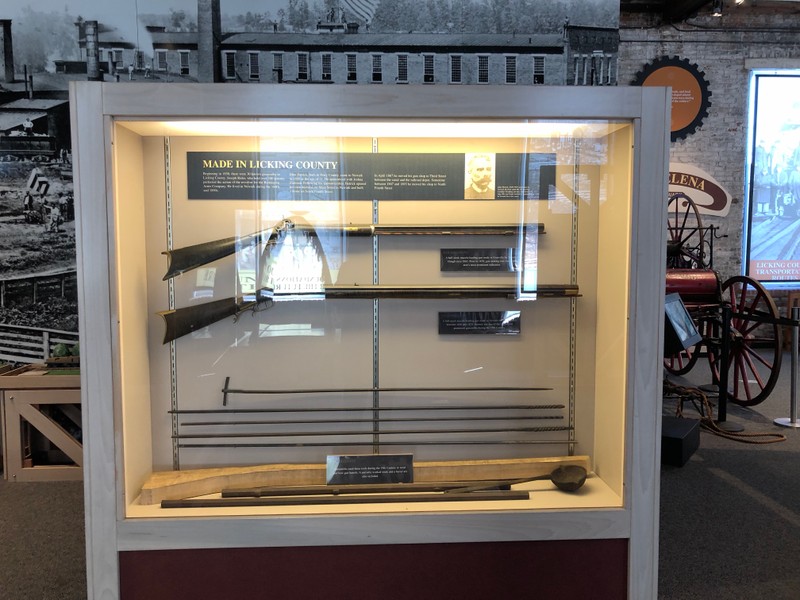 Backstory and Context
Mary Ann Furnace
In operation as early as 1817, the Mary Ann Furnace was Licking County's first iron manufacturer. The furnace was located in the northeast corner of Mary Ann Township near a rich deposit of high quality iron ore and some deposits of bog iron. Established by former Newark postmaster David Moore, this enterprise opened in the wake of protective tariff legislation passed in 1816 and strengthened two years later.
Moore, who owned thousands of acres of land in the area, also operated a grist and saw mill near the iron furnace. All of the raw materials to operate the furnace, including timber for charcoal, sandstone to line the furnace, and iron ore came from the immediate area. The route of the canal through nearby Hanover made the job of getting his iron products to the market much easier.
The Mary Ann Furnace produced a variety of iron products, including nails, hinges, chains, pots and pans, kettles, and bar and rod iron. The firm's main products, however, were iron stoves. The company sold its products locally and statewide. An advertisement in the June 15, 1839 issue of the Newark Advocate informed local residents that B.W. Brice's Newark store had just received box stoves, Franklin stoves, and several new styles of stoves from Mary Ann Furnace.
Despite numerous changes, including the death of David Moore and his son, and the conversion of the blast furnace to steam, Mary Ann Furnace remained operational throughout the 1840's. Finally, a disastrous fire in 1853 forced the company to cease operations.
Weaving
The weaving of coverlets was a common industry throughout Ohio between the mid 1820's and the end of the Civil War. Robert Moore, Newark's earliest weaver, opened a shop in March 1826 and made diapers and coverlets. John Howard purchased Moore's hope in 1832. In addition to weaving coverlets and carpets, Howard also dyed fabrics. The shop changed hands a third time, from Howard to G. Stich in 1836. Stich wove single and double coverlets and carpets. He remained in Newark until at least 1848. Other weavers such as John Tobin in 1852 and Alex Morrow in 1858 also wove carpets and coverlets in Newark. Changes in fashion and the widespread availability of factory produced textiles ended the careers of most individual weavers by the 1860's.
Gunsmiths
Beginning in 1850, there were 30 known gunsmiths in Licking County. Joseph Rider, who held over 100 patents, perfected the action of the revolver for the Remington Arms Company. He lived in Newark during the 1880's and 1890's.
John Hetrick, born in Perry County, came to Newark in 1850 at the age of 21. He apprenticed with Joshua Zartman. Following his apprenticeship, Hetrick opened his own business on Main Street in Newark and built a home on South Fourth Street. In April 1867, he moved his gun shop to Third Street between the canal and the railroad depot. Sometime between 1867 and 1893, he moved his shop to North Fourth Street.