Mill Street and Old Depot Square
Introduction
Mill Street has been made a pedestrian street. After renovations in 2019, a public plaza at the end of Mill Street, next to Boulder Drive, is functioning as a flexible space for public happenings and art. The decorative panels were made by Fitchburg artists and designers. Two blocks further east on Main Street, you will find the area originally known as Depot Square, when it faced Fitchburg's monumental Victorian train depot, taken down as part of urban renewal in 1961. In that area, the city has mounted a monument to 9/11, a policeman's monument, and a display of flags representing Fitchburg's ethnic diversity and civic life.
Images
Fitchburg's Depot Square circa 1900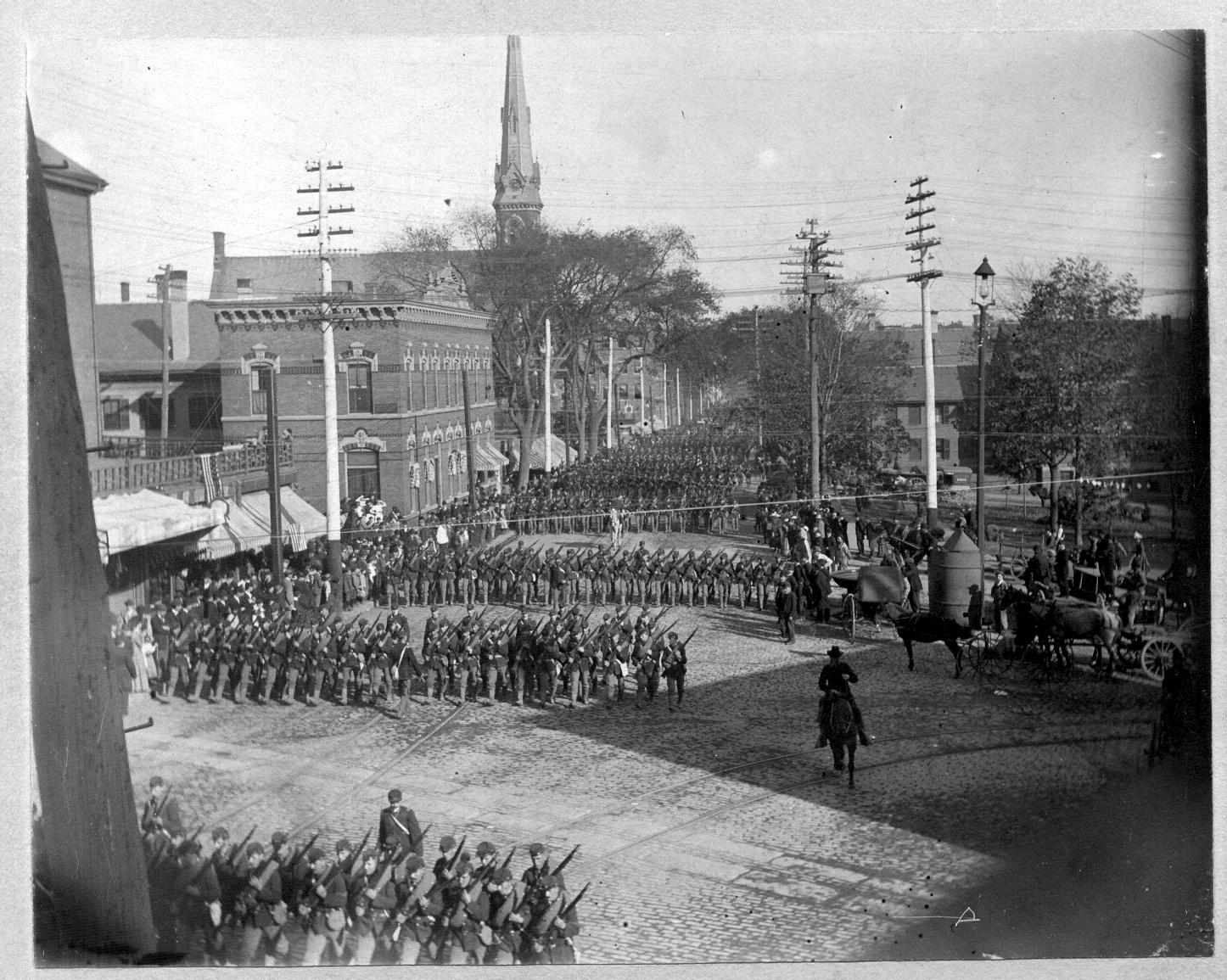 Detail of Fitchburg's Railroad Depot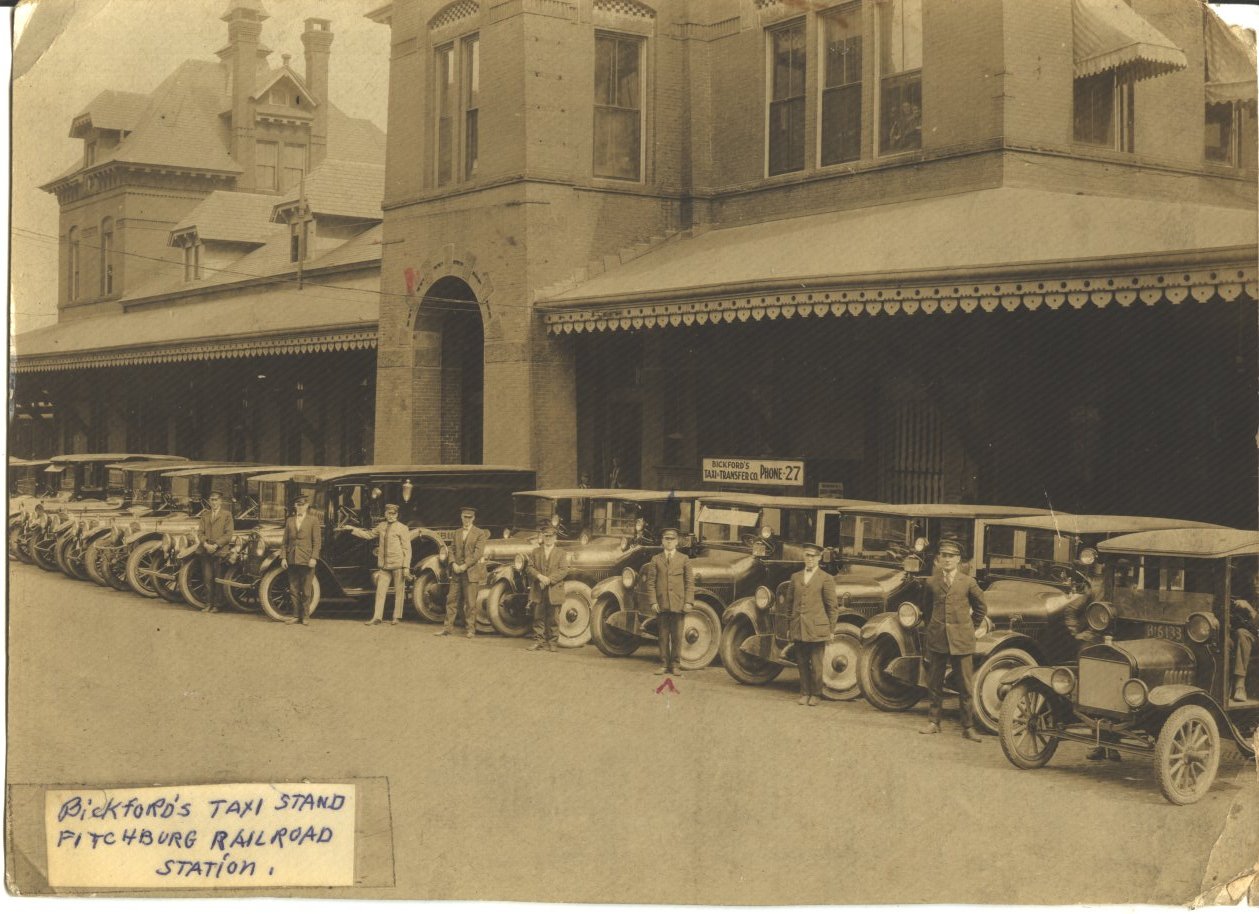 American House Hotel in Depot Square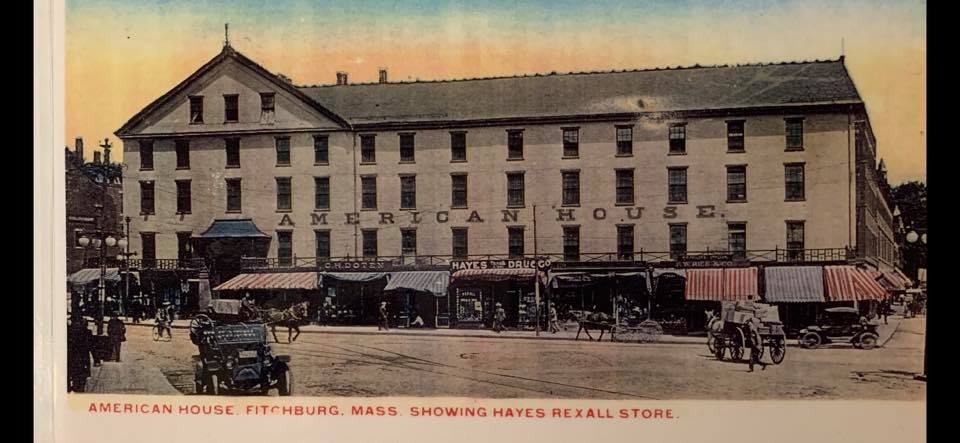 Flatiron building, "Johnson & Macy Dry Goods", built 1867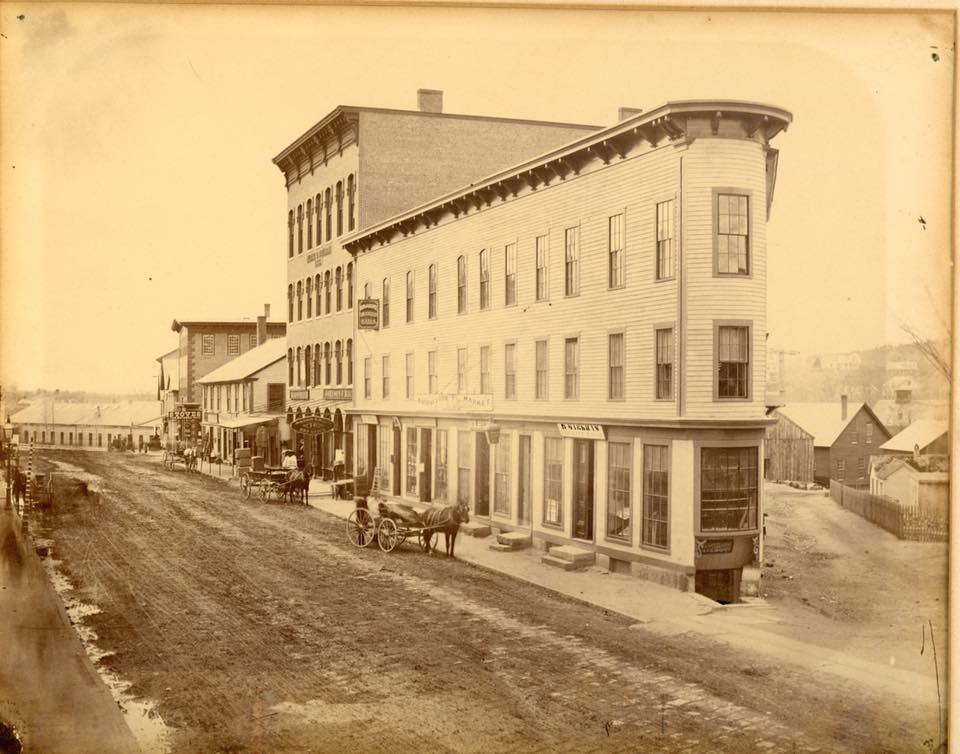 Backstory and Context
MILL STREET PUBLIC ART
This pedestrian street was renovated and decorated by local artists in 2019. This public open space is designed to inspire changing, flexible uses by Fitchburg residents and visitors. Before Boulder Drive was constructed in the mid-20th century, Mill Street continued over the river to connect with Laurel Street. If you cross Boulder Drive and follow Commercial Street over the river, you will enter Fitchburg Riverfront Park, a newly-developed green space and public park with river views. Here is a view of Mill Street at Boulder Drive, with the artwork and seating, today: https://bit.ly/3fFMYnq
Illustrating this tour is a picture of the 1867 Flatiron building that originally squeezed in between Main Street and Mill Street at what is now 383 Main Street. It shows some of the wood buildings originally located along Mill where the parking lot is now.
Following Main Street for two blocks east, you will come to the small public park that has replaced Fitchburg's Depot Square, a busy urban crossroads that was dominated in the 1800's by the American House Hotel on the north side and the Fitchburg Railroad Depot on the south side. Its appearance is shown in a postcard image attached to this tour.
POLICEMEN'S MONUMENT
The Policemen's Monument memorial in Depot Park was first envisioned in 1958, but the necessary funding and planning came together six years later under Acting Police Chief Frederick M. Kalagher and Captain Bernard J. Keenan, in 1964. In February 1964, the president of Fitchburg's Police Relief Association, louis Scalzulli announced that it would be a six foot statue of a uniformed policeman, carved in Barre granite. From this time, it was planned that annual police memorial services would be held at the site of the monument. (Before the completion of the monument, services were held each year wherever the Police Relief Association President worships.
After the sculpture was completed in August 1964, it was kept hidden under a veil until its dedication. Attorney General Robert F. Kennedy was invited to speak at the dedication by local Democratic activist Bernard (Bunny) Moynihan. Ultimately, it was Boston Police Commissioner Edmund McNamara who spoke. Here is a current, though distant, view of the memorial and park: https://bit.ly/3bmjurh
2 Blocks further east, you arrive at North Street. Heading north 1/2 block, you reach the Fitchburg Fire Department Headquarters. To the left of the Fire Department Headquarters (at intersection of North and Cherry Streets, one block from Main) a piece of twisted metal. It is a portion of the ruins of the World Trade Center, as shaped by the destruction of September 11, 2001. This monument was completed and installed September 2017. The Fire Department Headquarters also offers tours, by advance appointment. Here is a view of the building and monument: https://bit.ly/3fEgud4
Sources
Fitchburg Historical Society research files.
Grammel, Joan Fenno. All About Fitchburg. Clinton, MA. Faustina-Nor Hub publishers, 2005.
Image Sources
Fitchburg Historical Society

Fitchburg Historical Society

Fitchburg Historical Society Facebook group

Fitchburg Historical Society Facebook group