Parkway Central Library (Free Library of Philadelphia)
Introduction
Julian Abele, an influential and acclaimed African-American architect, designed the neoclassical Parkway Central Library Building, which opened in 1927. The genesis of the library dates back to the 1890s, then known as the Free Library of Philadelphia; the first library building opened in 1895. The building is the hub of a free-library network that includes more than fifty facilities, many of which were funded by Andrew Carnegie.
Images
Parkway Central Library by Michael Barera on Wikimedia Commons (CC BY-SA 4.0)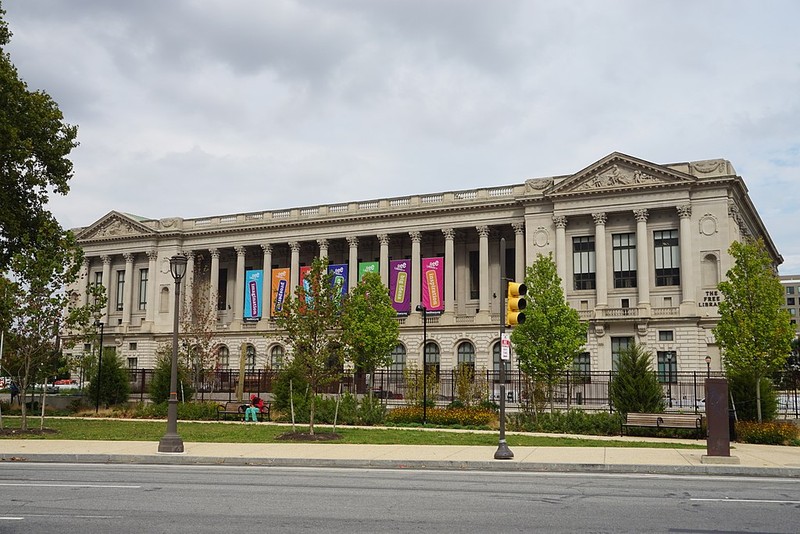 Backstory and Context
In 1891, Dr. William Pepper spearheaded a project to gain a charter for a free library in Philadelphia. He initially received $225,000 via inheritance from his wealthy uncle, George S. Pepper. However, several existing libraries also claimed the bequest, resulting in a legal battle over the funds. After the litigation ended, the library finally opened in March 1894. The Free Library's first location comprised three cramped rooms of Philadelphia's City Hall before moving to the city's old Concert Hall eleven months later. Still, Library officials criticized the Concert Hall facility as unsuitable, unsafe, unsanitary, and overcrowded. Nevertheless, the Free Library occupied Concert Hall from February 1895 to December 1910. Although planning on the now-historic Parkway Central Library Building began in 1911, World War I and various other obstacles prevented its construction until 1927; it opened to the public on June 2, 1927. 
Officials commissioned architect Julian Francis Abele, the first black graduate of what is today the School of Design. After graduating from Penn in 1902 with his degree in architecture, Abele spent three years in Europe mastering his craft before starting his career in Philadelphia with the Horace Trumbauer firm in 1906; he advanced to the position of chief designer in 1909. In 1938, Abele took over the office after Trumbauer's death. The company designed such Philadelphia buildings as the Philadelphia Museum of Art, the Free Library of Philadelphia, and many mansions. The firm also designed buildings at Penn and Harvard. Despite Abele's skills, excellent reputation, sophistication, and accomplishments, racism limited the public recognition of his role. Indeed, racial prejudices discouraged him from visiting Duke University, which he designed, and he had to wait until 1942 to gain admission into the American Institute of Architects.
The library building Abele designed also serves as the city's Free Library hub as the organization built numerous neighborhood libraries. Many of the branch libraries were funded by philanthropist Andrew Carnegie, who donated $1.5 million for neighborhood library construction in 1903. Carnegie (1835 -1919) developed into one of the wealthiest industrialists (a steel magnate) of the Gilded Age. His tenuous relationship with laborers and the poor included violent strikebreaking efforts tied to the 1882 Homestead Steel Strike. Carnegie eventually turned his focus toward charity, donating a substantial portion of his wealth to public projects. His well-documented philanthropy amounted to $333 million (ninety percent of his fortune), which primarily funded community projects and public buildings, especially libraries. Although many of his laborers wondered what good books were to those working twelve hours a day, six days a week, Carnegie wrote in his 1889 book, The Gospel of Wealth, "In bestowing charity the main consideration should be to help those who help themselves." Thus, $57 million of Carnegie's wealth went towards constructing more than 2,500 libraries. 
Today, the Free Library comprises Parkway Central Library, three large regional libraries, forty-nine neighborhood libraries, several community "Hot Spots," the Library for the Blind and Physically Handicapped, the Regional Research and Operations Center, and the Rosenbach. In 2019, a more than ten-year renovation project ended, resulting in an additional 41,000 square feet of public space. 
Sources
"Andrew Carnegie." Biography.com. Accessed December 27, 2022. https://www.biography.com/people/andrew-carnegie-9238756. 
Bobinski, George S. "Carnegie Libraries: Their History and Impact on American Public Library Development." ALA Bulletin 62, no. 11 (1968): 1361-367. http://www.jstor.org/stable/25698025.
Crimmins, Peter. "Philadelphia Free Library builds new public rooms, new modern mission." Public Broadcasting Service - WHYY. whyy.org. April 5, 2019. https://whyy.org/articles/philadelphia-free-library-builds-new-public-rooms-new-modern-mission/.
"History of the Library." Free Library of Philadelphia. Accessed December 27, 2022. https://libwww.freelibrary.org/about/history/.
"Julian Francis Abele: 1881 - 1950." University of Pennsylvania: Penn Libraries. Accessed December 27, 2022. https://archives.upenn.edu/exhibits/penn-people/biography/julian-francis-abele/.
Stamberg, Susan. "How Andrew Carnegie Turned His Fortune Into A Library Legacy." NPR.org. May 21, 2009. https://www.npr.org/2013/08/01/207272849/how-andrew-carnegie-turned-his-fortune-into-a-library-legacy. 
Standiford, Les. Meet You in Hell: Andrew Carnegie, Henry Clay Frick, and the Bitter Partnership That Transformed America. New York: Crown, 2010.
Image Sources
https://commons.wikimedia.org/wiki/File:Philadelphia_October_2017_06_(Free_Library_of_Philadelphia_Parkway_Central_Library).jpg

Additional Information