1911 Steam Locomotive #7
Introduction
This 25 ton steam locomotive #7 was built by H. K. Porter and Company of Pittsburgh, Pennsylvania in 1911 as Serial Number 4845. It was manufactured for the W.W. Cummer & Sons Lumber Company of Dade City, Florida and operated near Lacoochee, Florida. It was used to haul pine and cypress logs in Pasco County, near Miami. This particular locomotive never ran on this line, but is typical of locomotives used to to pull a freight train or passenger train from Jacksonville to our beaches. The tools on the back of the tender are track and logging tools.
Images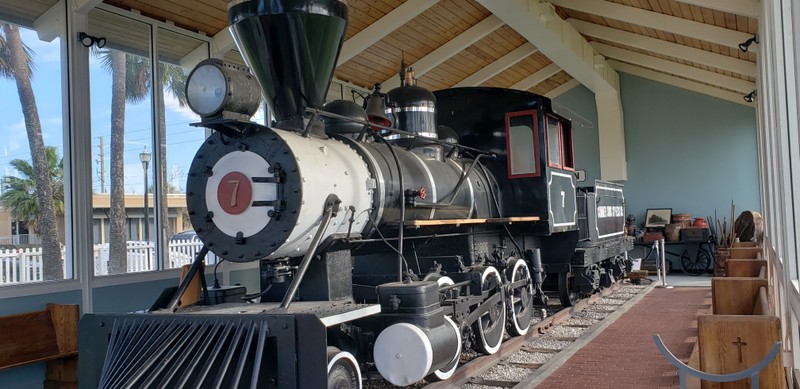 Cummer locomotive pulling load of cypress logs.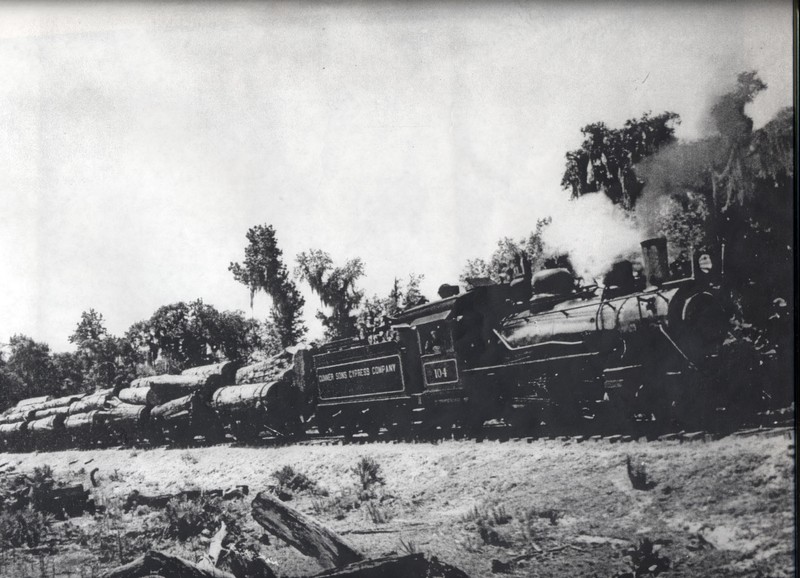 Locomotive #7 being lowered into position at Pablo Historical Park on April 14, 1982. The crews were from B.B.McCormick & Sons and M.C. Moody & Sons.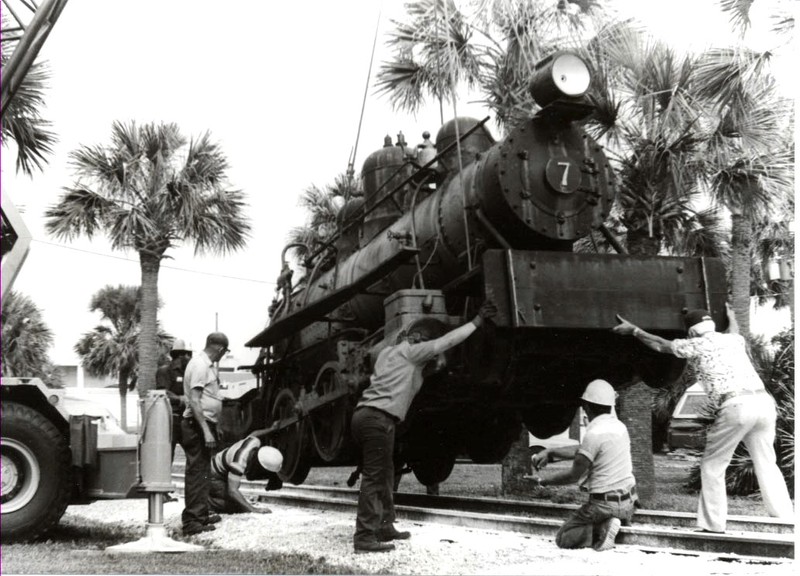 Backstory and Context
Steam Locomotives are identified by their wheel configuration. Our steam locomotive would be called a "2-6-0" indicating two wheels in the front, six under the boiler, and none under the cab. It has a wood tender (storage) car directly behind it. In the very front is a cattle guard (or cow catcher) which was used to gently push animals or fallen trees off the tracks. Cattle were allowed to free range in Florida until 1949.
Operating this locomotive required two people in the cab: the engineer and the fireman. The engineer sat on the right side of the cab. He controlled the direction, speed, and brake. The fireman would be on the left side of the locomotive cab. He would keep the fire box in the center fueled with wood from the tender.
The locomotive and tender is currently displayed near the original location of the 1886 railroad tracks laid to Jacksonville Beach (then Pablo Beach). The tracks ran down what is now Beach Boulevard. The 1886 tracks laid by the Jacksonville and Atlantic (J & A) Railroad were narrow gauge. In 1900 the Florida East Coast Railway (FECR) purchased the J & A Railroad.
The FECR changed the narrow gauge track to standard gauge track and extended the line northward to Mayport (see the Mayport Upper Depot for more information). Narrow gauge rail lines included a variety of sizes, such as 3'.6". Standard gauge lines are 4'.8 1/2" wide. Standard gauge track was becoming more popular because they allowed trains to travel at higher speeds and handle more weight. A lumber freight train, such as the one in our enclosure, would have definitely needed rail with the strength to carry great weight.
This locomotive was donated to the Beaches Museum in 1981 by the City of St. Augustine where it had been on display for 21 years. It was moved here from St. Augustine in 1982.
Sources
https://trn.trains.com/railroads/abcs-of-railroading/2006/05/the-people-who-work-on-trains
www.American-Rails.com
http://www.catskillarchive.com/rrextra/porter.Html
https://www.american-rails.com/steam.html
https://www.floridamemory.com/blog/2014/12/05/to-fence-or-not-to-fence/#more-11249
Image Sources
Beaches Museum

Beaches Museum

Additional Information