1860 Courthouse
Introduction
This courthouse was built in 1860. It is the oldest courthouse specifically built as a courthouse still standing in the state of Florida. Josiah and Mary Gates, the first white settlers in the Village of Manatee, donated the land to build it. At the time, the Village of Manatee was the seat of Manatee County. The 1860 courthouse only served as a courthouse for a few years. It was sold to the Methodist-Episcopal Church (now Manatee United Methodist) in 1866 when the county seat was moved to Pine Level. The courthouse served as a sanctuary for the church until the new building was completed in 1889. A tower and bell were added to the courthouse while it was serving as a church. After the new meeting house was completed in 1889, the courthouse briefly served as the Church's social hall. The courthouse was then renovated around 1890 and served as a parsonage from 1891-1906. Then it became a private residence. In 1975, the courthouse was donated along with the church by Manatee United Methodist to create Manatee Village Historical Park. The two buildings were moved from their original location across the street to what is now the museum.
Images
1860 Courthouse by Lane Logan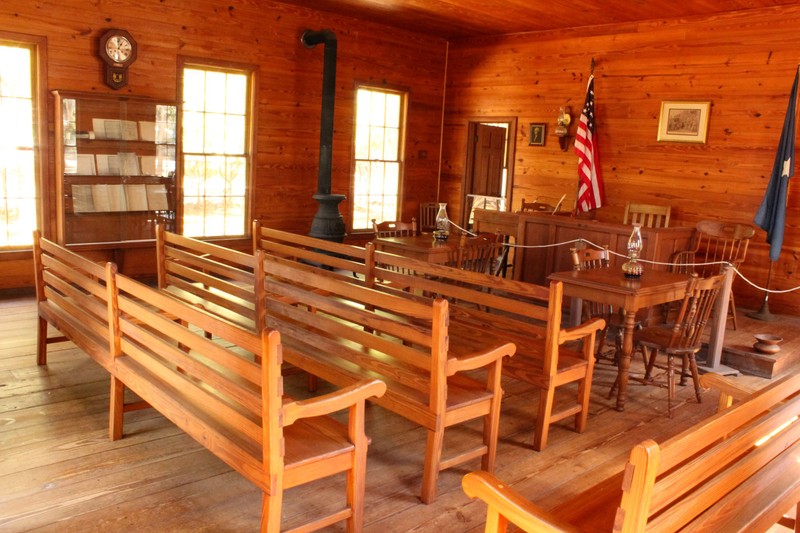 1860 Courthouse by Lane Logan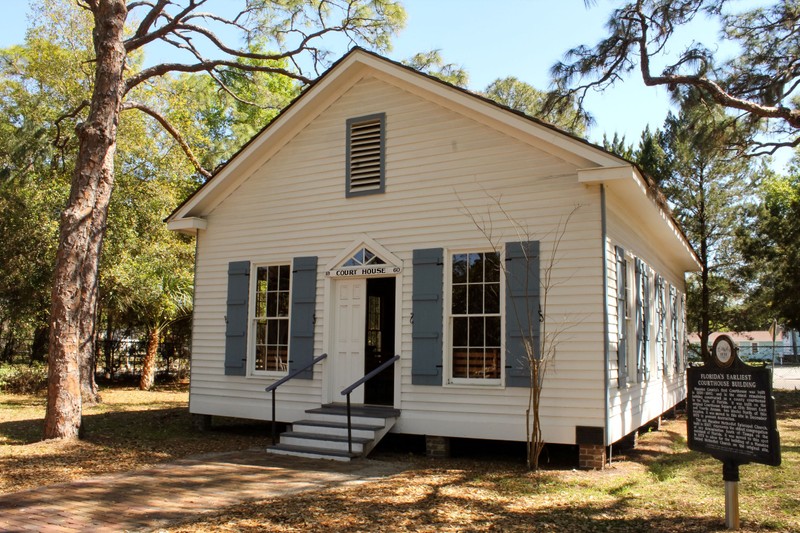 Jury Selection Box by Tana Carter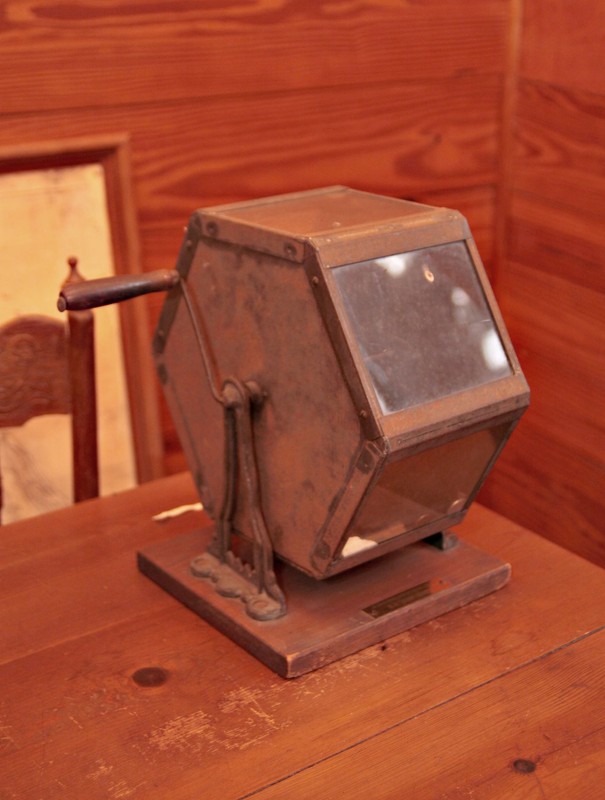 Courthouse Bookcase by Tana Carter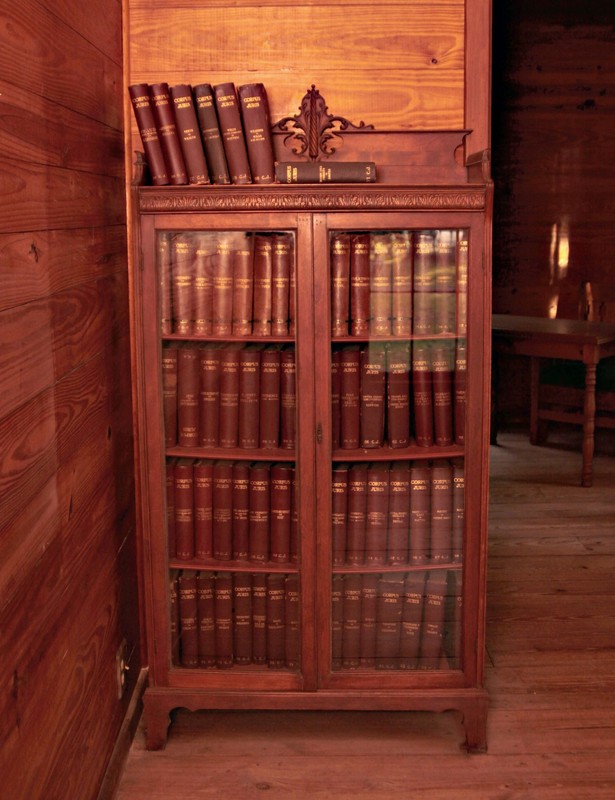 Courthouse doors looking to 1887 Church (1977)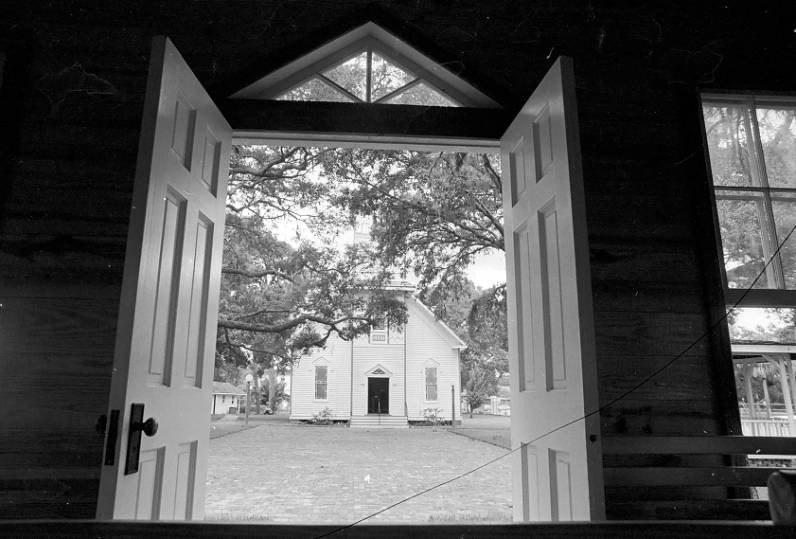 Courtyard looking toward courthouse, with gazebo and schoolhouse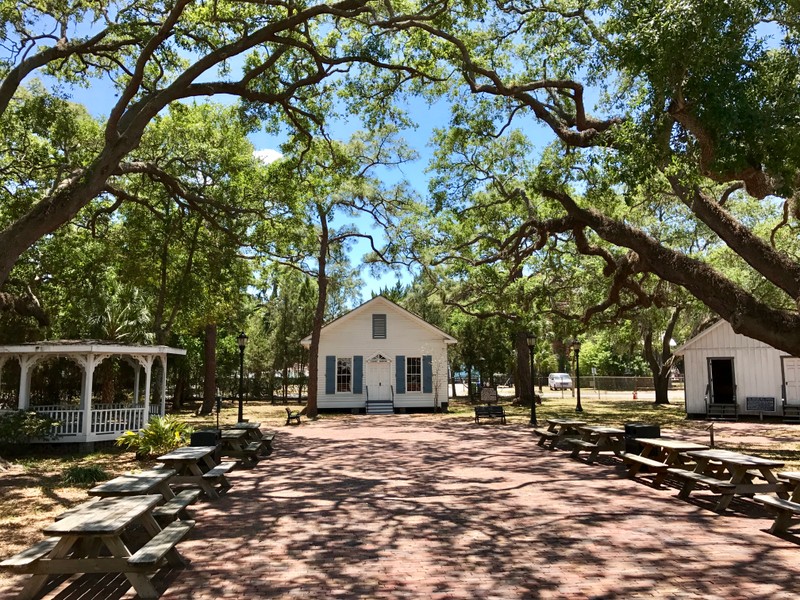 Backstory and Context
The 1860 Courthouse is a great example of what Historic Preservationists refer to as restoration. Restoration depicts a property at a particular period of time in its history, while removing evidence of other periods.
The courthouse has lived many lives and undergone many renovations over the years. The Manatee County Historical Commission decided to take the building back to what it would have looked like in 1860.
Several additions were removed, including partitions, casement windows, two extra layers of flooring, and most of the exterior siding. The sturdy old frame had not been changed and it revealed window sizes, door placements, and the location and size of the Judge's chambers and jury room. Volunteers doing the restoration noted openings, nail holes, and lumber sizes, in order to make the restorations as close as possible to the original.
Much of the interior had to be replaced and wood was milled to specifications for the restoration work. The yellow pine lumber came from sawmills in Perry, Florida. Windows with narrow mullions, the same as the originals, were secured from a Jacksonville firm.
The courthouse is now filled with hand crafted replicas, with the exception of the two judges' chairs, the witness chair, the desk in the judge's chambers and the bookcases which are artifacts. 
Sources
This entry was written by Manatee Village Historical Park staff
Image Sources
Manatee Village Historical Park

Manatee Village Historical Park

Manatee Village Historical Park

Manatee Village Historical Park

Manatee Village Historical Park

Manatee Village Historical Park

Additional Information