Seven Oaks House Museum
Introduction
Seven Oaks House Museum is home to the oldest building in Winnipeg. Seven Oaks House was built from 1851-1853 of oak logs with a stone foundation. The nine room home was built in a Georgian style for John Inkster, a prominent local businessman and politician. Inkster's nearby General Store was built c.1826-1831 and is the oldest building remaining in Winnipeg. It is a rare example of early Red River Frame (or Post-and-plank) architecture. Today the museum is open from mid-May to early September.
Images
"Mr. Hinckster's House and Farm Buildings", 1858 - by Humphrey Lloyd Hime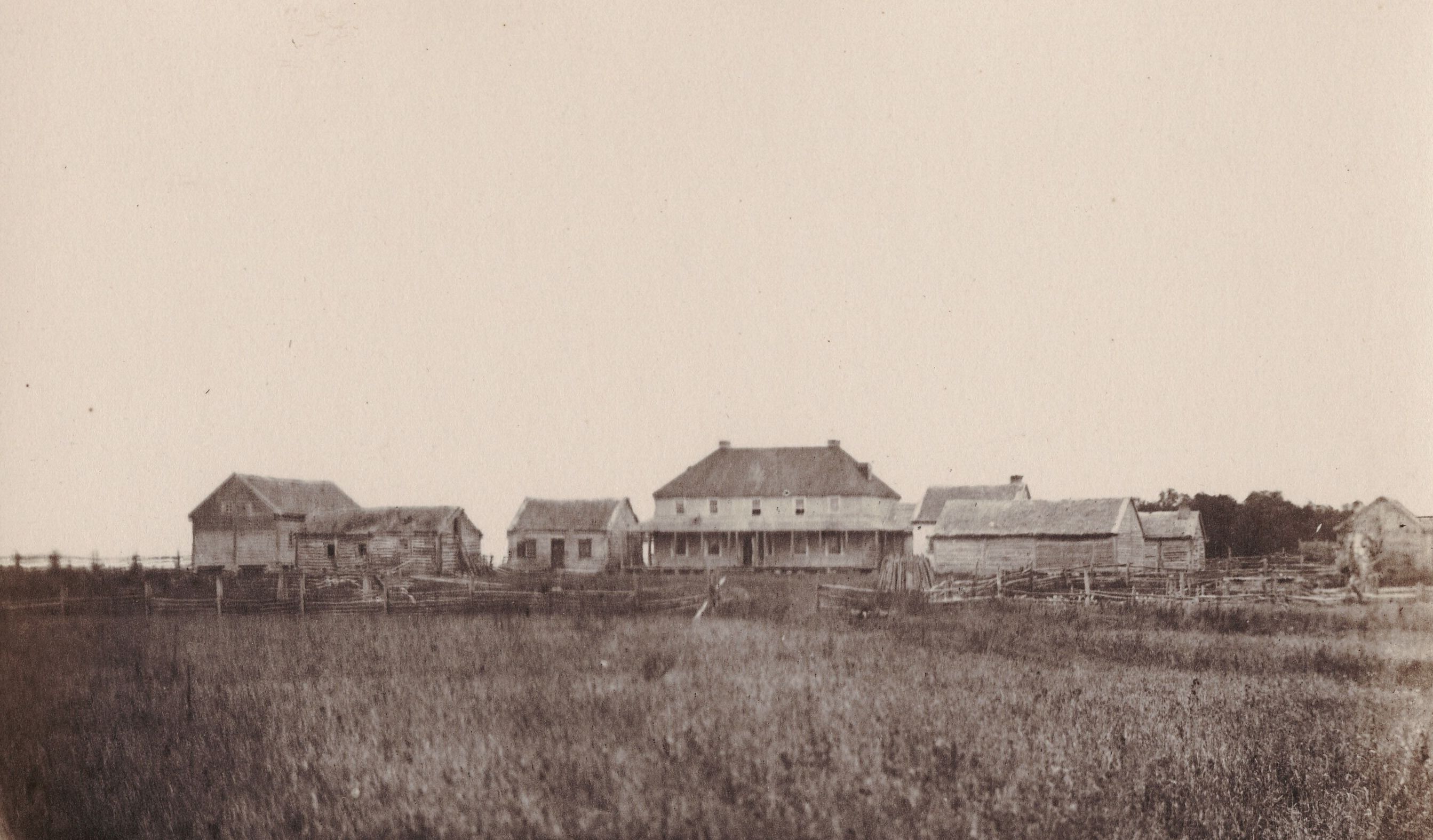 Seven Oaks House Museum, 2016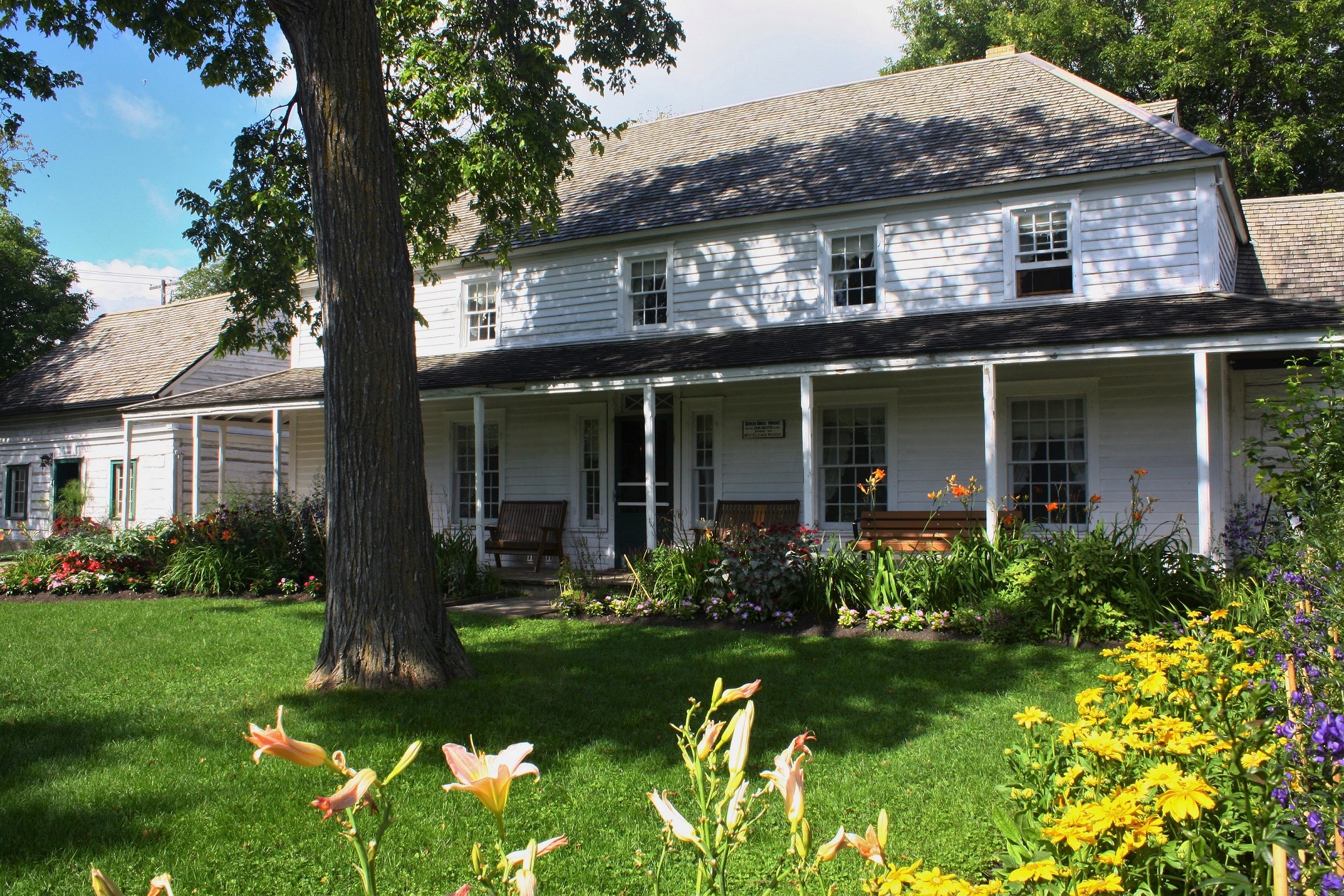 Seven Oaks Homestead, 1911 - from Hathaway's Guide to Winnipeg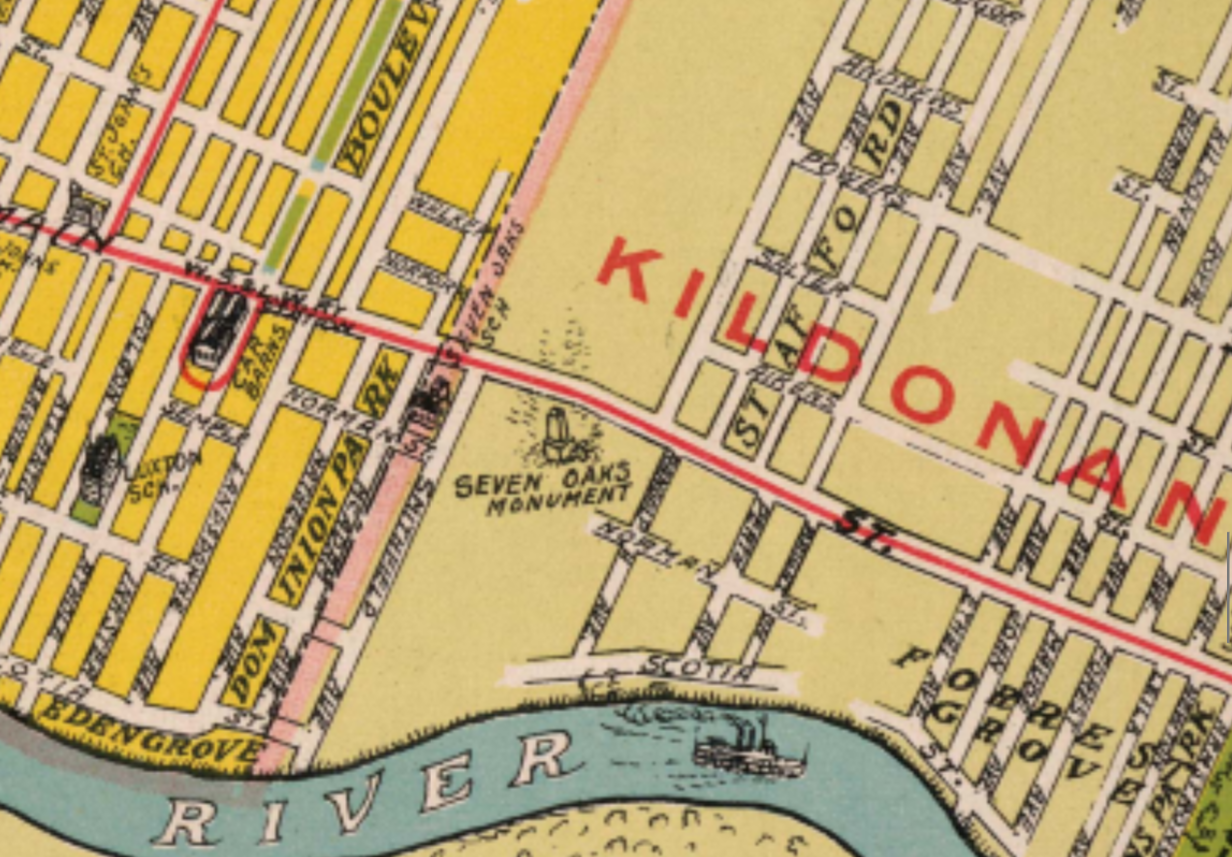 Backstory and Context
Seven Oaks House is the oldest home in Winnipeg: It was built from 1851-53 for John and Mary Inkster. The foundation is made of stones stacked together, like a jigsaw puzzle. The massive log walls are held together with wood nails and insulated with piles of bison fur. By the standards of its time, this was an imposing mansion.
John Inkster immigrated from the Orkney Islands in northern Scotland in 1821. Mary Sinclair had Swampy Cree heritage and was born at Oxford House in northern Manitoba. John first worked for the Hudson's Bay Company, but he quickly built his own farm and became a merchant. By the time this house was built, the Inksters were a very wealthy and powerful family. 
John served as a judge and sat on the Council of Assiniboia (the local government before Manitoba existed). He was even asked to represent the Kildonan community on Louis Riel's provisional government in 1870. Mary did the family's accounting and was known for her ability to teach the settlers Indigenous languages.
Their daughter, nicknamed Marak, inherited the house. She was a talented pianist who never married or had children. When she died in 1912, she gave her family's homestead to the City of Winnipeg to create this park. The museum was later restored by community members led by a Mr. Prinz, and it has been open to the public since 1958.
The small building next door is the Inksters' General Store. In the 1850s it would have been the only store in Kildonan, and people came here to buy or trade furs for everything from food, to clothes, to tools. It was also the community's Post Office.
This building started out as the Inksters' first log cabin and originally had two rooms. They built it around 1826 and raised 11 children here. After building the bigger house next door, they split this one in half: This room was renovated to make a Store; the other half was moved and attached to the far side of Seven Oaks House as a kitchen.If you look closely near the roof line, you can spot the place where the two parts fit together, almost like Lego. This style is Red River Frame architecture and was common here before 1870, but very few examples are left today.
The interior of the museum is restored to its period appearance and filled with many original family artifacts. Its displays interpret the history of the Inkster family and the growth of Winnipeg from a farming settlement to an urban metropolis.
Sources
Napier Strong, Eric. Seven Oaks House Museum, wikipedia. March 16th 2020. Accessed May 12th 2020. https://en.wikipedia.org/w/index.php?title=Seven_Oaks_House_Museum.
, City of Winnipeg. 115 Rupertsland Avenue East - Seven Oaks House. Winnipeg, Manitoba. City of Winnipeg, 1997.
https://www.winnipeg.ca/ppd/Documents/Heritage/ListHistoricalResources/Rupertsland-115-short.pdf
Canadian Register of Historic Places. Accessed May 12th 2020. https://www.historicplaces.ca/en/rep-reg/place-lieu.aspx?id=5925&pid=0.
Goldsborough, Gordon. Historic Sites of Manitoba: Seven Oaks House Museum, Manitoba Historical Society. January 16th 2020. Accessed May 12th 2020. http://www.mhs.mb.ca/docs/sites/sevenoakshousemuseum.shtml.
Healy, W.J. Eighty Years on the Red River, MacLeans Magazine. February 15th 1926. Accessed May 12th 2020. https://archive.macleans.ca/article/1926/2/15/eighty-years-on-the-red-river.
Image Sources
Library and Archives Canada

Taken by the author for publicity purposes

Hathaway's Guide and Birds Eye Map of Winnipeg (scanned original)

Additional Information