Stephen Girard Park
Introduction
Once the early 19th-century working farm of America's first multi-millionaire that has since been transformed into a public park, the Stephen Girard Park is today a vibrant community centerpiece of its South Philadelphia neighborhood. During its tenure as a farm spanning over 500 acres, Stephen Girard both supervised and manually labored over the fields of his fruits, flowers, trees, and livestock. Ownership of the farmlands was turned over to the City of Philadelphia after the accomplished businessman and philanthropist died in 1831. The park's four-acre plot, which includes the old farmhouse and a statue of Stephen Girard by a Girard College alumnus, was established in 1953. As the industrial city developed residential homes around the park during the 20th century, the entire neighborhood has become known as Girard Estate and is now a historic district.
Images
Stephen Girard Country House from HABS report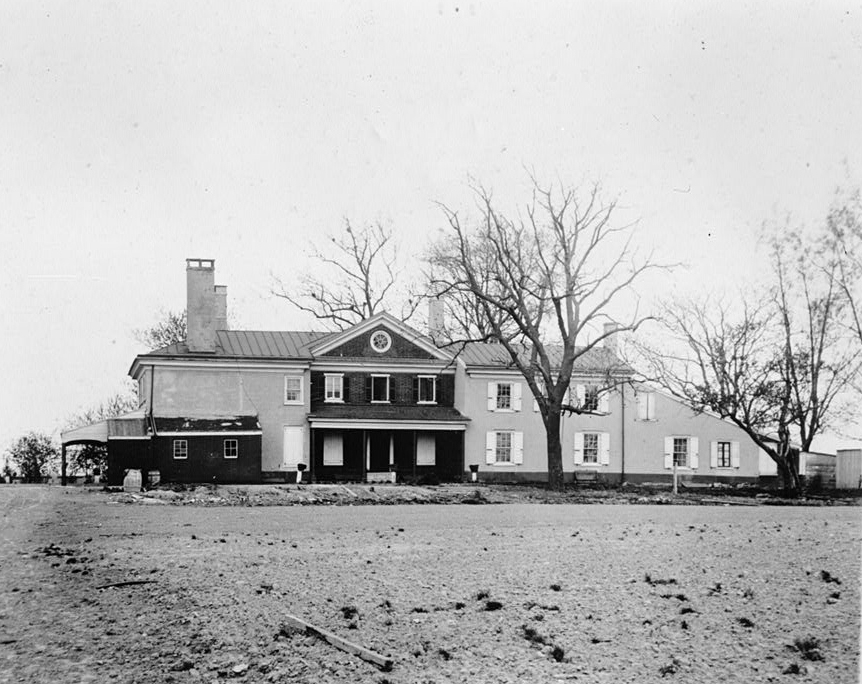 Girard statue, photo taken 2020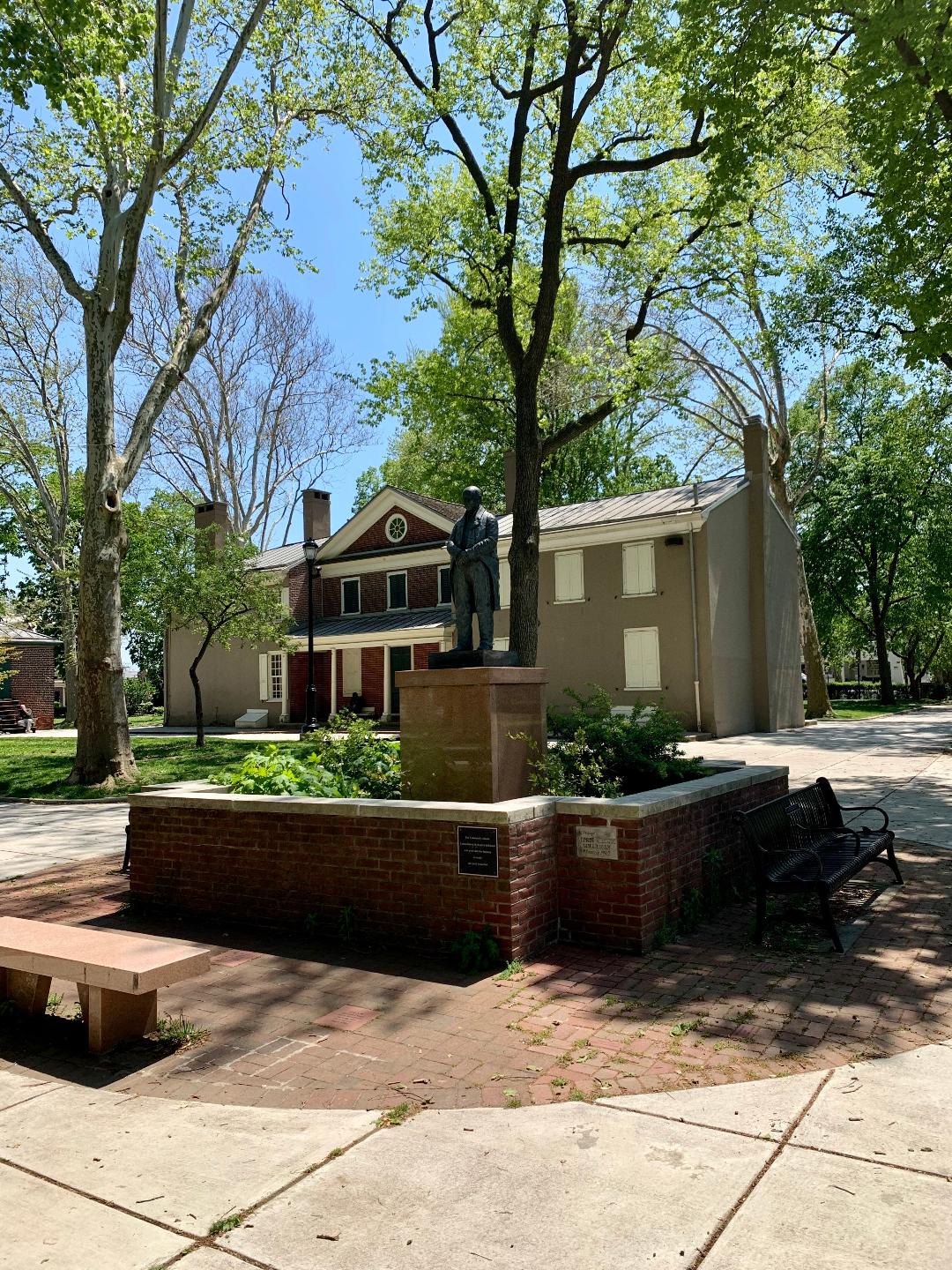 Stephen Girard historic marker, photo taken 2020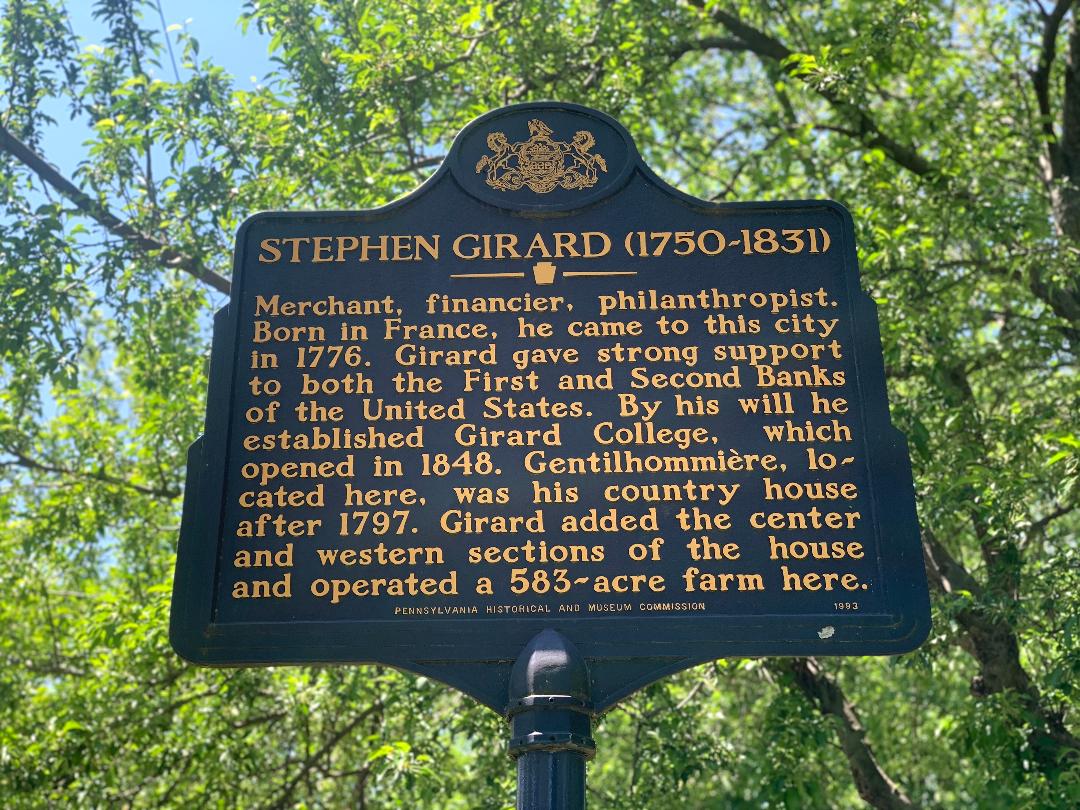 Backstory and Context
In 1797, Stephen Girard (1750-1831), an industrious French immigrant and one of America's first millionaires, bought a 70-acre stretch of farmland outside of his adopted city of Philadelphia. This property was located outside of the old city limits, in a town to the southeast known as the Passyunk Township (this town would be absorbed into Philadelphia after the 1854 Act of Consolidation). Girard managed this working farm personally, later expanding the boundaries by more than 500 vast acres of fertile land. He had long been in the business of purchasing real estate and erecting homes to rent or sell, but the farm he fondly referred to as "my place" would remain a piece of his personal estate. Along with the initial purchase of the land, Girard also acquired a farmhouse. Gentilhommiere (French for "small manor house") was lived in by the foreman's family, farmers, and servants he employed. Throughout the years, the size of this residence extended to include new wings and quarters, leaving traces of the immigrant's aesthetic tastes in the French architectural details (for example, the casement windows located in the center block are of the French style).
Among the various occupations he juggled as merchant, businessman, and later a banker, the aging Girard would incorporate farmwork into his daily diligent routine. He rode out from his bank or his home near the Delaware waterfront down to the farm nearly every day of the growing season, even on Sundays or during inclement weather. Nursing fruit trees and beds, butchering oxen and pigs, and working the fields alongside his employed farmers became one of his favorite regular pastimes. The wealthy farmer experimented with cultivating various crops that his globe-trotting merchant ships brought back to the docks of Philadelphia, including artichokes and quince fruit. When his farm bore high-quality harvests, Girard had the fruits of his farm's labor transported and sold at city produce stalls. He would on occasion showcase his acres to gentlemen and acquaintances, though he reputedly enforced a strict guest policy against picking ripe fruits which were to be sold. Later in life, he received recognition and accolades from the Horticultural Society of Pennsylvania for his exceptional accomplishments in breeding plants and pioneering new fruits.
After Girard's death in 1831, many of the philanthropic millionaire's personal and rental estates were left to the City of Philadelphia; these included the Passyunk Township farmland and farmhouse. Gentilhommiere, along with the surrounding property, were not to be sold. Instead, income and rental revenue were to go towards funding Girard College, a 1st-12th grade boarding school established through Girard's will for poor white male orphans. In accordance with Girard's will, 480 rental-only houses were constructed over the farm acreage in the early 1900s, which became known as the Girard Estates. Architects James H. Windrim, an early alumnus of Girard College, and John T. Windrim designed the properties on behalf of the Trustees of the Girard Estate. The result has been a magnificent array of homes showcasing various architectural styles, creatively varying from Colonial Revival to Arts and Crafts bungalow, all within walking distance of the present-day Stephen Girard Park. In the 1950s, renters were able to buy these houses when courts that modified the rental-only requirement in Stephen Girard's will. The Girard Estates neighborhood was designated as a local historic district in 1999.
By 1953, the land surrounding Gentilhommiere, which amounts in area to the size of a square city block, was designated as the public Stephen Girard Park. Throughout the latter decades of the 20th century, the park became a popular space of recreation and community events among local residents. A statue of the park's namesake, sculpted by Girard College alumnus Alfred Seebode, was installed in 1990. The former farmhouse is operated by the Fairmount Park Commission and is the meeting place for Friends of Stephen Girard Park monthly meetings, although it is not visitable by the public. An official historical marker honoring Stephen Girard was mounted in 1993 on the southern side of the park near West Shunk Street. At each of the four corner entrances, two gateposts are topped with small ornamental sculptures of an acorn and pinecone, crafted by Eric de Jesus and Elizabeth Duby in 2007. Neighborhood organizations and volunteer groups such as the Girard Estate Neighbors Association hold regular park clean-ups and greenscaping projects. Most recently, a two-year long renovation project spearheaded by the Friends of Stephen Girard Park was completed in 2019, improving use and recreation of the park for the public and neighborhood.
Sources
Beck, Tom. "City unveils renovations to Girard Park." South Philly Review (Philadelphia) March 27th 2019. Accessed April 23rd 2020. https://southphillyreview.com/2019/03/27/city-unveils-renovations-to-girard-park/.
Calta, Taylor Lee. "Girard Estate: Stephen Girard Park Offers A Sense Of Community to South Philly Neighborhood." Philadelphia Neighborhoods (Philadelphia) June 20th 2016. Environment sec. Accessed April 23rd 2020. https://philadelphianeighborhoods.com/2016/06/20/girard-estate-stephen-girard-park-offers-a-sense-of-community-to-south-philly-neighborhood/.
Orso, Anna. "Girard Estate: 'A pocket of suburbia' that was home to Stephen Girard, Rocky II and a mob boss." Billy Penn (Philadelphia) July 22nd 2015. , Neighborhoods sec. Accessed April 23rd 2020. https://billypenn.com/2015/07/22/girard-estate-a-pocket-of-suburbia-that-was-home-to-stephen-girard-rocky-ii-and-a-mob-boss/.
Purdom, Christopher William. Acorns and Pinecones by Eric de Jesus, Elizabeth Duby, 2007, Philadelphia Public Art @philart.net. Accessed April 23rd 2020. https://www.philart.net/art/Acorns_and_Pinecones/540.html.
Purdom, Christopher William. Stephen Girard by Alfred Seebode, 1990, Philadelphia Public Art @philart.net. Accessed April 23rd 2020. https://www.philart.net/art/Stephen_Girard/538.html.
Simpson, Stephen. Biography of Stephen Girard, with His Will Affixed. Philadelphia, PA. T. L. Bonsal, 1832.
Spilner, Paula. Girard Estate Walking Tour Guide, Preservation Alliance for Greater Philadelphia. Accessed April 23rd 2020. http://www.preservationalliance.com/wp-content/uploads/2014/09/GE-Layout6_061809.pdf.
Todd, Edward. Stephen Girard Country House. HABS No. PA-140 Report. National Park Service, Historic American Buildings Survey. Published 1962. Stephen Girard Historical Collections.
Wilson, George. Stephen Girard: The Life and Times of America's First Tycoon. Signpost Biography Series. Conshohocken, PA. Combined Publishing, 1995.
Wolfram, Joel. "Long-awaited renovations begin as neighbors steer revitalization of historic Girard Estate park." WHYY (Philadelphia) July 5th 2017. PlanPhilly ed. Accessed April 23rd 2020. https://whyy.org/articles/long-awaited-renovations-begin-as-neighbors-steer-revitalization-of-historic-girard-estate-park/.
Image Sources
Historic American Buildings Survey, Creator. Stephen Girard Country House, Shunk & Twenty-first Streets, Philadelphia, Philadelphia County, PA. Pennsylvania Philadelphia Philadelphia County, 1933. Documentation Compiled After. Photograph. https://www.loc.gov/item/pa0733/

Additional Information