Henry Draper Observatory
Introduction
In 1847, John William Draper, a professor of chemistry and physiology at the University of New York City (now New York University), purchased a 20-acre property on ridge along the Albany Post Road, overlooking the small village of Hastings-on-Hudson. Apparently, there was already a house on the property, he either altered or replaced that home to create a Federal-style home. His son Henry shared his father's passion for science and after visiting the famous observatory of Earl of Rosse in Ireland decided to design his own. Along with his brother, Daniel, began work on constructing a reflecting telescope with a 15-1/2-inch concave mirror of silver-coated glass in 1858. In 1867, Henry along with his wife, Anna Palmer built a 28-inch reflecting telescope and two years later they built a larger observatory for this telescope, adjoining the first one. The Observatory Cottage and Observatory are preserved by the Hastings Historical Society and open to the public.
Images
The original observatory is to the right and the second observatory in the center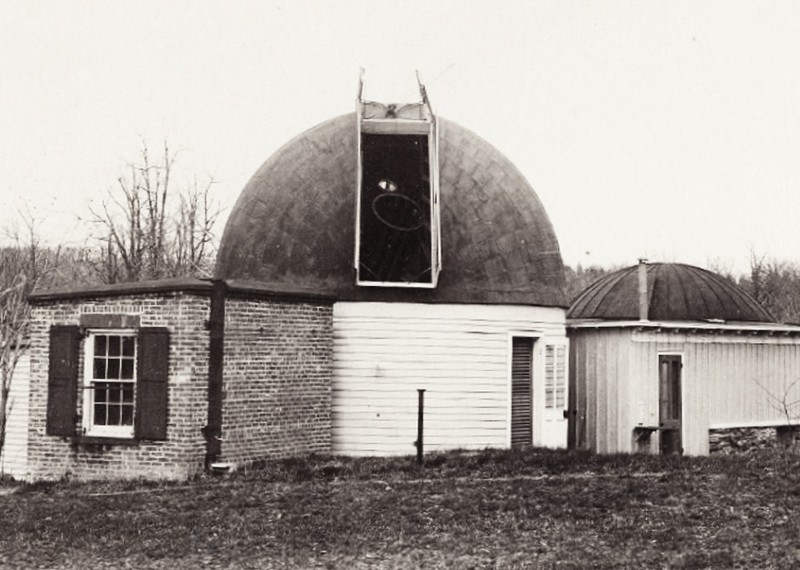 Picture taken by Henry Draper in his observatory on Sep. 3, 1863. Taken with his Silvered-Glass Telescope, 15-1/2 inches Aperture.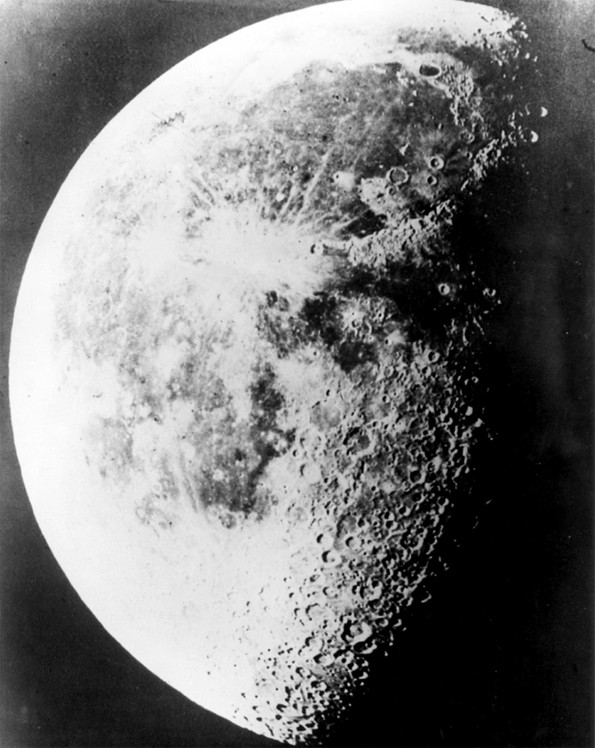 The House and the Observatory Building, 1911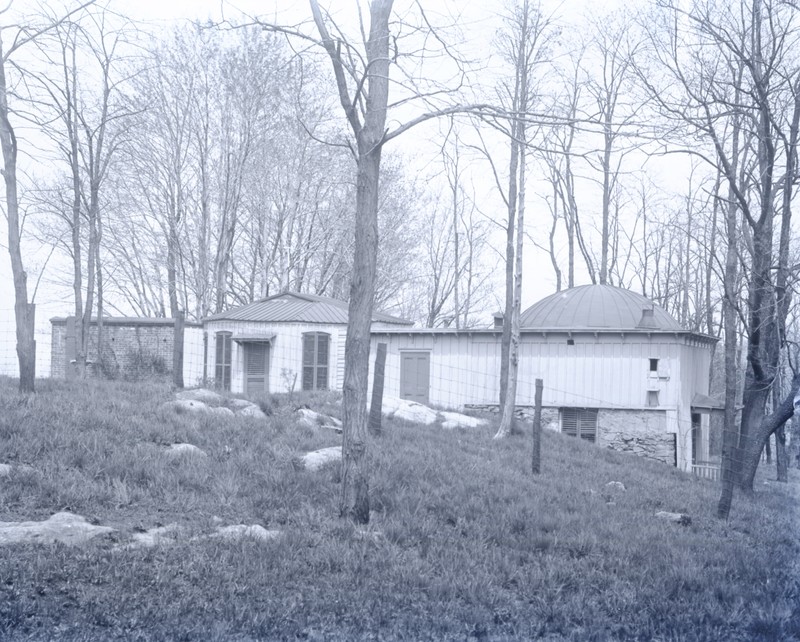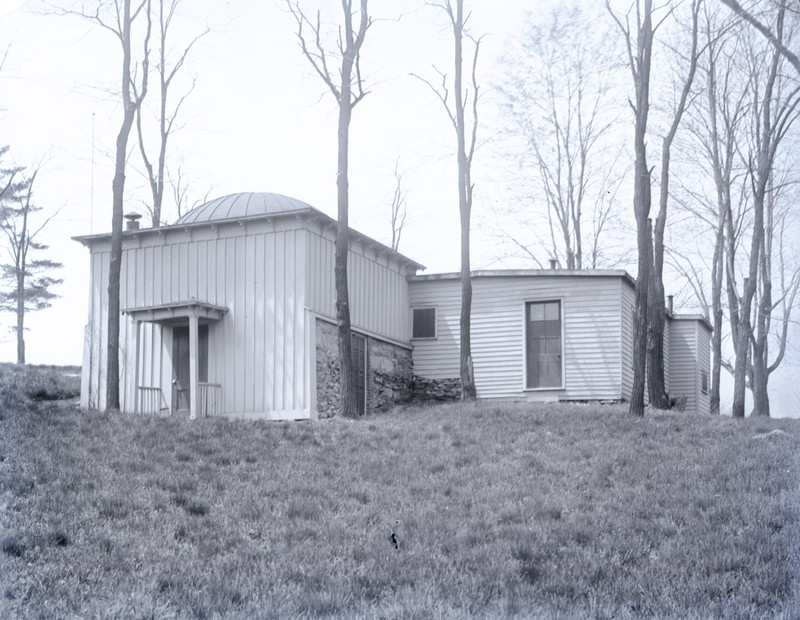 Backstory and Context
John W. Draper made major contributions to chemistry and physics, helped found the medical college at the university and was an author of a standard text of physiology. He also wrote books on history and philosophy including a three-volume book on the Civil War. He had an interest in chemical reactions, which led him to the very early beginnings of photography, and he made several technical improvements in the daguerreotypes. Draper took the very first pictures of the moon, through a telescope on the roof of the university. He also was an early master of microphotography. (Williams, 290)
Henry Draper was his favorite child and second son. Henry, just like his father was interested in science and photography and at only 13 years old began to takes photograph microscope slides. Just like his father he earned a medical degree from the University of New York City, and like his father, he became a professor there. After visiting the famous observatory of Earl of Rosse in Ireland, Henry decided to design his own. Along with his brother Daniel, they began work on constructing a reflecting telescope with a 15-1/2-inch concave mirror of silver-coated glass (this project would take five years.) Upon its completion and installation, Henry enthusiastically began taking pictures with his telescope, which included pictures of the sun, stars, and the moon. Within a year, he made some 1,500 negatives of the moon alone. (William, 292)
That same year, a well-known physicist and head of the Smithsonian Institution, visited the observatory and he convince Henry to write a report about his observatory. The report was titled, Construction of a Silver-Glass Telescope, and it was published by the Smithsonian in 1864. Within the report was very detailed account of the telescope making process and it was made a standard book for those interested in astronomy.
In 1867 Henry marries Anna Palmer, a daughter of a wealthy lawyer in Dobbs Ferry and they decide to settle there. Once they were married, Anna became an enthusiastic assistant and aided Henry when he was constructing a mirror for a 28-inch reflecting telescope. A few years later they added a second observatory to the existing one for their new telescope. The second observatory's dome was manufactured by the Seth Thomas Company, it was designed to be mounted upon a clockwork mechanism so that it could revolve in time with the rotation of the Earth.
His telescope drew a variety of visitors to his observatory. Including "inventors Thomas Edison and Samuel F.B. Morse, and renowned neighbors such as Irvington resident and business and financier Cyrus Field, along with distinguished visitors from afar such as, King Kalikana of the Sandwich Islands (now Hawaii) and Emperor Don Pedro II of Brazil, came to view the facility." (Hastings Historical Society) Over time the advancement of technology in the field would soon make his telescopes obsolete.
John Draper died in January 1882 and that summer Henry decided to retire. At the age of 45 he retired from his position at NYU and decided to focus on his research. (Hastings Historical Society) Unfortunately, six months later he died of pneumonia. A project funded by Anna Palmer Draper in honor of her husband between 1881-1950s, cataloged stars for the Henry Draper Catalogue. This project discovered variable stars, and studied stellar spectra and counted galaxies. (Harvard College Observatory)
His father left his entire estate to his sister Dorothy Catherine and his home became the home one if her daughters, Virginia Draper Maury, and her family. Anna Palmer Draper desired to preserve the observatory and to have it be a center for astronomical research but the building was not being utilized, so its equipment was donated. Following the death of Dorothy Catherine in 1901, the property was divided among the family and remained in their possession for many decades and it remains a private residence. John Draper's youngest daughter, Antonia Draper Dixon came into the possession of the estate encompassing nine acres at the northern end of the estate, including the observatory building. A fire destroyed the larger of the two observatory domes in 1905 and Dixon replaced it with a undomed roof over the round room beneath it. In 1912, Dixon had enlarged the old observatory and renamed it Observatory Cottage. She occupied the home until her death in 1923, and left the whole property to the American Scenic and Historic Preservation Society.
After many failed attempts to preserve the property, it was acquired by the Village of Hastings and leased to the Hastings Historical Society. A new archive and library wing has been built where the 1860 observatory room is located, and the Henry Draper Observatory, in Draper Park, is now the society's museum and headquarters. Visitors are welcome to come to the Observatory Cottage and view the historic structure.
Sources
Williams, Gray. Picturing Our Past: National Register Sites in Westchester County. Elmsford, NY. Westchester County Historical Society, 2003.
Draper Observatory Cottage, Hastings Historical Society. Accessed May 14th 2020. https://hastingshistoricalsociety.org/draper-observatory-cottage/.
Women Computers, Harvard College Observatory. Accessed May 14th 2020. https://platestacks.cfa.harvard.edu/women-computers.
Image Sources
Hastings Historical Society

Hastings Historical Society

Westchester County Historical Society

Westchester County Historical Society

Additional Information