Dunbar Apartments
Introduction
The Dunbar Apartments were built in 1928 and are named in honor of the famous African-American novelist and poet, Paul Lawrence Dunbar. Financed by John D. Rockefeller, Jr. and designed by architect Andrew J. Thomas, it was the first large cooperative building built and was erected so low income African-American families could have decent housing and services. The complex of buildings occupies the entire block bounded by 7th and 8th avenues and 149th and 150th streets in Manhattan. It has been home to a number of notable figures including explorer Matthew Henson who, along with Robert Perry, discovered the North Pole. Noted author and civil rights activist, W.E.B Du Bois was also one of the complex's residents. On the 26th of May 1970, the complex was designated a New York City landmark and in 1979, it was listed on the National Register of Historic Places.
Images
Dunbar Interior Courtyard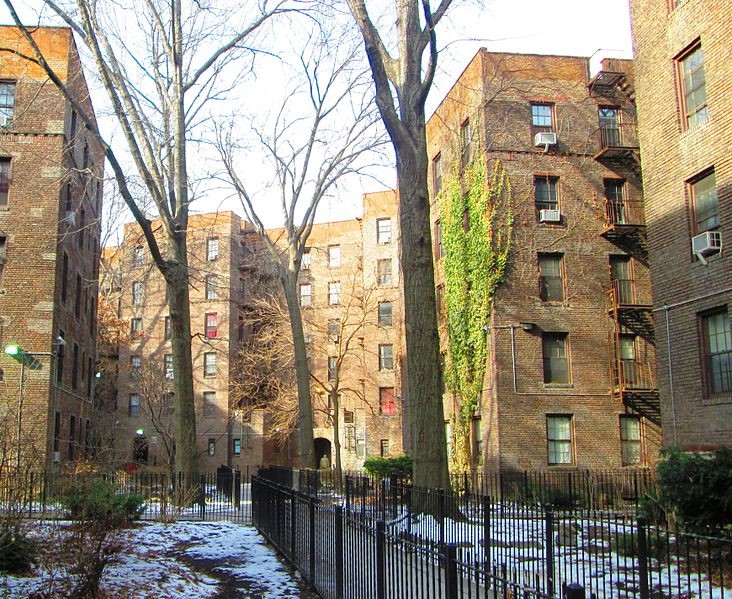 Western Archway Leading Towards the Courtyard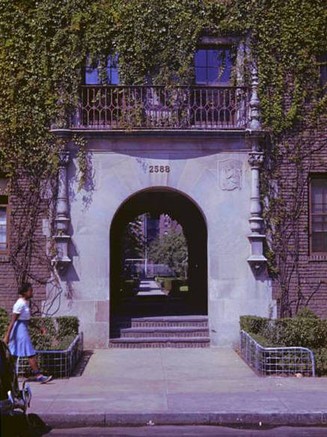 Backstory and Context
Andrew J. Thomas, the complex's chief architect, was well know for his progressive views on community planning in urban areas. His bold planning concepts are on fill display in the construction and layout of the complex which consisted of ten U-shaped buildings (a total of 511 apartments) with flat sides that face the street. The complex included a garden courtyard at its center as well as a nursery for young children, a playground, a club room for older children, an athletic club, clubs for men and women as well as retail stores and even a bank. The complex was a self-sustained community and its bank, a branch of the Dunbar National Bank, was the first bank in Harlem to be managed and staffed by African-Americans. Thomas' complex was commended for its architectural excellence and in 1928, it was awarded first prize for Walk-up Apartments by the American Institute of Architects.

The complex was a resounding success from the moment tenants began moving in in February 1928. It came at little surprise to anyone because it had amenities that catered to everyone and it was priced very reasonably. Vocational guidance and placement services were also included in the complex's first year. It's list of tenants is an impressive one; many influential American-Americans including a number of poets and civil rights activists lined at the Dunbar Apartments. The community thrived for many years but as the depression deepened and tenants lost their jobs, they were unable to keep up their mortgages and monthly payments. John D. Rockefeller was forced to foreclose and in 1937, he sold the property to a private corporation.

The Dunbar Apartments were a frontrunner for decent housing in the Harlem area. The Home Journal News noted in 1937 when chronicling Rockefeller's role in Harlem that the Dunbar Apartments were "an oasis in a desert". While Rockefeller's project only lasted a decade, it brought hope to a neighborhood where African-Americans had been made to put up with inadequate housing and services for so long. This is one of the reasons, along with the architecture and other features of the complex, given by the Landmarks Preservation Committee in 1979 when the complex was added to the NRHP. In June 2013, the Dunbar Apartments were sold to a Brooklyn-based LLC for $55 million. A number of renovations have been made and the complex is being modernized and transformed into one of the premier complexes in the Upper Manhattan area.

Sources
"Dunbar Manor," The Real Deal, accessed December 8, 2014, http://therealdeal.com/blog/2013/10/25/iconic-536-unit-dunbar-manor-gets-facelift-new-listings/ "Dunbar Apts," Neighborhood Preservation Center, accessed December 8, 2014, http://www.neighborhoodpreservationcenter.org/db/bb_files/DUNBAR-APTS.pdf "Dunbar Apartments," National Park Service, accessed December 8, 2014, http://www.nps.gov/nr/travel/civilrights/ny2.htm
Additional Information