Tenney Park
Introduction
Although Madison attorney, Daniel K. Tenney was known as "the great-curmudgeon" he was committed to his vision of creating a public space for Madison. In 1899, Daniel K. Tenney, a retired attorney, bought 14 acres of land to develop into Tenney Park. The City of Madison, at the time, refused to use public funding for leisure projects. The land was originally marshland, but Tenney and the Madison Park and Pleasure Drive Association had a vision to turn it into a beautiful, scenic park. Tenney donated the land under the condition the park would be placed into a trust for the ongoing benefit of the public.
Images
Tenney Park Historical Plaque.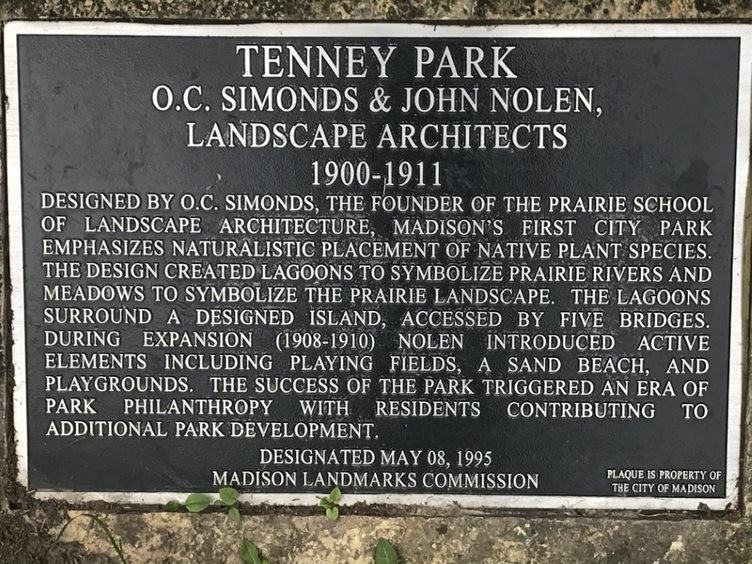 Backstory and Context
Tenney was born in Plattsburg, New York in December of 1834, Mr. Tenney learned the trade of printing at the young age of eight. His family moved to Ohio where he worked at a publishing newspaper with his brothers, Horace and Henry. At age 15, he moved to Madison in 1850 to attend the University of Wisconsin as one of its first students.  
In 1855, he was admitted to the Wisconsin bar at age 20. When the Civil War broke out, Tenney supported the Union cause, but could not enter the army due to ill health. He practiced law in Madison with several others including his brother, Henry, before moving to Chicago where he practiced commercial law for 27 years. After retiring in 1898, he returned to Madison with his wife, Mary Jane. He passed away on February 10, 1915 and is interred at Forest Hill Cemetery in Madison.  
Sources
Channel 3000/News 3 Now. "History behind Madison parks: Tenney Park." YouTube, 19 Oct. 2016, https://www.youtube.com/watch?v=9JKQePQnBME. 
"City of Madison." City of Madison, Wisconsin, www.cityofmadison.com/parks/find-a-park/history.cfm?id=1357. 
"Mr. Tenney's Park." Tenney Family, 10 July 2017, www.tenneyfamily.org/mr-tenneys-park-2/. 
"Olin Objects to Moving Old Church Building to Tenney Park for Museum: Newspaper Article/Clipping." Wisconsin Historical Society, 1 Jan. 2012, www.wisconsinhistory.org/Records/Newspaper/BA10389. 
Reed, Parker McCobb, b. 1813. The Bench And Bar of Wisconsin: History And Biography, With Portrait Illustrations. Milwaukee: Reed, 1882. 
Usher, Ellis B. (Ellis Baker), 1852-1931. Wisconsin, Its Story And Biography 1848-1913. Chicago and New York: The Lewis Publishing Company, 1914. 
Western Historical Association. History of Dane County: Biographical And Genealogical. Madison, Wis.: Western Historical Association, 1906. 
Image Sources
Olson, Michael G. Tenney Park Plaque. May 26, 2020, Madison.