Old Abe Arch at Camp Randall
Introduction
While today it is known as home of University of Wisconsin-Madison Badger football, Camp Randall got its name during the Civil War as the primary training camp for soldiers from our state. Of the 91,327 Wisconsin soldiers who fought, some 70,000 trained at Camp Randall. In 1912 a Memorial Arch was dedicated in their honor where Dayton Street meets Randall Avenue. The ceremony was the occasion for a reunion and celebration. Be sure to check out the other memorials related to Camp Randall's Civil War past, including the guard house, Lincoln in Wisconsin sign, and the brown historic site marker.
Images
Group portrait photograph of Civil War Veterans standing in front of the Camp Randall Memorial Arch, located in Madison, Wisconsin The veterans are dressed in civilian suits, wearing ribbons and badges, likely from the Grand Army of the Republic.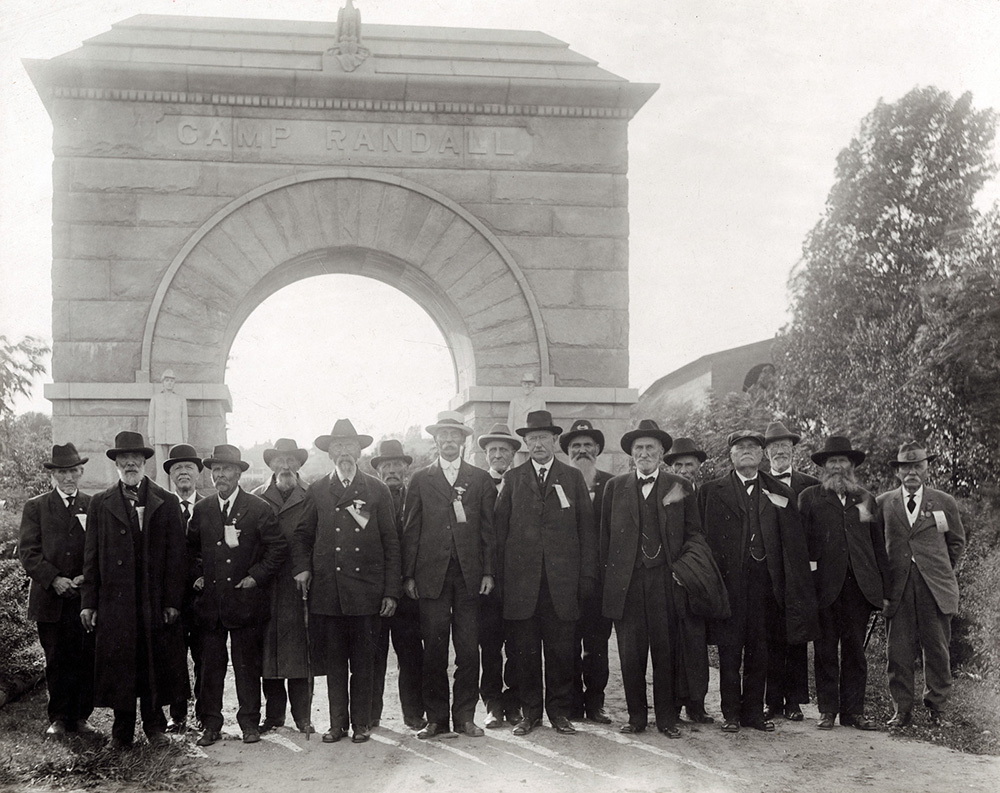 View of Camp Randall, Madison, Wisconsin, ca. Dec. 1861, by Corporal John Gaddis, 12th Wisconsin Infantry Regiment. From northeast; shows 12th and 16th Wisconsin Infantry Regiments, buildings, rolling hills, tents, buildings, horses, and military members in formation.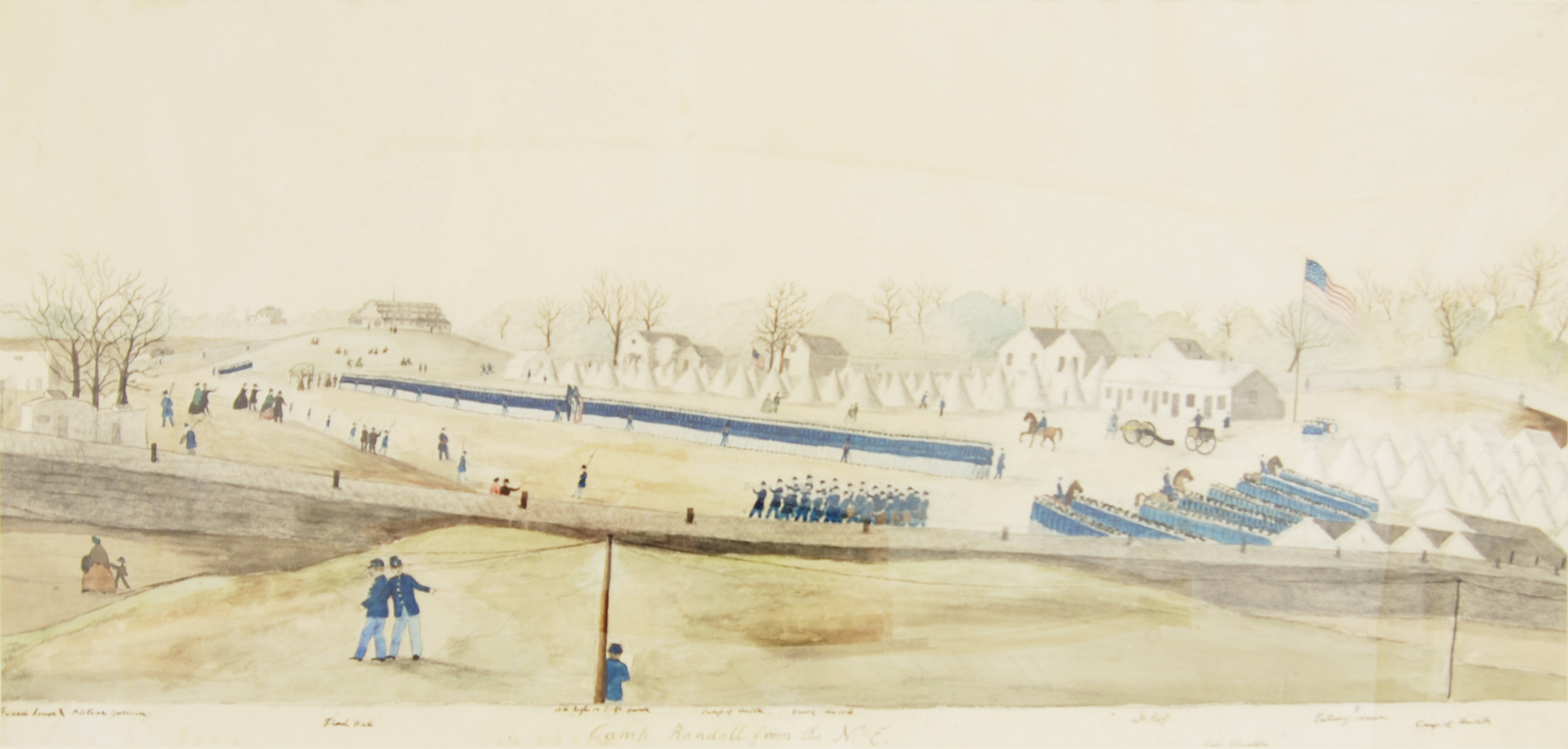 Poem, entitled "The Old Camp Randall Days", by S.E. Lathrop, collected by Charles F. Whipple, who served with Company M, 2nd Wisconsin Cavalry Regiment in the Civil War.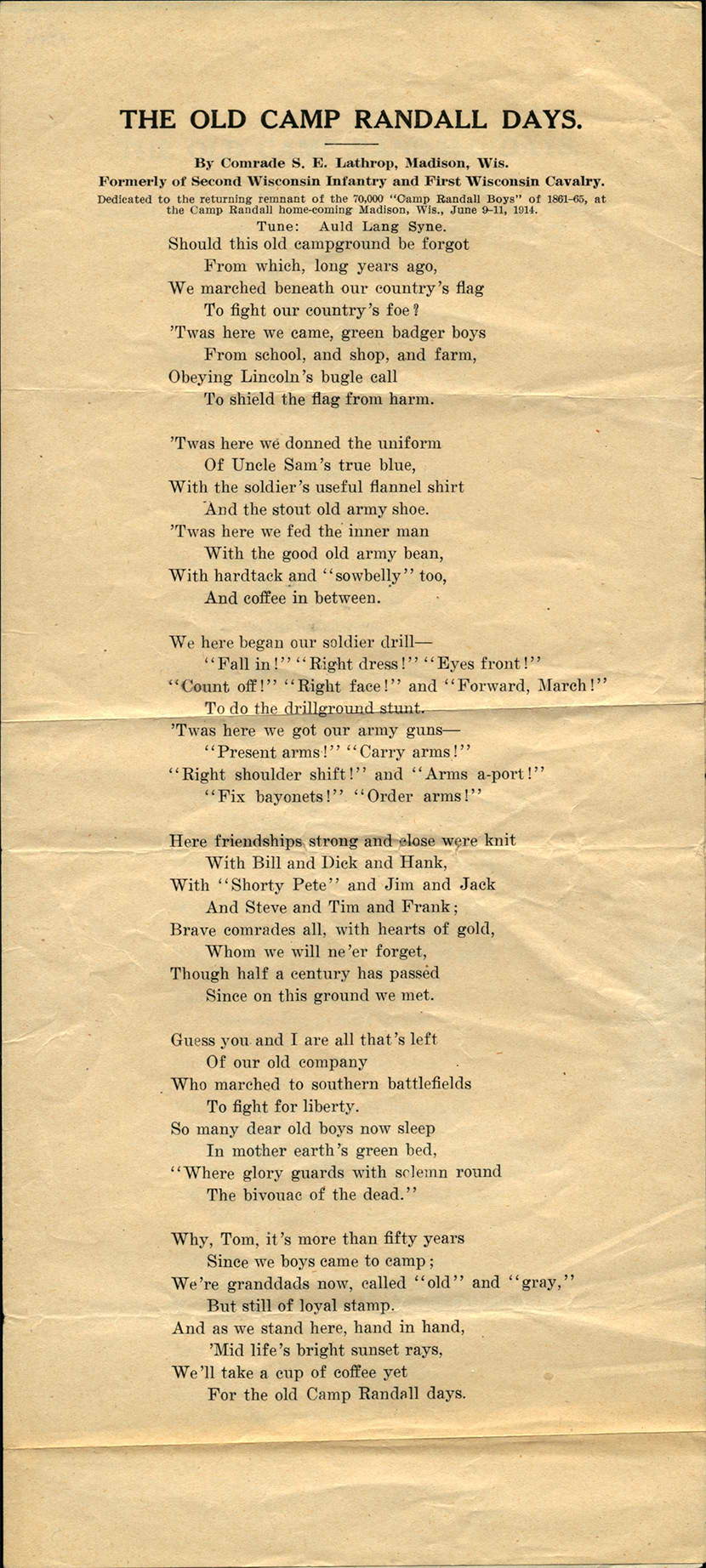 Portrait of Alexander Randall, governor of Wisconsin at the beginning of the Civil War. Governor Randall was responsible for organizing the first six Wisconsin regiments sent to serve in the war, and namesake for Camp Randall, the training facility that was constructed in Madison, Wisconsin.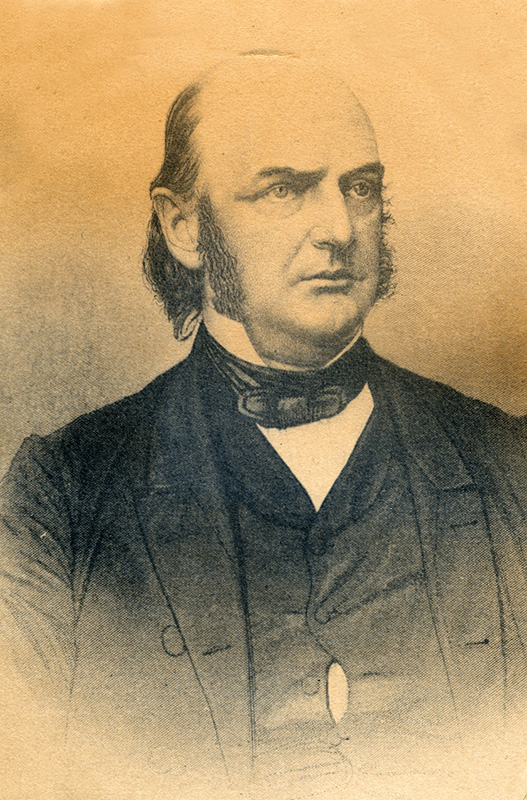 "On this paper are the original Drawings of the Barracks at Camp Randall, Madison, Wis. For Soldiers in Camp there during the Civil War, 1861-1865. Designed and Drawn by N.B. Van Slyke, Madison."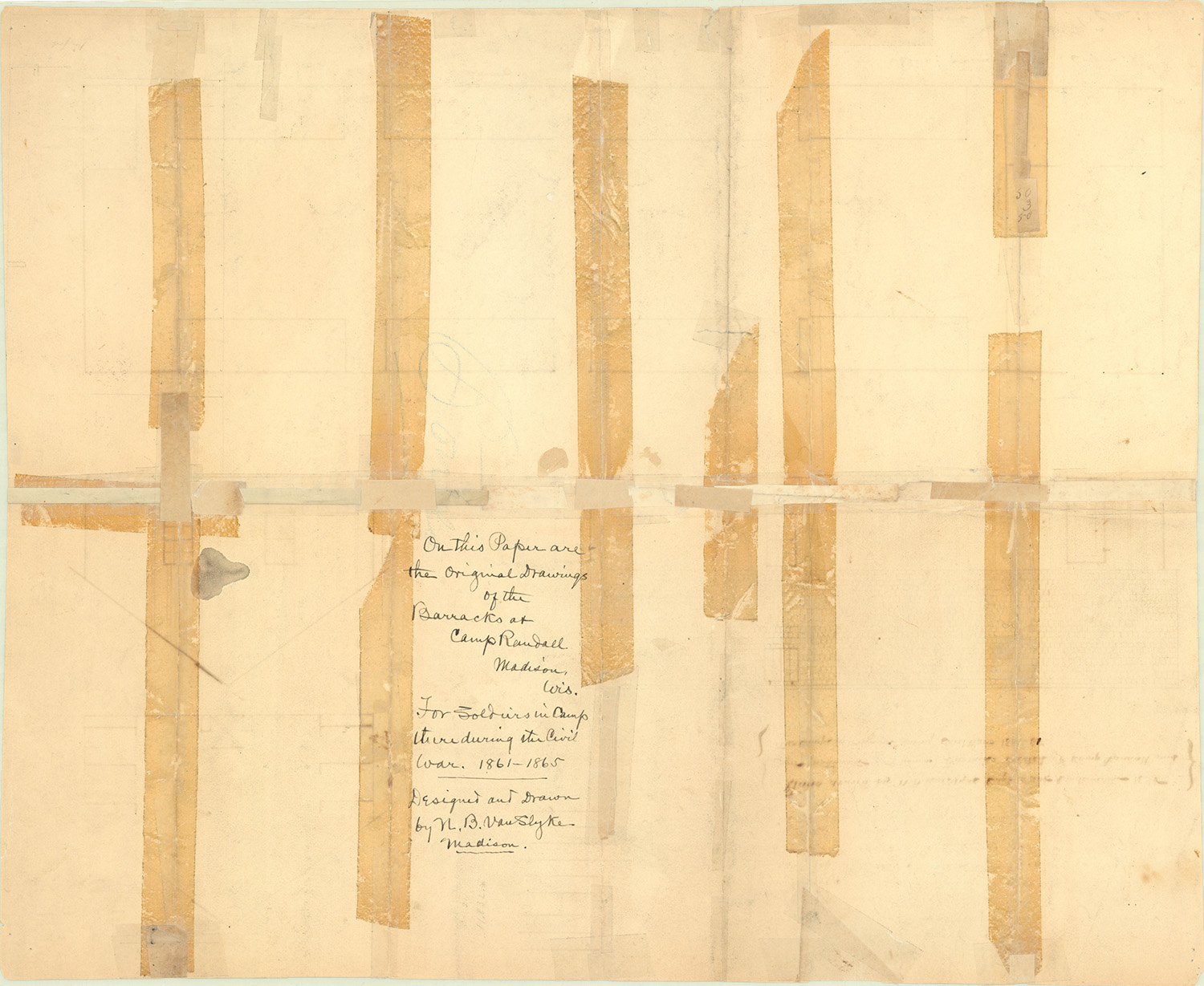 Original construction and floor plans, drawn by Napoleon Bonaparte Van Slyke, for the barracks constructed at Camp Randall during the Civil War. The drawing shows the dimensions of the barracks and layout of bunks, gun racks, stoves, and tables within, and information about materials to use.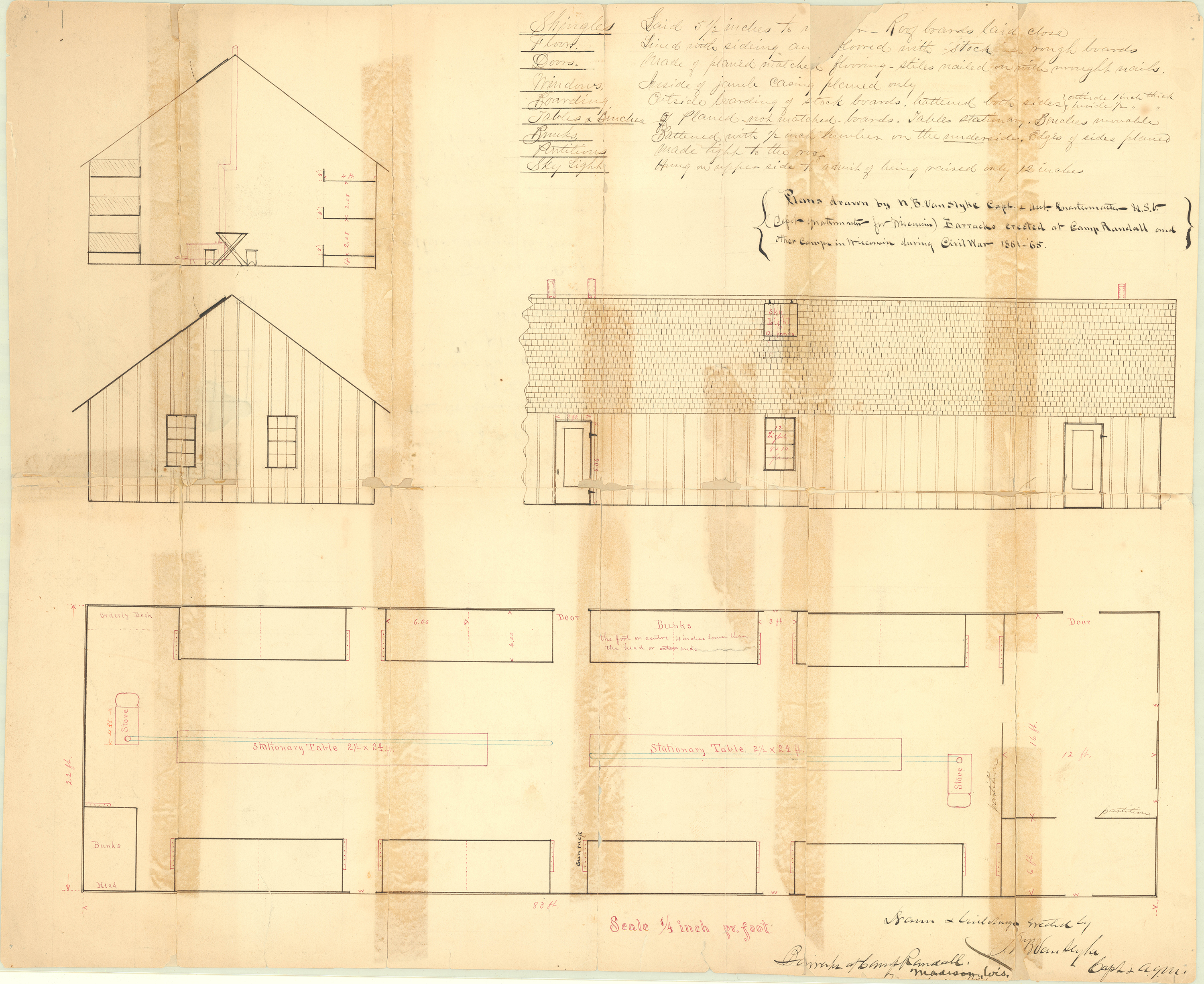 Backstory and Context
Before the Civil War, the state fair was held on the grounds. When the war began in April 1861, Governor Alexander Randall secured the space to fulfill Wisconsin's duty to train soldiers to defend the Union. Camp Randall also held Confederate prisoners during the Civil War. Guarded by the 19th Wisconsin Infantry, more than 1,200 were held here for two months in 1862. They had been captured at the Battle of Island Number 10, on the Mississippi River, near New Madrid, Missouri. Nearly 140 of the Confederate soldiers died at Camp Randall and are buried at Forest Hill Cemetery in Madison. 
After the war, the State Fair was again held on the grounds nine times until it was moved permanently to West Allis in 1892. Eventually, the buildings were torn down and sold for scrap. In 1893 the University of Wisconsin bought the grounds from the Wisconsin Agricultural Committee to use for athletic fields, grounds for student military drill and even agriculture. 
The first football game was played on the site in 1895, a contest the Wisconsin Badgers 6-0 over the Minnesota Gophers. The beginnings of what we know as Camp Randall Stadium today was opened in 1917, making it the fourth oldest stadium in Division I college football. 
When some of the land was planned to be diverted from university purposes, subdivided, and sold for home to be built, Madison's Civil War veteran community objected. They felt that their memory and those of their comrades, their sacrifices and devotion, patriotism would be besmirched by turning this special place into just another street of houses. The state of Wisconsin bought the land on which old Camp Randall sat, set aside 6.5 acres for a Memorial Park, and sold the remainder to the university. 
Sources
"Camp Randall Stadium," UW-Madison Athletic Dept. May 26, 2020. https://uwbadgers.com/sports/2.... 
Campus Planning & Landscape Architecture, UW-Madison. Camp Randall Memorial Cultural Landscape Inventory, rev. ed. Madison, WI: Quinn Evans Architects and UW-Madison, 2011. https://d1t7dpw65z19lw.cloudfront.net/wp-content/uploads/sites/20/2017/05/Camp-Randall-Memorial-Park-_rev-2011.pdf. 
Current, Richard N.  The History of Wisconsin: Volume II: The Civil War Era, 1848-1873. State Historical Society of Wisconsin: Madison, WI, 1976. 
Feldman, Jim. The Buildings of the University of Wisconsin. Madison, WI: The University Archives, 1997. http://digital.library.wisc.edu/1711.dl/UW.UWBuildings.    
Rood, Hosea W. Camp Randall Memorial Arch: Dedicated June 18-19, 1912, booklet.https://hdl.handle.net/2027/lo.... 
Image Sources
23rd Wisconsin Infantry Regiment Reunions, Papers and photographs, 1886-1930, WVM Mss 363. Wisconsin Veterans Museum (Madison, Wis).

John Gaddis collection, V1978.32. Wisconsin Veterans Museum (Madison, Wis).

Charles F. Whipple Papers and photographs, 1862-1914, WVM Mss 226. Wisconsin Veterans Museum (Madison, Wis).

Alexander W. Randall, Prints [between 1860-1870], WVM Mss 1555. Wisconsin Veterans Museum (Madison, Wis).

Technical Drawings for Camp Randall Barracks, 1861, WVM Mss 1459. Wisconsin Veterans Museum (Madison, Wis).

Technical Drawings for Camp Randall Barracks, 1861, WVM Mss 1459. Wisconsin Veterans Museum (Madison, Wis).

Additional Information