Kessler Hospital
Introduction
Kessler Hospital provided medical care to Huntington, West Virginia residents from 1904 to 1958. Founded by Dr. A.K. Kessler, who had originally operated a hospital in Clarksburg, Kessler Hospital and Sanitarium was initially located on the corner of 4th Avenue and 5th Street. The hospital reopened in a larger building at 6th Avenue and 1st Street in 1911, and became Kessler-Hatfield Hospital in 1917 when former governor Henry D. Hatfield entered a partnership with Kessler. In 1928, the hospital was renamed for the last time, becoming Huntington Memorial Hospital until it closed in 1958. The former hospital was demolished shortly thereafter and a shopping center was built in its place.
Images
Huntington Memorial Hospital
Kessler Hospital at its second location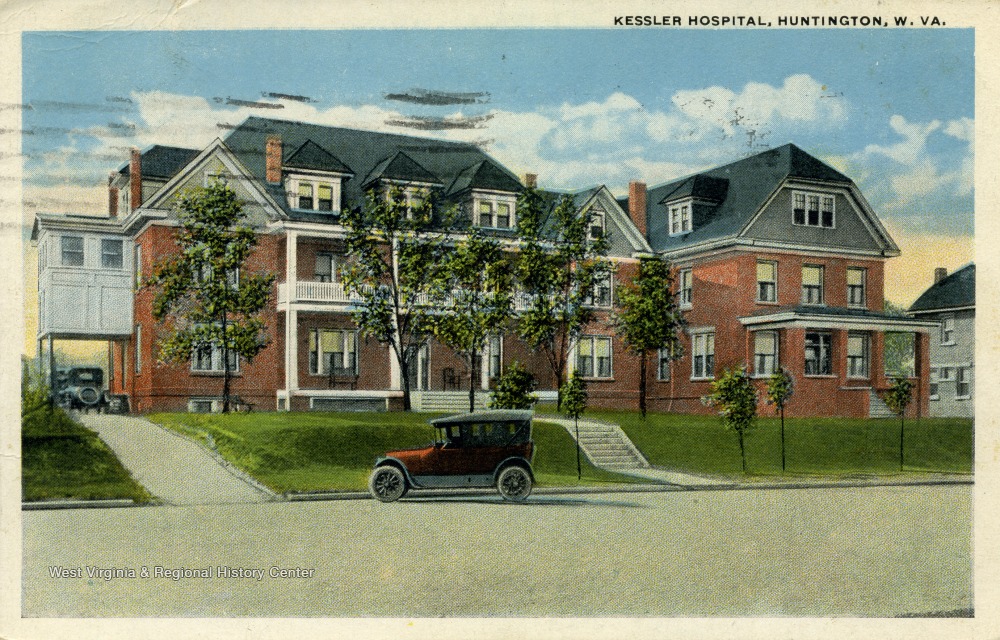 Kessler Hospital, circa 1914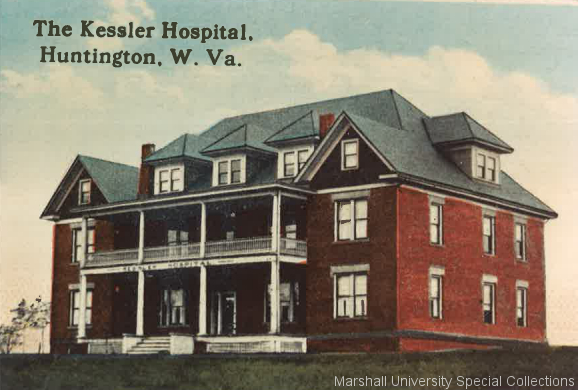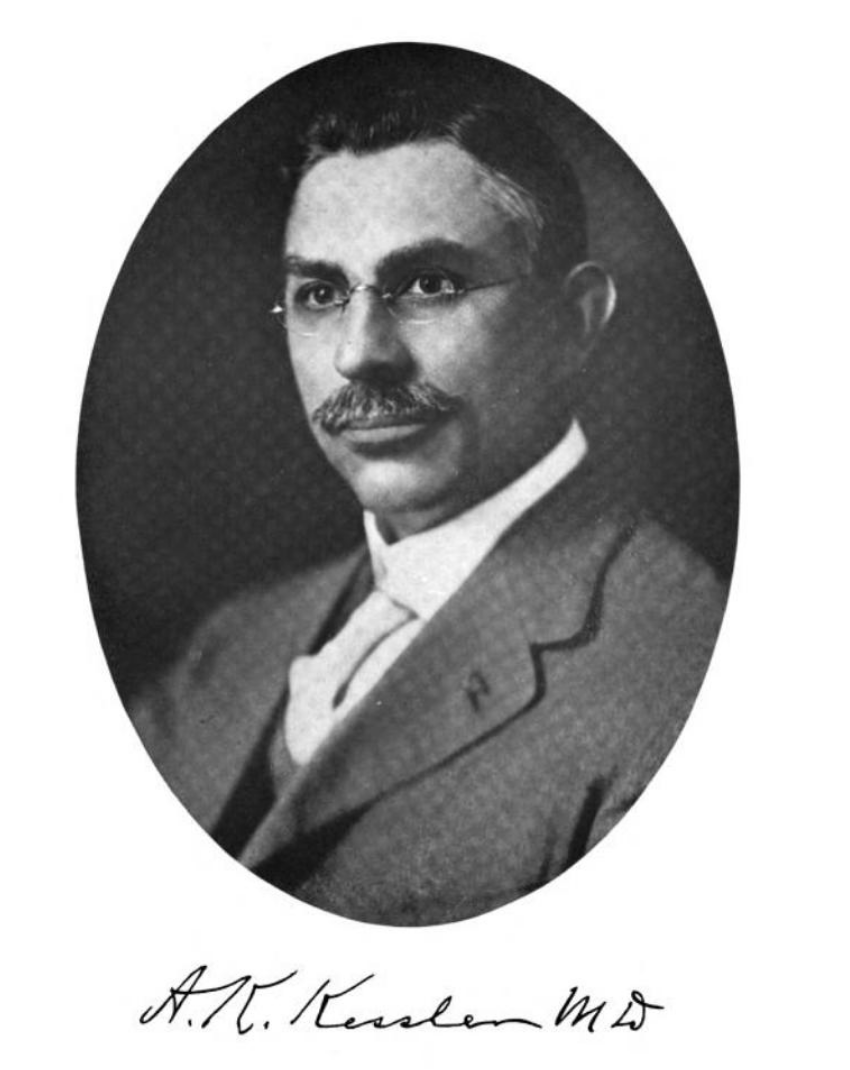 Postcard of Mount Hope Hospital, formerly Kessler Hospital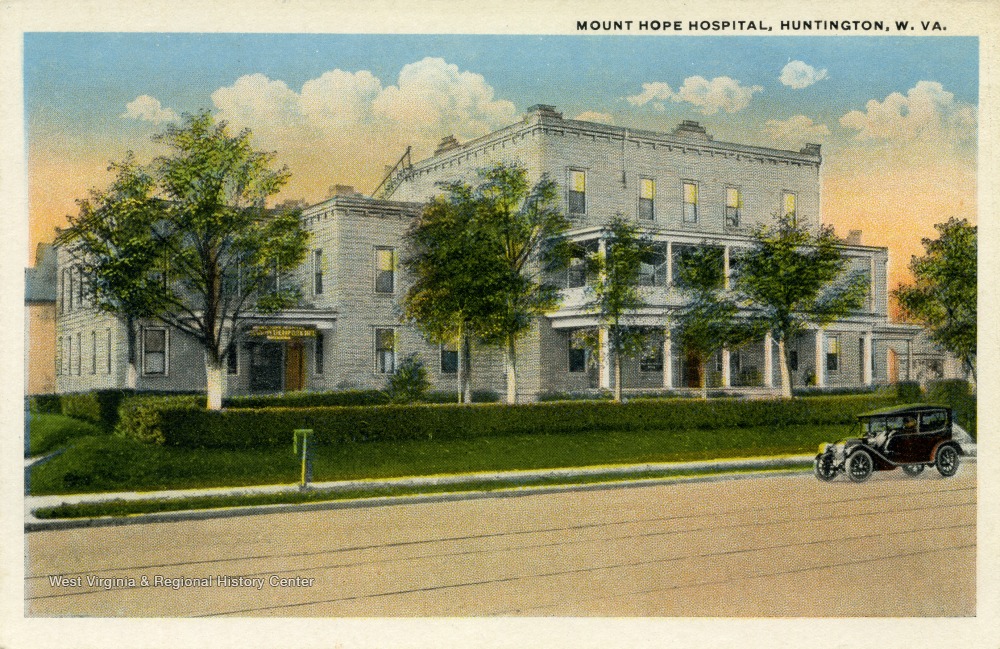 Postcard of the first Kessler Hospital and Sanitarium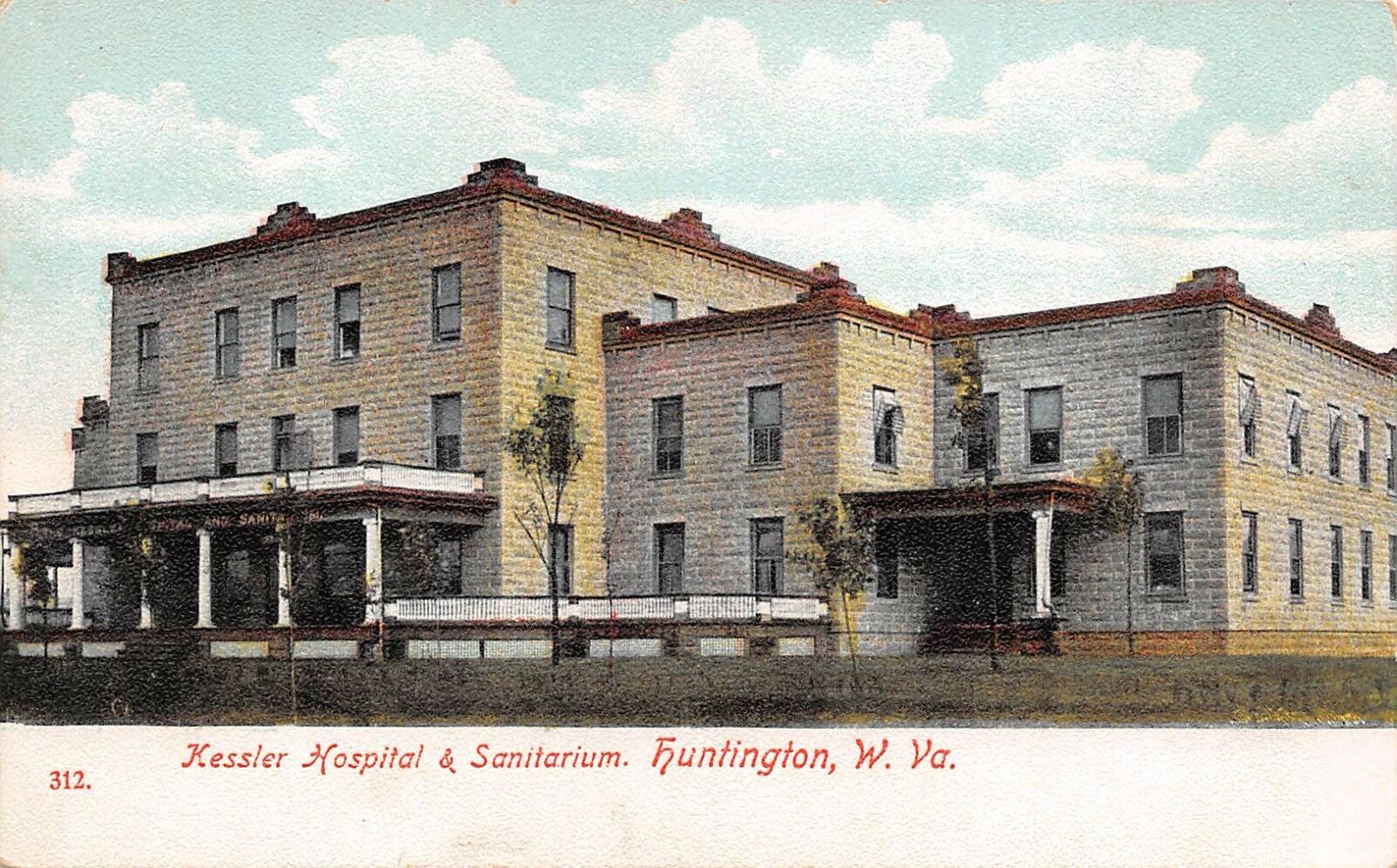 The first Kessler Hospital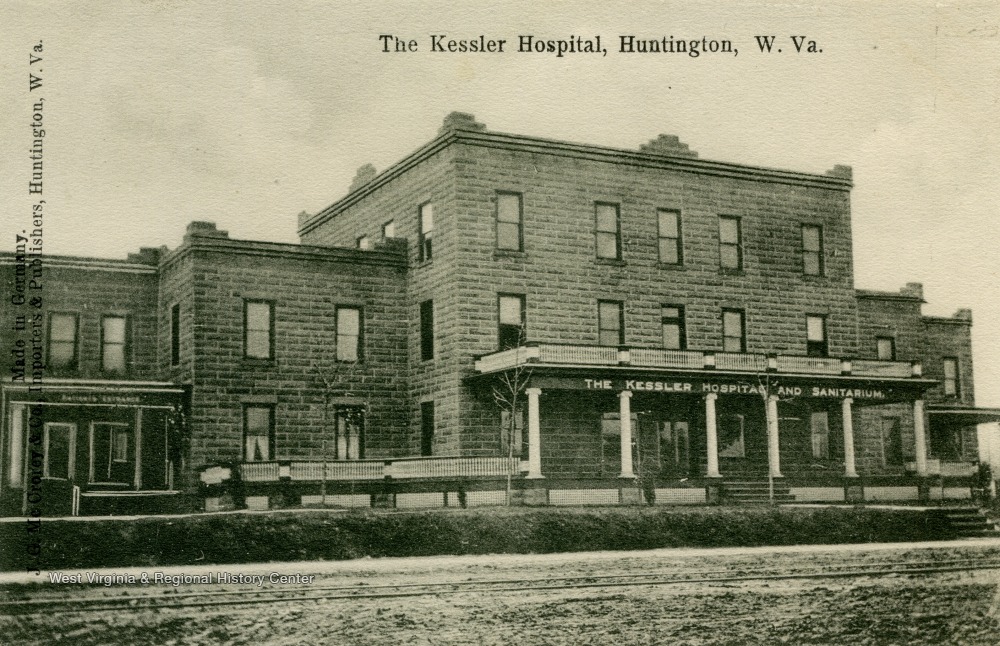 Ad for the Kessler Hospital in a May 1906 edition of The Big Sandy News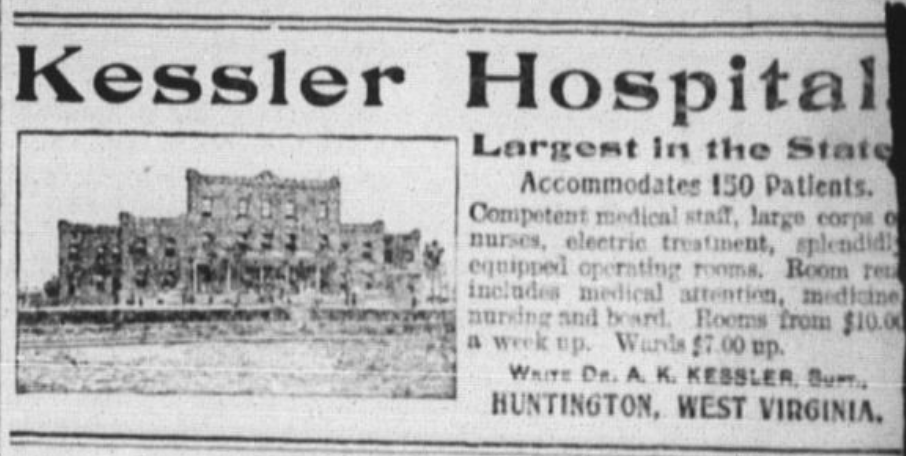 Kessler Hospital in Clarksburg, WV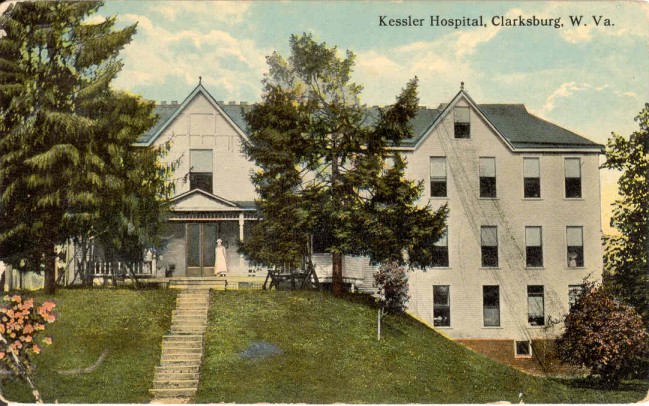 Backstory and Context
During the first few decades of Huntington's history, residents relied on private practices for medical care until the city's first hospital opened in 1902 at the site of a former school building on Fourth Avenue.The Huntington Hospital Association, which consisted of the city's physicians and business leaders, was organized to oversee the hospital's development. When the new hospital encountered financial issues, a women's auxiliary was formed to raise money. The auxiliary eventually took over leadership of the association until 1910, when the hospital was officially chartered.
In 1904, a new hospital opened on the southwest corner of 4th Avenue and 5th Street. The Kessler Hospital and Sanitarium was founded by Dr. Archibald Kenton Kessler. Born in Nicholas County, West Virginia in 1867, Kessler received his medical degree from the University of Louisville, Kentucky in 1891 and founded a hospital in Clarksburg, West Virginia in 1896. The hospital operated successfully until 1903 when Kessler decided to sell it in favor of opening another hospital in a bigger city. The new Kessler Hospital in Huntington was a stone building with room for 150 patients, as well as a nursing school that graduated its first class in 1907. Kessler was soon dissatisfied with the hospital's location, however, and sold it to Dr. Robert E. Vickers, who renamed it Mount Hope Hospital.
In 1911, Kessler opened a new, larger hospital at 6th Avenue and 1st Street. It had 60 beds and "all the latest methods and improvements installed in its management," with an emphasis on surgery, which was Kessler's specialty. The hospital was supplied with produce and dairy from Kessler's own 40-acre farm. In 1917, Dr. Henry D. Hatfield entered a partnership with Dr. Kessler and the hospital was renamed the Kessler-Hatfield Hospital. A doctor by training, Hatfield was also a politician and had served as governor of West Virginia between 1912 and 1917. Hatfield remained at the hospital until 1928, when he was elected to the U.S. Senate. 
That same year, Kessler-Hatfield Hospital underwent another name change, becoming Huntington Memorial Hospital. Memorial Hospital included a nursing school and a cancer center and was affiliated with three leading Washington, D.C., hospitals. After Kessler passed away in 1944, the hospital encountered financial difficulties and ultimately closed on August 13, 1958. The government sold the hospital's equipment and sold the building at a public auction the following year. The building was demolished in February 1961 and a shopping center, anchored by a Big Bear supermarket, was constructed in its place. A FoodFair replaced the Big Bear until 2017, after which point the building became vacant. 
Sources
Casto, James E. Huntington: An Illustrated History. Huntington: The Marshall University Foundation, 1997. This book provides a collective history of Huntington, West Virginia.
MU Regional Photo Collection. Box 5, folders 22-24. Marshall University Manuscript Collection. Huntington, WV. This collection contains photographs and postcards of buildings in Huntington, West Virginia.
Miller, Doris C. A Centennial History of Huntington, W.Va.: 1871-1971. Huntington: Franklin Printing Company, 1971. This book focuses on the history of Huntington, West Virginia, from 1871 to 1971.
Image Sources
https://www.herald-dispatch.com/special/lost_huntington/lost-huntington-huntington-memorial-hospital/article_7f313290-44c5-59d2-940d-5e233f95e432.html

https://wvhistoryonview.org/catalog/041947

https://marshall.pastperfectonline.com/photo/EB3F5FA4-62B7-4787-8947-439549528461

https://books.google.com/books?id=Fnk_AAAAYAAJ&pg=PA891&lpg=PA891&dq=kessler+hospital+huntington+wv&source=bl&ots=W3XX57w9Kz&sig=ACfU3U0HRgfejHlfXO9NSNbz90Znj4JiqQ&hl=en&sa=X&ved=2ahUKEwiflKm7rNvlAhUGVK0KHQfKDTUQ6AEwCnoECAoQAQ#v=onepage&q&f=false

https://wvhistoryonview.org/catalog/041929

https://www.ebay.com/itm/Kessler-Hospital-and-Sanitarium-Huntington-West-Virginia-/183874470135?nma=true&si=0zRLfYMBpNxujI32ZtaJ2FbyHNo%253D&orig_cvip=true&nordt=true&rt=nc&_trksid=p2047675.l2557

https://wvhistoryonview.org/catalog/041930

https://marshall.pastperfectonline.com/photo/D74885DE-B9E8-4ECC-9755-781452620226

https://chroniclingamerica.loc.gov/lccn/sn83004226/1906-05-18/ed-1/seq-8/

http://www.wvgenweb.org/ohio/nurses/hosp-kesslerc.jpg

Additional Information