RLC Backyard - Country Club Gate
Introduction
Standing by the green gate to the Virginia Country Club, you'll have a sweeping view of the central backyard and 1844 adobe house. This gate served as Llewellyn Bixby Sr.'s personal entrance to the Virginia Country Club (est. 1922), where he was an avid golfer and active board member. On your right is one of three remaining Italian cypress trees from Temple's 1840s garden. This specimen has been designated an "Exceptional Tree of Los Angeles County" for its age and beauty. The tree that practically overwhelms the garden – and the adobe house – is a Moreton Bay Fig, which was planted in the early 1880s. Note: The fig tree's buttressing root system is not a safe area to climb, play, or take photos. Please stay off its roots. DIRECTIONS: Please continue along the eastern perimeter pathway, toward the southeastern corner of the garden to see Temple's try pot.
Images
Eastern perimeter pathway, early 1930s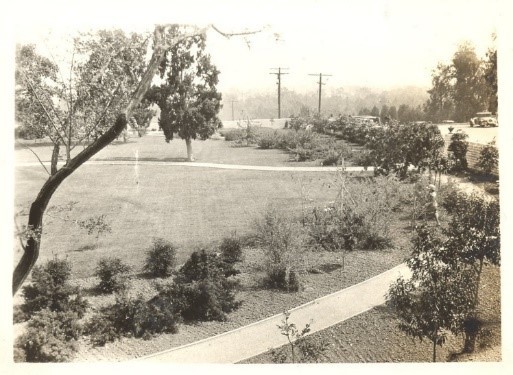 Moreton Bay Fig (left) & Italian Cypress (right), circa 1932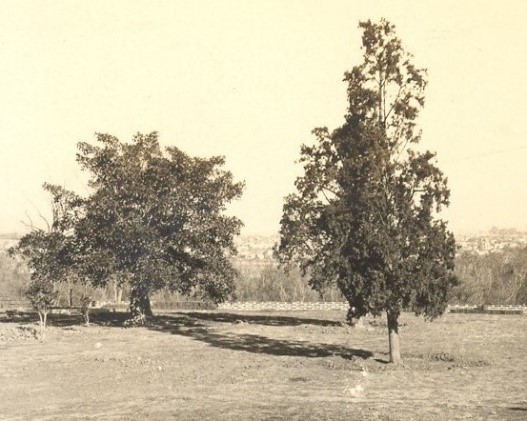 Moreton Bay Fig, early 1930s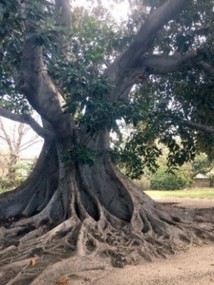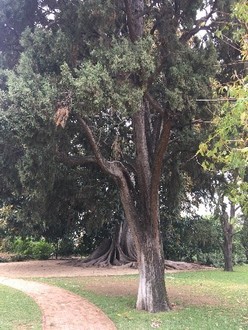 Backstory and Context
The Italian Cypress on your immediate right has fared better than the others that were planted in the 1840s, most likely due to moisture from Temple's cistern that was once nearby. Temple built the adobe at the top of a hill, in a landscape of native scrub brush, so the five tall, dark cypress trees served as a landmark for travelers. A second surviving cypress is tucked away on your right, between the featured cypress and the fig tree. A third is just beyond the perimeter of the central lawn, to the left of the historic adobe.
Sarah Bixby Smith (Llewellyn Bixby Sr.'s older sister), who often visited Rancho Los Cerritos in the 1870s, remembers her oldest cousin George Bixby scaring her with the cones from the cypress trees. In Adobe Days (1925), she shares his story of these "bats' eggs," which left her terrified.
The Moreton Bay Fig was originally two trees, which eventually grew together. In the photo of the cypress and the figs (circa 1930), you'll notice that the fig trees (left) were still much smaller than the Italian cypress (right). Cornell's landscaping plan called for installing and irrigating the central lawn, which provided the fig tree(s) with a steady supply of water. As a result, the Bixbys' 1880s fig now dwarfs the Temples' 1840s cypress – and the rest of the garden too!
Native to Australia, the Moreton Bay Fig produces a prodigious number of figs every summer. They are seedy and not considered palatable today, but the indigenous peoples of Australia used them much as local Tongva from this region used acorns – mashing them into a meal. 
Additional Information