San Francisco Bay's Military Fortifications
Introduction
When travelling down the road on Lincoln Boulevard, in the Presidio of San Francisco, you can stop at one of the best preserved machine gun nests of WWII. The fact of the matter is that all along the San Francisco Bay are dozens of trenches and foxholes where the army once stood ready to defend our country from an attack out of the Pacific Ocean.
Images
Coast Artillery soldiers manning Battery Cranston, an Fort Winfield Scott Endicott-period battery. Notice the Marin Headlands in the background. photo circa 1915. (From NPS)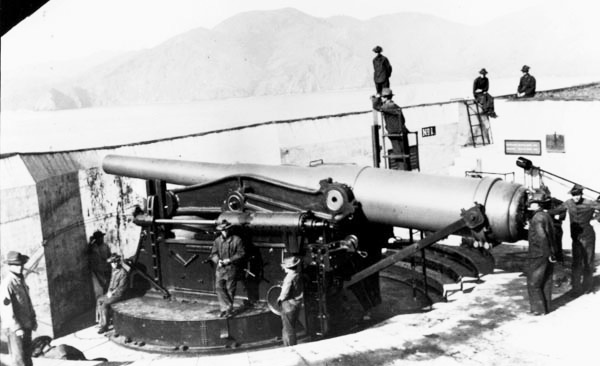 Backstory and Context
You wouldn't think to look for a gun that could fire 25 miles out to sea on the banks of San Francisco Bay, but if you know where to look you can sure find some. You can also find some of the most well preserved weed infested machine gun nests in the country.

One of the machine gun nests has a perfect view of Baker Beach looking down from the hillside and are still there today primarily due to the ground that they were dug in. Hard rocky hills, and an almost perfect climate, has preserved these fortifications and made them something that can be looked at in awe to this day.

The reason that San Francisco was so heavily fortified was due to the belief that it was the most important port on the Pacific Coast. Fortifications began way before WWII, in fact, major renovations to the port began in 1890. One report actually read "and, because of its strategic importance [due to burgeoning industry and easy access to inland areas of California], San Francisco Bay was given number two priority behind New York Harbor" (National Park Service Document).

If you ever in the hills of San Francisco try to find some of these bunkers. They're not on any map so you will actually have to look, but if you can find them you can say you found a piece of history that most haven't seen in years.

Sources
A tour of SF Bay's hidden military fortifications. Ed. Daniel Terdiman. Cnet, n.d. Web. 4 Dec. 2010. Terdiman, Daniel. A tour of SF Bay's hidden military fortifications. CNET. December 04, 2010. Accessed April 02, 2017. https://www.cnet.com/uk/news/a-tour-of-sf-bays-hidden-military-fortifications/.


Additional Information