Rochester Post Office
Introduction
This building, now repurposed as a restaurant, served as Rochester's United States Post Office from 1938 until 1988. The one-story, Colonial-Revival building was Rochester's first purpose-built postal facility, replacing quarters in the rear of the Masonic Block that had been leased by the post office since 1900. When a larger post office facility was opened on Olde Towne Road in 1988, this building was sold and developed as a restaurant space.
Images
Rochester Post Office, west and south elevations, 1990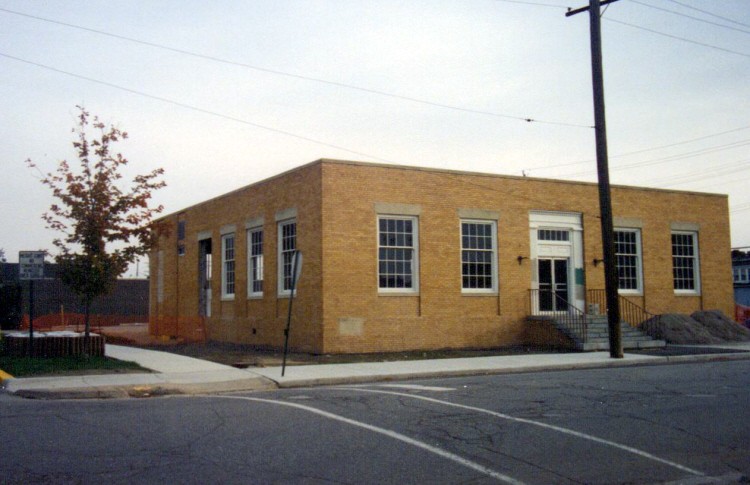 Rochester Post Office, south elevation, 1988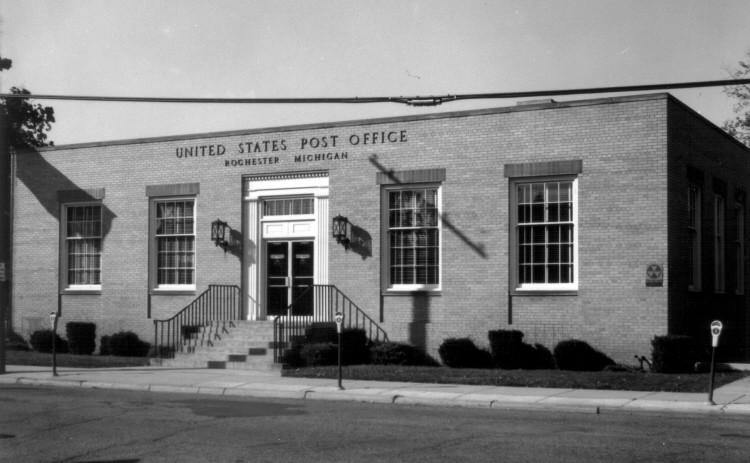 Rochester Post Office cornerstone, 2012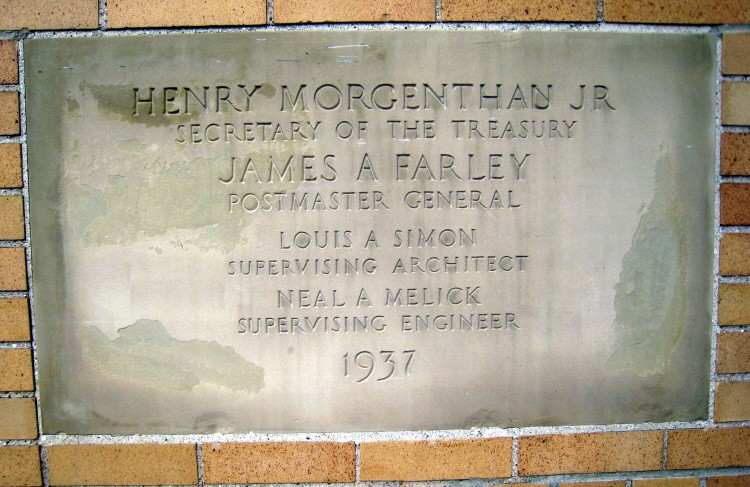 Backstory and Context
Congressman George A. Dondero secured $39,000 in funding for a new United States Post Office in the village of Rochester, built in 1937-38 to replace its cramped leased quarters in the rear of the Masonic Block on East Fourth Street. Louis A. Simon (1867-1958) was the supervising architect from the Department of the Treasury and the general contractor was the W. Searles Company of Pontiac, Michigan.
The site selected at the northeast corner of Fourth and Walnut streets was the location of the Almon Mack residence, later the home of Dr. B. C. H. Spencer, and last used as an undertaking establishment. The historic home was vacant at the time the property was acquired for the post office, and was razed to make way for the construction of the new building. The purchase price for the site was $60,000.
The Treasury Department's Fine Art Section commissioned a sculpture by artist Alexander Sambugnac to decorate the new building. The work, titled "Communication" was installed over the entrance to the postmaster's office in February 1939. Sambugnac was a Yugoslavian immigrant who executed a number of sculptures for post offices around the country during the 1930s. His creation for Rochester's post office was a sandstone plaster, 5'9" wide by 3'9" high, depicting early carriers of mail, including a carrier pigeon.
Construction on the building was delayed in early 1938 when the AFL Building Trades Council struck the general contractor for refusing to hire union labor. Work was resumed after a settlement was reached that required all workers on the job to join the union. Rochester's new post office facility was dedicated on June 18, 1938, with a parade from the old facility on East Fourth Street to the new facility on West Fourth Street. The building was used as the Rochester Post Office until September 17, 1988, when a larger facility was opened on Old Towne Road. The Sambugnac sculpture was transferred to the lobby of the new building at that time.
The former Post Office building on Fourth Street was then sold and hosted a succession of restaurants, including 4th Street Bistro, El Nibble Nook, Senor Frog's and the Wellington Steakhouse. The Penny Black restaurant, named for a postage stamp in honor of the building's prior history, opened in this building in November 2010.
Sources
"V. M. Spaulding Property at Fourth and Walnut Selected as New Post Office Site," Rochester Era, January 22, 1937, p.1.
"Land for Rochester Post Office Bought," Detroit Times, July 16, 1937, p.24.
"To Start Post Office Bldg. Oct. 7th," Rochester Clarion, October 1, 1937, p.1.
"Excavation Commences on Local Post Office Site," Rochester Clarion, October 15, 1937, p.1.
"Settle Strike on Post Office Job Tuesday," Rochester Clarion, February 25, 1938, p.1.
"To Dedicate Post Office June 18th," Rochester Clarion, June 10, 1938, p.1.
"Dedicate Post Office Saturday," Rochester Clarion, June 17, 1938, p.1.
"Post Office Gets Mural Installed," Rochester Clarion, February 3, 1939, p.1.
Brest, Laura K. "Mail room may be dining room," Rochester Source, January 15, 1990, p.1.
Buchholz, Kami. "Former post office becomes restaurant," Rochester Source, June 10, 1991, p.1.
"Restaurant Occupies Old Post Office," Rochester Clarion, December 15, 1994.
"New BBQ Joint Pays Homage to Postal History," Rochester Post, January 6, 2011, p.3A.
Image Sources
Deborah Larsen

Deborah Larsen

Deborah Larsen

Additional Information