Daly Mansion
Introduction
Now a museum, Daly Mansion is a historic home that was once the residence Margaret Daly, the widow of Marcus Daly, who founded the cities of Hamilton and Anaconda. It was originally built as a smaller farmhouse by its first owner, Anthony Chaffin, sometime before 1886 when Marcus Daly bought the house. It would be expanded and remodeled three more times, the last time in 1910. The house is a beautiful example of Georgian Revival architecture and reflects the wealth of the Daly family. Notable exterior features include a two-story tall classical portico with Ionic columns and porches and verandas that nearly encompass the house. Inside, the house has more than 50 rooms (25 of which are bedrooms and 15 bathrooms), seven fireplaces, a full basement. The mansion, which is also known as Riverside, was added to the National Register of Historic Places in 1987.
Images
Also known as Riverside, the Daly Mansion was the home of Margaret Daly, the widow or copper magnate Marcus Daly.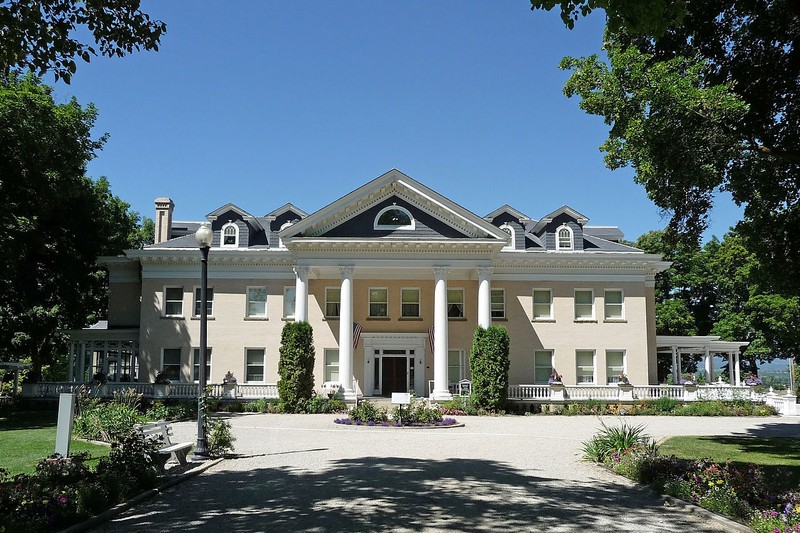 Backstory and Context
Marcus Daly
Marcus Daly was born to a large family in 1843 in Ireland. He immigrated to the United States when he was 15, arriving in New York City. For the next five years he worked and saved money to make the long journey to California, where one of his sisters lived (he was the youngest of 11 children). It was there that he started his mining career. He became a miner and eventually went to Nevada to work in the famous Comstock Lode silver mines. He rose in the ranks, becoming foreman in a mine in Utah in 1871. In 1872 he met Margaret and they got married later that year. Two years later, he became a citizen.
His first foray into Montana came in 1876 when the company he worked for sent him there to find a silver mine. He did so and bought a part of it himself, which he sold later. With the money from that sale as well as funds from other investors, in 1881 he bought another claim called Anaconda and created the Anaconda Mining Company. This proved to be great decision. Below the silver was a huge vein of copper, which was becoming more valuable as it was beginning to be used for electricity. To process it, Daly built a large smelter west of Butte and established the town of Anaconda. He and the other investors became rich and Daly eventually owned the company. He sold it in 1899 and became president of the new company called the Amalgamated Copper Mining Company. He died the next year in New York City.
Margaret Daly
Margaret Daly was born in Ohio in 1853 and she and her family moved west in the 1860s. She met Marcus when she was 18 (he was 30). Their first encounter was memorable. When Marcus was inspecting a mine in Utah, he was accompanied by another man and Margaret (his daughter). She apparently lost her balance and fell into Marcus' arms. They would eventually have four children, a son and three daughters
After Marcus died in 1890, Margaret lived in the mansion during from Spring to Fall. She named it Riverside and often hosted family and friends. In 1910, she remodeled the house to its current Georgian Revival appearance. She also remained active in the community, giving local Boy Scouts the permission to build a camp in the area, donating land for a library, and building the Daily Memorial Hospital, which still exists today and is called the Ravalli Administrative Center. She passed away in the house in 1941. The house remained in the family until 1986 when the state bought it. It opened as a museum the next year. The old mansion was boarded up from the time of Margaret's death until the state acquired it.
Sources
Cook, Kathleen & Johnson, Lon. "Riverside." National Park Service - National Register of Historic Places Nomination Form. July 16, 1987. https://npgallery.nps.gov/GetAsset/a97aee77-ed21-4d52-9778-bd435bebf13a.
"Marcus Daily Mansion History." Daly Mansion. Accessed June 3, 2020. http://dalymansion.org/DalyMansionHistory.html.
Image Sources
Wikimedia Commons: https://commons.wikimedia.org/wiki/File:Hamilton_MT_Daly_Mansion_2.jpg

Additional Information