Chennault Aviation and Military Museum
Introduction
The Chennault Aviation and Military Museum offers visitors a historical look at not only the aviation history of Louisiana, but a look at its involvement in U.S. Wars, beginning in World War 1. The museum offers many exhibits on veterans from Louisiana. It also has artifacts donated by multiple sources that were part of World War 1 and 2, as well as the Korean War, Vietnam War, and more recent wars. The museum is free to the public, and offers educational demonstrations to visitors. Also, it puts on a national history day, which includes veterans who tell their accounts of war.
Images
Helicopter on Display in Front of Museum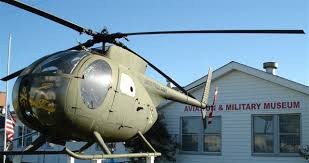 Exhibit on Military inside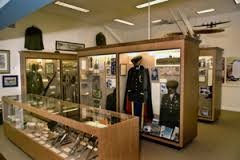 Backstory and Context
This museum has exhibits that detail Louisiana's involvement in war, spanning from World War 1 all the way to the Iraq War. It is located in a historical military site, in the Selman Field Army-Air Force Navigation School, which was opened in 1942 during World War 2. Throughout the year, the museum holds presentations, book signings, and other events that put the spotlight on veterans and their stories of war. The museum offers drop-in activities once a month for younger historians to learn about aviation and the different US wars. It also is the focus of many school field trips that focus on the history of aviation and military history.

Veterans have had a major influence in the military museum section. Over 100 veteran interviews have been conducted from local veterans, and the museum encourages all area veterans to be part of the interview process(1). This is done not only to let veterans have an influence on the war exhibits, but it also preserves the memories of those who served. Another way the museum includes the involvement of veterans is through their speaking program, in which veterans tell their stories. Many people show up to these in order to honor those who have served. (1)

The Chennault Aviation and Military Museum is visited by thousands each year. It continues to add to their exhibits as more artifacts and stories are given. The museum is dedicated to Louisiana native Gen. Claire Lee Chennaut, a WW2 pilot who battled the Japanese in China(2). The exhibits that are part of the museum teach people about the history of major American wars. Anyone who is interested in learning about the history of Louisiana in wars should visit this museum.
Sources
(1)http://www.chennaultmuseum.org (2)http://www.sos.la.gov/HistoricalResources/VisitMuseums/ChennaultAviationAndMilitaryMuseum/Pages/default.aspx
Additional Information