Lewis Army Museum
Introduction
Founded in 1971, the Lewis Army Museum explores how the U.S. Army assisted in settling and protecting American settlers in the Pacific Northwest. With a wide range of artifacts and exhibits, the museum offers a fun and educational experience that allows visitors to get a better understanding of Western expansion and the roled the US military played. The museum's collection includes weapons, military art, and memorabilia, and the museum grounds feature tanks, cannons, missiles and other large equipment and armament. The museum is housed in the historic Red Shield Inn, which was constructed in 1919 by the Salvation Army. It is a rare example of the "Western Stick" architectural style, which is also referred to as the "Swiss Chalet" style, and is the only building on the base remaining from the WWI period. It was added to the National Register of Historic Places in 1979. The fort is named after Meriwether Lewis, co-leader of the famed Lewis and Clark Expedition, which found a route to the Pacific Ocean in the early 1800s.
Images
The Lewis Army Museum is housed in the historic Red Shield Inn, which was built in 1919 by the Salvation Army to provide guest rooms for visitors to the fort.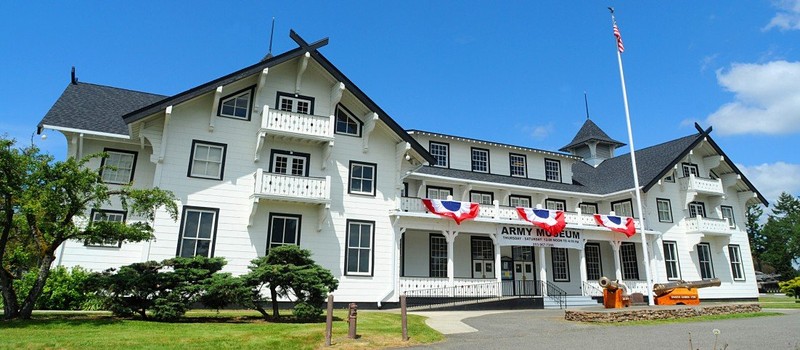 Backstory and Context
The history of Fort Lewis's origins begins when Pierce County donated 70,000 acres to the federal government to build a permanent military installation. A few years later, the county donated additional land again on the condition that an airfield would be built just north of the Fort Lewis. The two installations operated independently from each other for over 60 years when finally in 2010 the two merged forming the larger base that exists today. At the fort's peak during WWI and II, there were 50,000 soldiers stationed here.

The Salvation Army earned fame in the United States for providing doughnuts to American soldiers in France during WWI. As a result, American soldiers earned the nickname "doughboys." The Inn operated as such until 1973, when the museum moved in. The Inn was once part of an area of the base called Greene Park, which was an area soldiers used to relax and participate in a wide variety of recreational activities.


Sources
"Army History at JBLM." Lewis Army Museum. Accessed April 1, 2015. https://lewisarmymuseum.com/history-of-the-army-at-camp-lewis-fort-lewis-and-joint-base-lewis-mcchor...

Dierking, Barbara. "Red Shield Inn." National Park Service - National Register of Historic Places Nomination Form. February 14, 1979. https://npgallery.nps.gov/GetAsset/47fe8517-9861-4892-8ed1-89110cfa9b4e.
Additional Information