Nathaniel Baldwin gravesite, Mount Avon Cemetery
Introduction
This location is the burial place of Private Nathaniel Baldwin, a Revolutionary War patriot who died in Rochester in 1840. Baldwin served with a line of Connecticut militia in 1775. Following his military service he moved from Goshen, Connecticut to Ontario County, New York. He came to Michigan in 1824 and settled near Rochester. Baldwin's burial place was identified and marked by the National Daughters of the American Revolution in 1909.
Images
Nathaniel Baldwin gravestone, Mount Avon Cemetery, 2020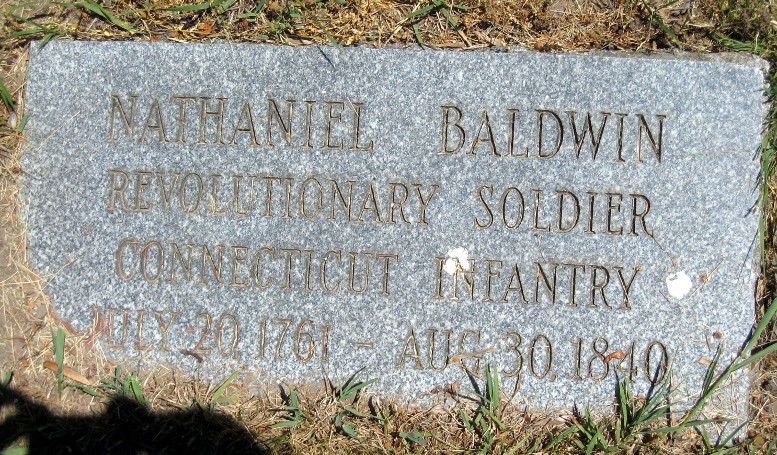 Backstory and Context
Author-Uploaded Audio
Nathaniel Baldwin was born at Goshen, Connecticut on July 21, 1761 and died in Oakland County, Michigan on August 30, 1840.
The 1912 History of Oakland County said this about Baldwin:
"While still a lad he enlisted in the sixth regiment of Connecticut under Colonel Parsons. This regiment was organized at the first call for troops and recruited from New London, Hartford, and Middlesex counties. He remained on duty at New London until July 17, 1775, when they were ordered to the Boston camps, where they remained until discharged, December 10, 1775."
"After the war, Mr. Baldwin married Susanna Sherman, the niece of Roger Sherman, one of the signers of the Declaration of Independence."
Baldwin's grave was marked by the General Richardson Chapter, National Daughters of the American Revolution, in 1909.
Sources
Seeley, Thaddeus DeWitt. History of Oakland County, Michigan. Chicago: Lewis Publishing, 1912.
Michigan Historical Commission. Bulletin. Lansing, Mich.: W.H. Crawford, v. 12 (1920), p.16.
NARA M804. Revolutionary War Pension and Bounty-Land Warrant Application Files, Nathaniel Baldwin.
Additional Information