Bill's Ranch House
Introduction
Author-Uploaded Audio
Bill's Ranch House is located in the far southeast corner of the Frisco Historic Park & Museum. It was built in 1892, by Jane and John Thomas, who were Welsh immigrants that relocated to Frisco from Georgetown in 1887. This historic structure was originally located in the Bill's Ranch neighborhood of Frisco, and served as the primary residence for the Thomas family as they managed their large cattle ranch. In 1930, the Thomas family was "long on land, but short on neighbors." The family's eldest son, Bill Thomas, invited reputable individuals plucked from the Denver society pages to claim a free parcel of land on his ranch for their summer cabins. Six families took Bill up on his offer, and with that, the dwindling population of Frisco in the early 1930's began to grow again.
Images
Bill's Ranch House in the Frisco Historic Park. Circa 2020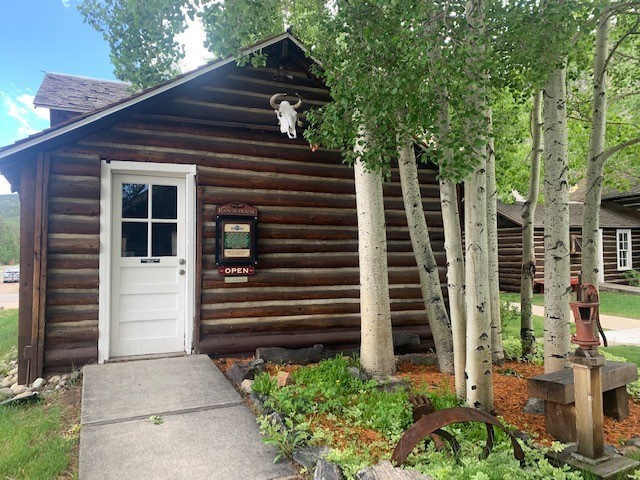 A copy of the Mr. Man letter, written by Bill Thomas.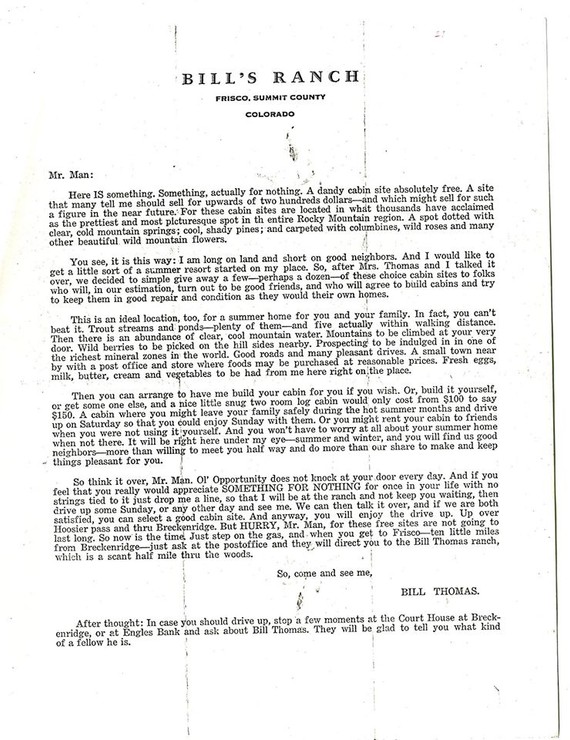 A photo of the relocation of Bill's Ranch house from its location to the Frisco Historic Park in the mid 1980's.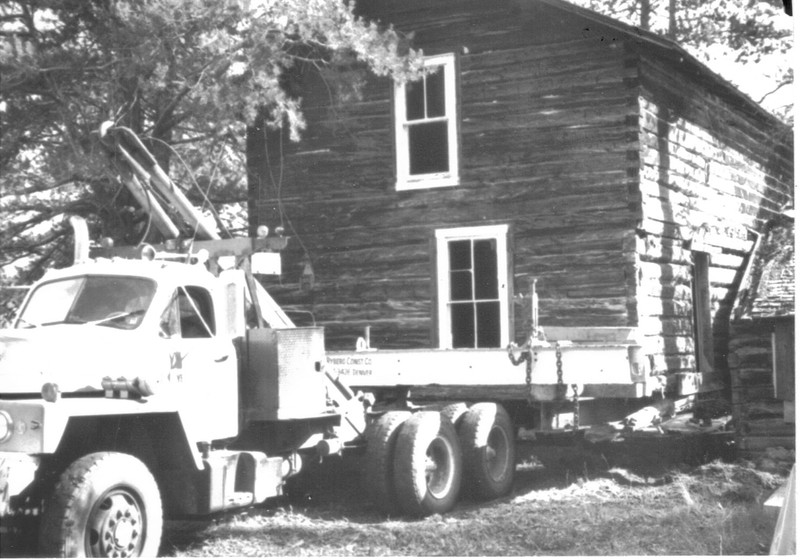 Newspaper clipping from Summit Sentinel, May 22, 1981. Featuring the Thomas home in its original location in Bill's Ranch.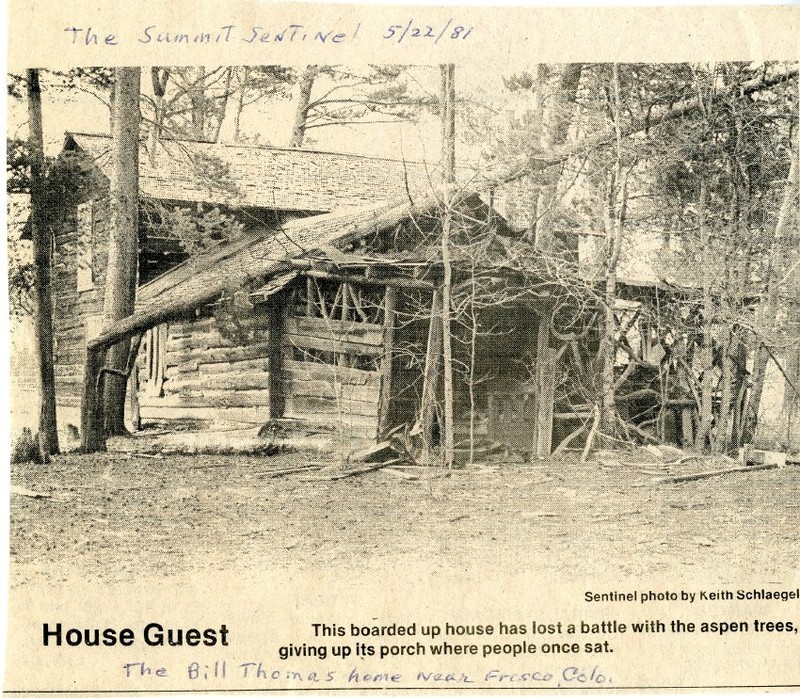 Landscape photo of Peak One as seen from Bill's Ranch.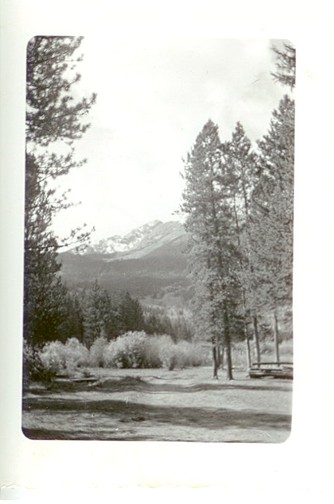 "Happy Days on Bill's Ranch" This photo features members of the Thomas, Giberson and Mogee families enjoying a summer afternoon in Bill's Ranch.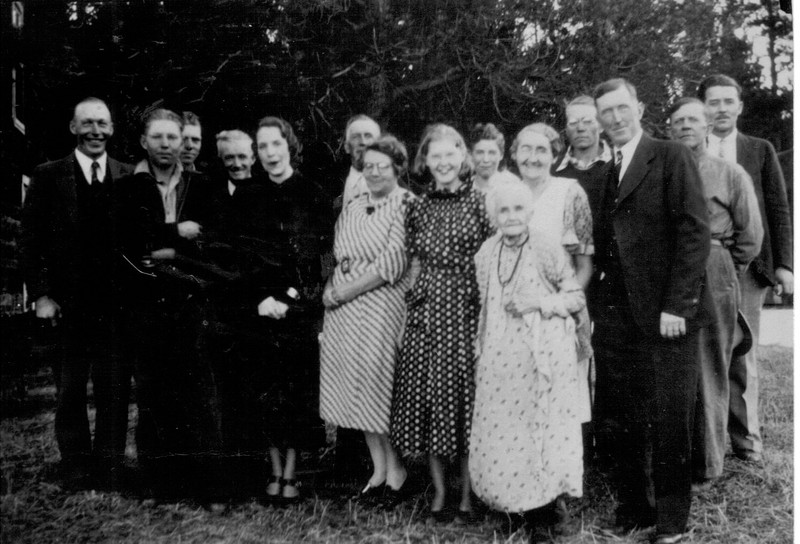 This wooden wagon wheel with iron trim and hardware was constructed using round head nails can be found on display in Bill's Ranch House.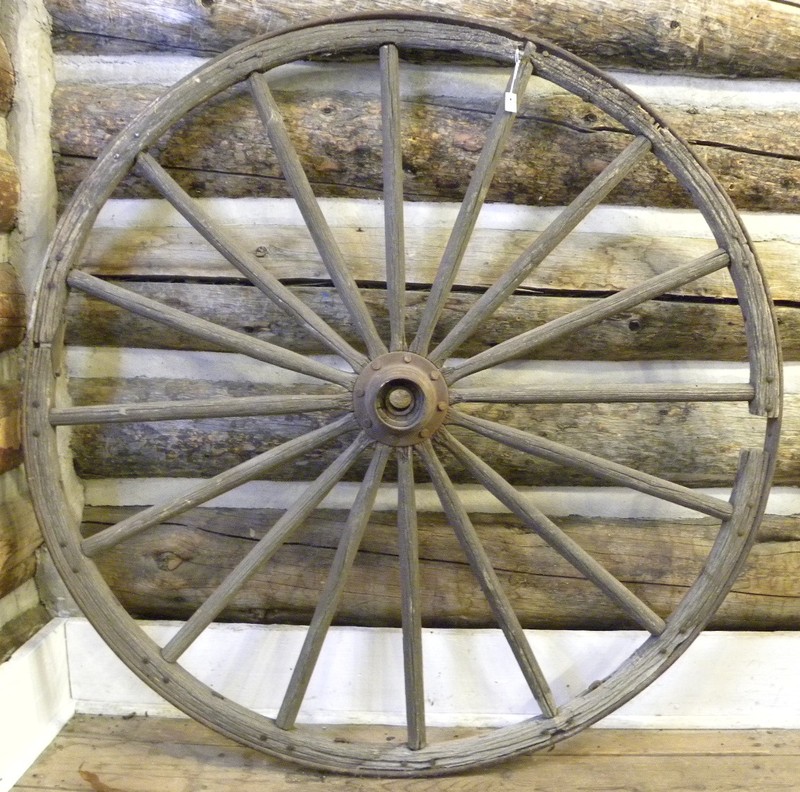 Backstory and Context
The Thomas Ranch was established in 1910 as a cattle farm, after Jane Thomas was granted a homestead deed for 145-acres along the base of Mount Royal. By 1930, the population of Frisco was deflated, leaving the Thomas family without any patrons to buy their milk and cream. Bill Thomas wrote the Mr. Man letter, inviting select people to claim a free plot of land on his ranch, so long as they committed to building a cabin within one year. The only person to respond to the letter was Reverend Bob Dexheimer, who brought his family and a few others from his congregation. Their venture from Denver resulted in five cabins being constructed, which established the modern day Bill's Ranch community. Albeit small, this was the start to Frisco's resurgence.
Originally located on present day Hunter's Circle, the homestead featured a large farm house, an ice house, and a dairy. The plot began as a 145-acre ranch that boasted fresh water from Miner's Creek and ample room for the Thomas' dairy cows to wander and graze. Ranching was hard work, but most people deemed it rewarding despite the seasonality of grazing for cattle, variable and unpredictable weather, and massive winter storms. Plus, a bevy of natural predators and poisonous native plants proved potentially fatal to livestock. With a stunning view of Peak One, Victoria, Mount Royal, Wichita Mountain, and Chief Mountain, Bill's Ranch eventually turned into the Bill's Ranch Neighborhood, being Frisco's first subdivision.
The first lots were developed by Reverend Dexheimer and his family, the Maddy family, and the Ninneman family, in the northwest corner of the ranch, 1931.The Niemoth cabin and McKee cabin were constructed a few months later. The Maddy Cabin still stands today and is in excellent condition for its age. Sadly, the Dexheimer Cabin did not survive the times, and was torn down in 2012. The Ninneman Cabin also remains, but is obscured from view by a large, modern home. When the Niemoth cabin was relocated in 1995 to the Frisco Historic Park & Museum, it was restored by the former Frisco Historical Society. The McKee Cabin, often known as Mac's Shack, was demolished to make way for new construction, but materials from the original structure were used to build a new garage. Only Mac's fishing shack remains in its original location along the banks of Miner's Creek.
Bill's Ranch House was moved from its place at the base of Mount Royal to the Frisco Historic Park & Museum in 1982. The relocation of Bill's Ranch House gave new life to the worn and weathered structure that fell into disrepair after Bill Thomas' death in 1952. Bill's Ranch House is now home to exhibits on the Thomas' family's ranch and shares the story of Frisco's adult pastimes.
Sources
Belz, S. (Director). (2012). The Story of Frisco Colorado [Motion Picture].
Gilliland, M. E. (1984). Frisco!
Johnson, C. (2020). Plants and Animals in Colorado. Retrieved from LandScope America: http://www.landscope.org/colorado/plants-animals/
Jarvis, H. (2016, April). Bold Women Spearheaded Bill's Ranch. Retrieved from The Summit Daily: https://www.summitdaily.com/everything-summit/history/bold-women-spearheaded-bills-ranch/
Redente, C. a. (1993). Development of the Ranching Industry in CO. Rangelands.
Summit County Government. (2010). Bill's Ranch Neighborhood Subbasin Plan. Frisco CO.
S. Mather & FHPM. (2011). Frisco & the Ten Mile Canyon. Frisco, CO: Arcadia Publishing.
Thomas, B. (1930). Mr. Man Letter. Frisco, CO.
Image Sources
Photo Credit: Michaela Douglas

Frisco Historic Park & Museum

Frisco Historic Park & Museum – Photographic Print (Unknown Donor)

Frisco Historic Park & Museum – Newspaper Clipping (Unknown Donor)

Frisco Historic Park & Museum - Photographic Print Collection (Donated by Judy & Bob Anderson)

Frisco Historic Park & Museum – Photographic Print (Donated by Jim Yust)

Frisco Historic Park & Museum – Object (Unknown Donor)

Additional Information