Belle Vue Way
Introduction
Belle Vue Way is named for one of two likely candidates. First, Bellevue Plantation, owned by Richard Hayward, was in the vicinity of Belle Vue Way. The second option is Catherine Murat moved into a cottage she called Bellevue, which was on Hayward's plantation, after the death of Prince Achille Murat in 1847. She divided her time between the cottage and the home she had with her husband on their plantation Econchatti until she passed away.
Images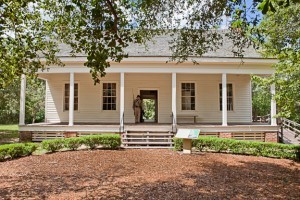 Backstory and Context
Richard Hayward is reported to have held Bellevue in trust for his daughter, Anna Maria, so the ownership of the plantation is not precisely clear. Anna Maria's husband, Dr. William Tradewell, was killed in the Mexican-American War. Hayward owned multiple plantations in the Tallahassee area. On the 1850 tax rolls for Leon County, Hayward is reported to own almost 1,400 acres between two properties and 63 slaves. Hayward also owned property in town and lost a two-story home to a fire that swept Tallahassee in 1843.
Catherine Murat is said to have moved to to Bellevue in the mid-1850s after supposedly spending several years in France under the care of Napoleon III (Prince Murat was Napoleon Bonaparte's nephew as was Napoleon III). He encouraged Catherine to remain in France and offered her a chalet as her home, however she declined in order to return to the United States. Apparently, Napoleon III provided her with a generous annual stipend and she was able to buy Bellevue, ostensibly from Richard Hayward, upon her return and make her home there. This is a plausible explanation for how Catherine came to be at Bellevue as she is listed on the 1860 Slave Census as owning 24 slaves. This may include those slaves still at Econchatti. She continued to spend time at both plantations until her death in 1867. The home at Bellevue was restored and moved to the Tallahassee Museum where it sits as an exhibit today along with a slave cabin from the plantation.
Sources
1.Blake, Tom. Leon County, Florida Largest Slaveholders from 1860 Slave Census Schedules. 2003 https://web.archive.org/web/20060521194210/http://freepages.genealogy.rootsweb.com/~ajac/flleon.htm Accessed April 10, 2020
2.Groene Bertram, Ante-Bellum Tallahassee Tallahassee, FL: Florida Heritage Foundation, 1971, p.31 http://ufdc.ufl.edu/FS00000017/00001/39j.
3.Knott House Museum. Know Your Neighborhood: Tallahassee Street Name Origins. Tallahassee, FL: Knott House Museum, 1997
4.Morris, Allen Covington. Florida Place Names: Alachua to Zolfo Springs. Sarasota, FL: Pineapple Press, 1995.
5.Paisley, Clifton. The Red Hills of Florida: 1528-1865. Tuscaloosa, AL: The University of Alabama Press, 1989.
6.Sandler, Roberta. "The Princess Who Saved Mount Vernon," The Free Lance Star. October 23, 1999 https://news.google.com/newspapers?nid=1298&dat=19991023&id=si4zAAAAIBAJ&sjid=gggGAAAAIBAJ&pg=4135,6303039 Accessed April 10, 2020
7.Tallahassee Museum. "Old Florida." Accessed April 12, 2020. https://tallahasseemuseum.org/explore-the-museum/museum-exhibits/old-florida/.
8.Wynne, Lewis N., and John T. Parks. Florida's Antebellum Homes. Charleston, SC: Arcadia Publishing, 2004
Image Sources
Tallahassee Museum - https://tallahasseemuseum.org/explore-the-museum/museum-exhibits/old-florida/