Broome Street
Introduction
Broome Street is named for James E. Broome, the third governor of Florida. He moved to Tallahassee from South Carolina and began his career as a businessman. He later got involved in politics after being appointed Probate Judge of Leon County. Broome became a planter and lived on his plantation called Whitehall while he served as governor.
Images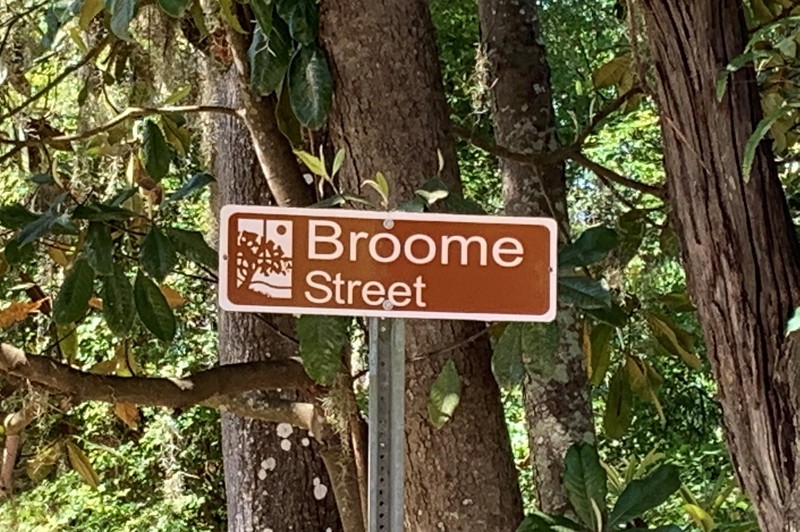 Backstory and Context
James E. Broome moved to Tallahassee from South Carolina in 1837. Unless like most men moving to Florida at the time, Broome did not buy land and begin planting cotton. Instead, he set up shop as a merchant opening James E. Broome & Company in a prominent business district known as Berry's Row. He operated his business until 1841 when he left it behind to accept an appointment from Governor Richard K. Call as Probate Judge of Leon County. Broome served in this office until 1848. 
In 1849, Broome purchased Whitehall Plantation which was situated on a hill overlooking Lake Jackson. By this time, Broome was well-known in Democratic Party politics and was being looked at as a possible candidate for governor in the next election to break the hold of the Whig Party. By purchasing Whitehall, Broome may have been making effort to strengthen his place among prominent Floridians. According to the 1850 tax rolls of Leon County, Broome owned 660 acres of land along with 31 slaves. Along with cotton, he planted corn and had livestock on this plantation.
In 1852, Broome was elected as the third governor of Florida. He was known as a strong advocate for states-rights as well as an ardent supporter of secession. In an address to the State General Assembly in 1854, Broome declared the South was unmoved by federal intervention and regulation and the strength of the region was its stability. The speech emphasized his key issues which were preserving the traditions of the South and protecting Southern white male honor. Also during his term as governor, Broome vetoed more legislation passed by the assembly than his two previous predecessors. The assembly was controlled by the Whig Party at the time, so Broome found himself continually at odds with them over many issues. As governor, he raised money to improve the railroads in north Florida. He assisted in providing funding for the improved railroad between Tallahassee and St. Marks as well as construction of a railroad heading east that eased transportation woes for planters east of Tallahassee.
After serving his term as governor, Broome returned to business and became a cotton factoring agent for New Orleans-based Nathaniel Hamlen. It was not uncommon for planters in a region to also act as agents for cotton firms in the larger exporting cities. Broome did not stay out of politics for long, though. He served in the Florida Senate from 1860-1864 during part of the Civil War years. After the war, Broome relocated to New York City. Sources are not entirely clear as to why he made this move. He lived there until he made a trip back to Florida to visit his son. Broome passed away November 23, 1883 in Deland, FL.
Sources
1.Baptist, Edward. Creating the Old South: Middle Florida's Plantation Frontier Before the Civil War. Chapel Hill, NC: The University of North Carolina Press, 2002
2."Gov. James Emilius Broome." National Governors Association. NGA 2020. https://www.nga.org/governor/james-emilius-broome/
3.Groene Bertram, Ante-Bellum Tallahassee.  Tallahassee, FL: Florida Heritage Foundation, 1971, http://ufdc.ufl.edu/FS00000017/00001/39j.
4."James Emilius Broome." Florida Department of State. State of Florida 2020. https://dos.myflorida.com/florida-facts/florida-history/florida-governors/james-emilius-broome/
5.Paisley, Clifton. The Red Hills of Florida: 1528-1865. Tuscaloosa, AL: The University of Alabama Press, 1989.
6.Smith, Julia Floyd. Slavery and Plantation Growth in Antebellum Florida: 1821-1860. Gainesville, FL: Library Press@UF, 2007.
Image Sources
Photograph taken by Jeffrey Henley April 17, 2020