Christopher Columbus Statue (1970-2020)
Introduction
This monument was erected in Civic Center Park in 1970 and stood until protests in 2020 led to its removal. Colorado artist William F Joseph created the sculpture which was met with increasing criticism at various points in the past five decades as Colorado residents have asked if the statue reflected the values and aspirations of their community. In 1989, the statue was defaced with fake blood by American Indian Movement (AIM) activist, Russell Means. Means was found not guilty of the crime of vandalism because he was expressing an act of free speech. On Thursday, June 25th, 2020, this statue was toppled by a group of unnamed protestors. This Denver protest was part of a larger response to the death of George Floyd and other minorities at the hands of police. The violence against minorities led to conversations about the meaning of monuments, along with isolated examples where monuments accross the country were the sites of protests.
Images
Front View of Christopher Columbus Statue (1970-2020)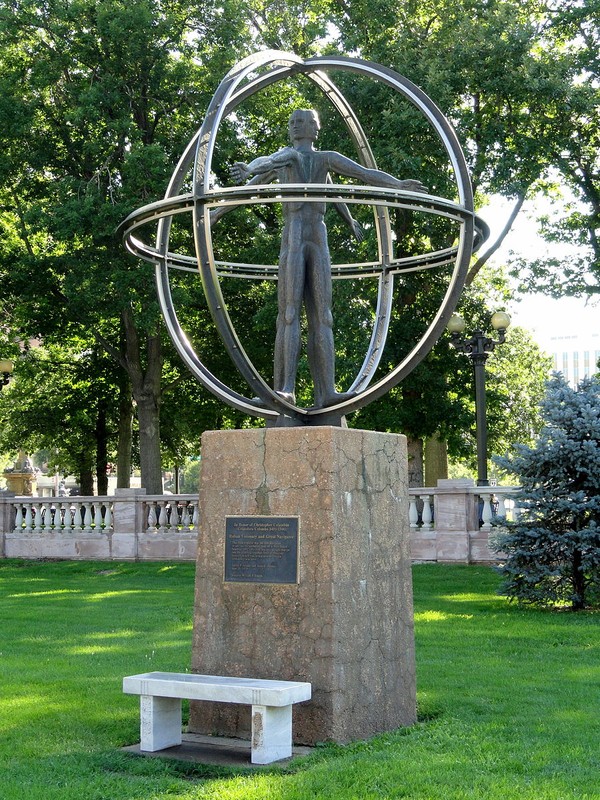 Side View of Christopher Columbus Statue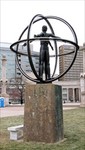 Bronze dismantled on June 25th 2020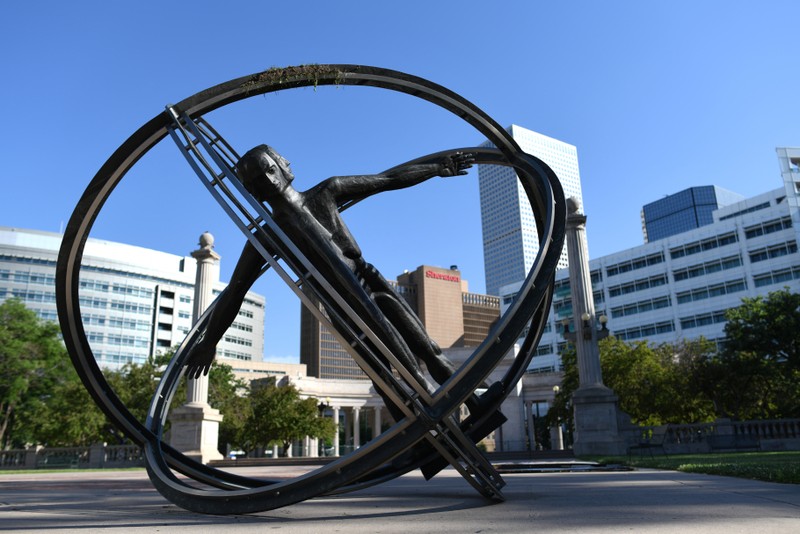 Christopher Columbus plaque in question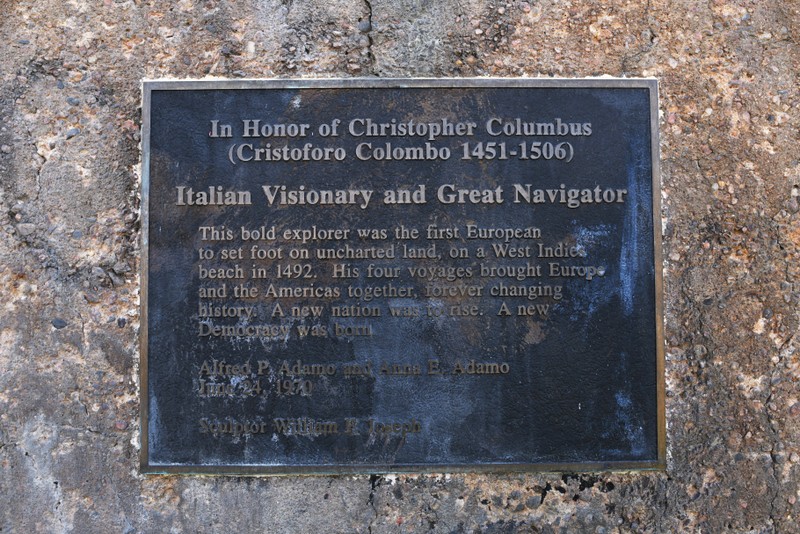 Statue base after dismantling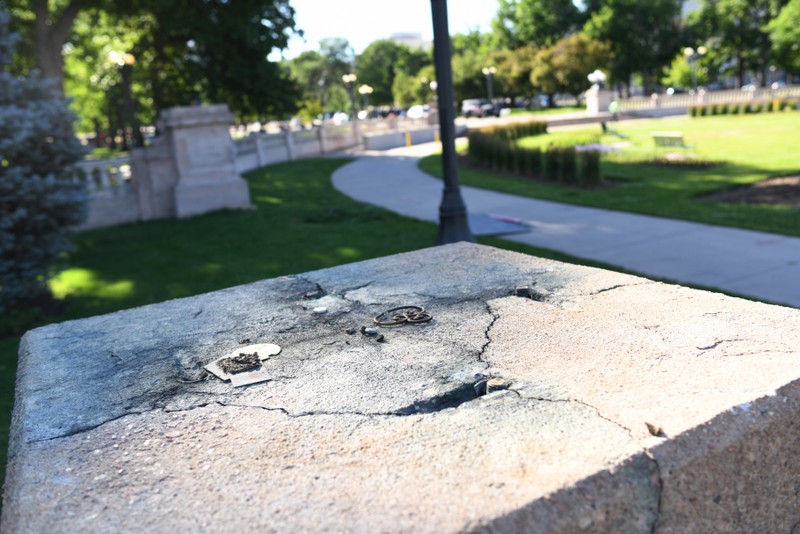 Backstory and Context
The statue was donated to the City of Denver in 1970. Presenters Alfred and Anna Adamo explained their intent to honor Colorado as the first state to recognize Columbus Day as a holiday. The statue was created by William F Joseph, a prominent sculptor in the region. Due to Christopher Columbus' actions against Native peoples, many Denver residents in the past fifty years have not seen this monument as representative of the inclusive community Denver should aspire to become. Others have expressed mixed feelings, appreciating the potential value of statues like this as a reminder that historical figures like Columbus have been lauded while many others who have had a more direct impact on Denver remain largely unknown. As demonstrated by public debates and counter-protests in 20202, some residents of the city hope the monument will be restored and rededicated.
The monument was crafted by William F Joseph, a Colorado artist known for his work in Denver. Joseph mixed bronze, steel, concrete, and marble for the Christopher Columbus sculpture. The statue was intended to partially resemble Da Vinci's "Vitruvian Man" and in 1975, a marble bench was added to allow for introspection and contemplation. The monument was a stylistic interpretation of the navigator, as noted by Denver Public Arts.
"Each human form has their two arms and four faces extending in the four directions – North, South, East and West. The statue is encircled by three spherical stainless steel rings strategically placed outlining the planet earth."
For decades, Columbus Day in Denver has been met with protests against the celebration of the holiday and more emphasis on the way Columbus and those who sponsored his voyages viewed and treated the indigenous peoples of the Americas.
In the late 19th century, Columbus was viewed as a heroic figure and celebrated. A century before, however, the explorer was largely unknown. The early 1970s saw another change in his perception by many Americans. While some continued to celebrate Columbus, each decade of the late 20th and early 21st century brought less emphasis on Columbus as an explorer and his "discovery" of America and more attention to the treatment of Native Americans.
For Native groups and many of their supporters, statues like this became ground zero to protest a historical narrative that failed to include Columbus' active support for actions that would be considered genocide in the present day. In 1989, Russell Means, an American Indian Movement (AIM) activist, led a protest where he defaced the statue with fake blood. He was found not guilty of a crime as his actions did not cause permanent damage and was considered a form of free speech.
In the early morning hours of June 25th, 2020, the bronze portion was toppled during a wave of nationwide debate and protest about the meaning of monuments. Similar to previous waves of protest against monuments viewed by many Americans as unrepresentative of the history America aspires to, this protest followed the murder of a citizen by the police. In this case, the victim was George Floyd who was killed by a police officer who knelt on Floyd's neck for nine minutes. Protestors engaged in the larger Black Lives Matter movement and started protests that led communities across America to remove statues.
Following the action against the statue, the city began talks with the artist's son Tim Joseph, about how to proceed. It was suggested that the bronze be used to create a different statue, especially as his father did not originally intend to create a Christopher Columbus statue.
His father wanted it to be called "Man of All Nations," Tim Joseph wrote, but "after much debate, Adamo insisted the sculpture be named 'Christopher Columbus' because of his Italian heritage and the important role Columbus played in his life."
Sources
Christopher Columbus, Denver Public Art. Accessed June 11th 2020. https://denverpublicart.org/public-arts/christopher-columbus-discoverer-of-america-2/.
Mears, Jennifer. Russell Means - A Peoples Man, The Ledger - Associated Press. April 14th 1993. Accessed June 11th 2020. https://news.google.com/newspapers?nid=1346&dat=19930414&id=gpwsAAAAIBAJ&sjid=4PwDAAAAIBAJ&pg=3430,1831209.
Rinaldi, Ray Mark. Kirkland Museum gives sculptor, painter William Joseph a place in the Colorado canon, The Denver Post. October 24th 2012. Accessed June 11th 2020. https://www.denverpost.com/2012/10/24/kirkland-museum-gives-sculptor-painter-william-joseph-a-place-in-the-colorado-canon/.
Tabachnik, Sam. Statue honoring Christopher Columbus in Denver's Civic Center torn down overnight, The Denver Post. June 26th 2020. Accessed June 26th 2020. https://www.denverpost.com/2020/06/26/columbus-statue-torn-down-denver/.
Image Sources
Public Domain

Public Domain