Thatcher Memorial Fountain
Introduction
Joseph Addison Thatcher was a successful banker in Colorado's early history, and this fountain was dedicated in his honor on September 14, 1918. Thatcher laid the foundation for the Denver National Bank. He was a philanthropist and patron of culture in the state. The fountain is located at the north end of The Esplanade, at the entrance of City Park, and consists of four bronze statues that each symbolically represents a different virtue.
Images
Thatcher Memorial Fountain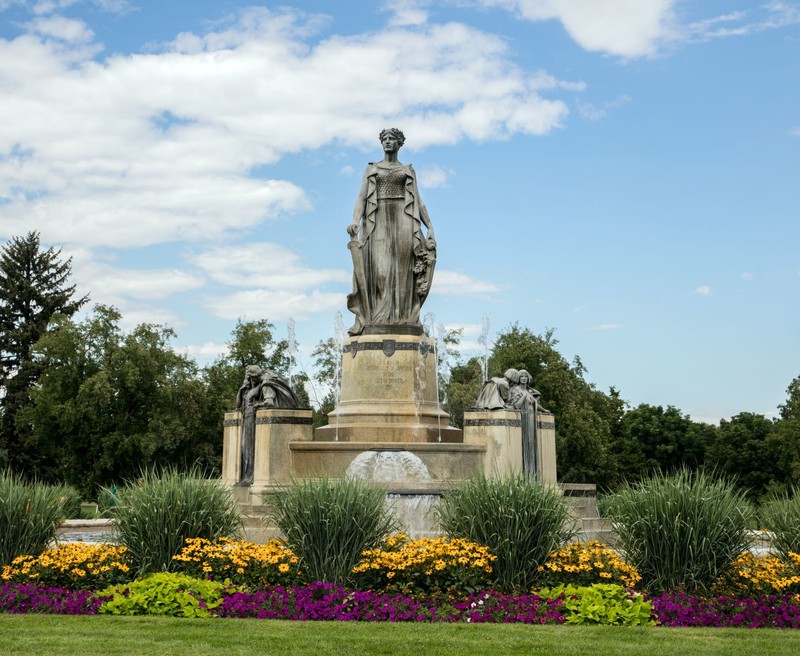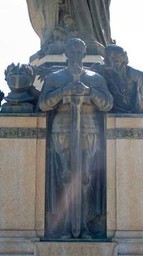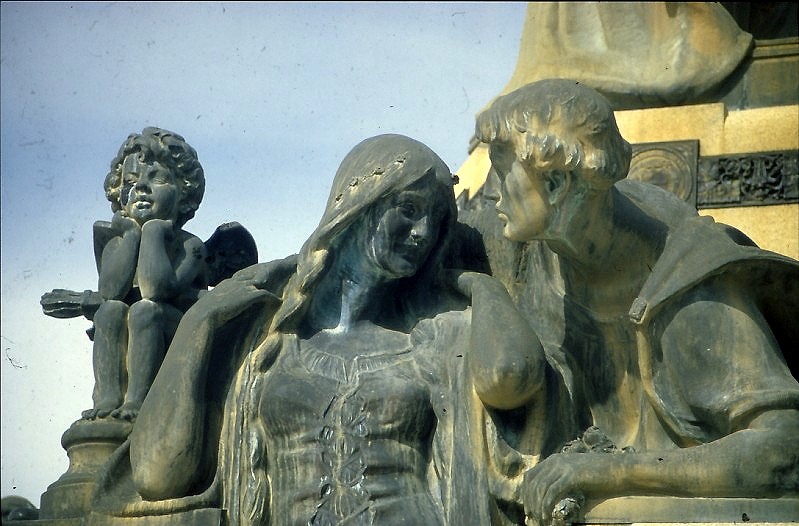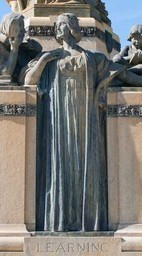 Backstory and Context
The Thatcher Memorial Fountain is also known as "The State of Colorado Fountain" and is located at the opening to City Park. The fountain was dedicated in 1918 as a memorial to Joseph Addison Thatcher, a businessman who was celebrated for his contributions to Colorado in the 19th century. The statue includes symbols of community, and family.
Thatcher was born in Kentucky and moved to Missouri briefly where he was elected assistant secretary of the state senate. When he was 22 years old, Thatcher moved to Colorado where he made a home in Central City and he ran a successful mercantile endeavor. In 1863 he started a banking career as manager of Warren Hussey & Company. Eventually he purchased the bank and renamed it Thatcher, Standley & Company. In 1874 the bank became the First National Bank of Central City. In 1882, Thatcher he moved to Denver where he became president of The Denver National Bank. Thatcher was active in the community. He was a patron to musical organizations and for beautification projects in the city. He also wrote a book called "A Colorado Outing" about places to travel in the state.
This fountain resides at the north end of the Esplanade in City Park. The artist Loredo Taft, of Chicago, sculpted the bronze statues in 1917. It has a central bronze statue of a garbed woman in robes with a sword who stands on a granite base. Additionally are three bronze sculptures circling around the marble basin of the fountain. Each sculpture has a group of figures that represent a virtue inscribed below the vignette.
·     Loyalty - The male wearing armor and female figure on his left with an olive branch. To the right of the male is a helmet with laurels, representing victory in battle.
·     Learning – A robed female is standing and holding a book while a boy leans on it and looks at her. To the left of them is a man with a young girl who is perched on a pile of books.
·     Love – A female figure standing with a male suitor leaning in on her left. The woman is bashful and a small cupid sits on her shoulders.
Sources
Thatcher Memorial Fountain. Accessed June 14th 2020. https://statues.vanderkrogt.net/object.php?webpage=ST&record=usco29.
Thatcher Memorial Fountain, Library of Congress. Accessed June 14th 2020. https://www.loc.gov/item/2015633568/.
Stone, Wilbur Fiske. History of Colorado Excerpt Joseph Addison Thatcher, US Gen Web Archives. August 27th 1999. Accessed June 19th 2020. http://files.usgwarchives.net/co/denver/bios/thatcher.txt.
Image Sources
Public Domain

Public Domain

Public Domain

Public Domain

Additional Information