Lincoln County Board of Education
Introduction
Lincoln County Board of Education, established in the late 1940s, is the hub of activity for the school system. It may seem like a normal board of education but Lincoln County BOE has a unique history.
Images
Lincoln County Board of Education
Lincoln County Board of Education Meeting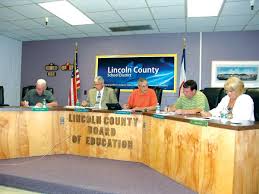 Backstory and Context
The Board of Education came under fire in the late 1990s because of the poor way it was managed. The WV State Board of Education took over control of the county board in 2000 due to mismanagement, causing uproar by the people across the county. The state board of education also wanted to consolidate the counties four high schools in to one school. The citizens of Lincoln County felt that important education decisions were being taken out of their hands. Lincoln County regained control over their Board of Education in 2013.
On the grounds of the Lincoln County Board of Education sits the last remaining one room schoolhouse building from Cuzzy, WV. The building was moved to the site after its closure in 1976. They have used it as a storage building for many years. The board office was also home to Lincoln County Vocation School as well.
Sources
Reynolds, David R. 1999. There Goes the Neighborhood: Rural School Consolidation at the Grass Roots in Early Twentieth-Century Iowa. Iowa: University of Iowa Press. Triplett, Ralph D. and Triplett, Boone. 2013. Images of America: Lincoln County. Charleston, South Carolina: Arcadia Publishing. Lincoln County Board of Education. Lincoln County Schools. http://boe.linc.k12.wv.us (accessed December 11, 2014). Harris, Amy Julia. 2012. 1982 Recht Decision: State still rumbles from aftershocks of reform ruling. Charleston Gazette. http://www.wvgazette.com/News/201205120049 (accessed December 10, 2014). The West Virginia Encyclopedia online, s.v. "Recht Decision," http://www.wvencyclopedia.org/articles/19 (accessed December 10, 2014). West Virginia Research Legislature Auditor. Performance Evaluation and Research Division. 2011. An Examination Of The Effects On Educational Outcomes From High School Consolidation: Lincoln County's Experience. PE 10-21-488. http://www.legis.state.wv.us/joint/perd/perdrep/DOE_1_2011.pdf (accessed December 10, 2014). Brenda Powell (Executive Secretary Lincoln County Board of Education), interview by Heather Edwards, December 5, 2015, transcript.
Additional Information