Rialto Theater
Introduction
As Powell County's only auditorium, the Rialto Theater has been an important cultural and performing arts center for the community since it opened in 1921. Its architecture is also adds to its significance. Designed in the Beaux-Arts, "movie palace" style, the theater features a glazed-brick asymmetrical facade; a two-story pavilion serving as the main entrance that has decorative terra cotta shields and columns topped with Corinthian capitals; oval stained glass windows; terra cotta garlands; and red clay tiles on the roof. Over the years, the theater has hosted numerous plays and concerts as well a variety of events including dances, conferences, movies, and funerals. It remains a vital part of community life in the county.
Images
The Rialto Theater was built in 1921 and has remained an important part of the community ever since.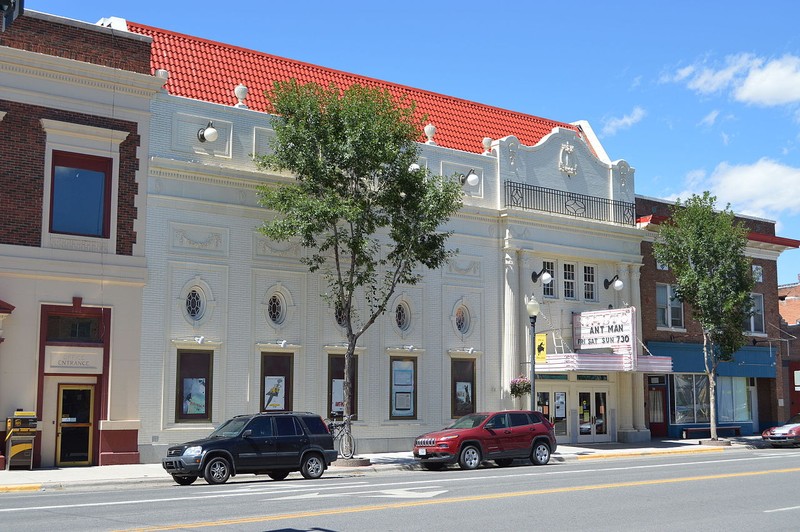 Backstory and Context
The Rialto was originally owned and operated by Danish-born Jens Hansen Sr. It appears he had already owned at least two movie theaters in Deer Lodge. In order to build the Rialto, Hansen partnered with a man named Peter Pauley. The theater was built when films were becoming more popular than traveling vaudeville acts, so it was designed for both. It originally had 720 seats, an organ, and an orchestra pit. In the coming years, Hansen made improvements to the theater, such as installing new equipment. He managed the theater until he passed away in 1959 and his son, Jens Hansen Jr., took over.
The family owned the theater until 1995 when the Rialto Community Theatre, Inc. bought it. Unfortunately, in 2004 a fire destroyed much of the interior but the exterior facade, stage area, and six original 1921 backdrops were saved. It took until 2012 complete the restoration process. The Rialto was added to the National Register of Historic Places in 1998.
Sources
Historical Research Associates. "Rialto Theater." National Park Service - National Register of Historic Places Nomination Form. February 19, 1998. https://npgallery.nps.gov/GetAsset/619839a0-639d-4e75-a643-36de33875700.
"History." The Rialto Community Theater. Accessed June 19, 2020. http://www.deerlodgerialto.com/history.html.
Image Sources
Wikimedia Commons: https://commons.wikimedia.org/wiki/File:Rialto_Theater_Deer_Lodge_1.JPG

Additional Information