Grave of General Albert G. Jenkins
Introduction
This gravesite in Spring Hill Cemetery is the final resting place of former Virginia congressman and Confederate raider Albert G. Jenkins. Today, Jenkins is best known for his actions in the Civil War, which included raids on numerous towns throughout West Virginia and Pennsylvania. Under his command, raiders captured numerous women and children of color around Chambersburg, Pennsylvania in the weeks leading up to the Battle of Gettysburg. Pennsylvania women such as Priscilla Marshall enlisted the help of the Freedman's Bureau in 1866, but she was only able to locate two of her three children who had been captured and sold into slavery by Jenkins' men in the Shenandoah Valley. To this date, it is unknown exactly how many other African American families were victimized by Jenkins and his men. The Confederate raider was killed in 1864 and was originally buried at New Dublin Presbyterian Cemetery. After the Civil War, he was reinterred in Green Bottom, West Virginia, at his family home. Eventually, his remains were moved to the Spring Hill Cemetery in Huntington where they remain today.
Images
Gravesite of General Albert G. Jenkins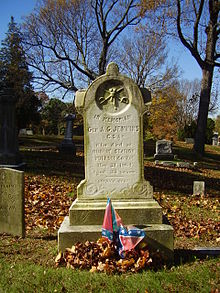 Spring HIll Cemetery where Jenkins' grave is located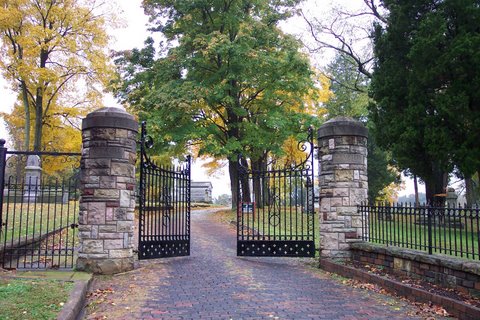 Lawyer, slave owner, Confederate general, and member of both the U.S. and Confederate Congresses, Albert G. Jenkins was one of Cabell County's most prominent citizens. Image obtained from e-WV.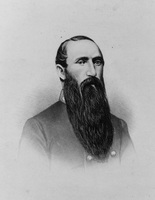 Backstory and Context
Albert Gallatin Jenkins was born on November 10, 1830. His family owned a plantation at Green Bottom in Cabell County, and were the largest slaveholders in the area. He attended school at Marshall Academy (present-day Marshall University) as well as Jefferson College and Harvard Law School. Afterwards he worked as a lawyer in Charleston. He also served in Congress from 1857 to 1861 and was a delegate at the Democratic National Convention.
When the Civil War began Jenkins sided with the Confederacy and organized the Border Rangers. Under his command the Rangers defeated a Union force at the Battle of Scary Creek in July 1861. Later he formed the 8th Virginia Calvary. Jenkins led his Confederate troops throughout the Kanawha Valley known as the Jenkins Raid and aided in the attempt to destroy the B&O Railroad as a supply line for the Union. He would eventually rise to the rank of brigadier general and lead a cavalry battalion at the Battle of Gettysburg. He also served in the Confederate Congress.
Confederate leaders such as Robert E. Lee became frustrated and distrustful of Jenkins in the days leading up to Gettysburg and assigned another officer to look after the raider. Part of the frustration appears to come from Jenkins and his men running from rumored Union patrols as well as delays caused by capturing horses and other forms of property.
These actions even included the capture of hundreds of free people of color with the intent of selling them into slavery in Virginia. A letter of Priscilla Marshall to Freedman's Bureau officials on April 4, 1866 requesting their help in finding her three children who were captured and sold into slavery is only one of dozens of sources that confirm these actions. Local resident Jacob Hoke was another eyewitness to the raids and his book includes several references to the capture of Black women and children by Jenkins and his men. According to Hoke, Jenkins' raiders also knowingly captured local free people of color. The Diary of Rachel Cormany, a resident of Franklin County witnessed Jenkins' actions firsthand and recorded them in her diary. On June 16, 1863, she recorded this passage:
June 16, 1863: Jenkins and his men were "hunting up the contrabands & driving them off by droves. O! How it grated on our hearts to have to sit quietly & look at such brutal deeds--I saw no men among the contrabands--all women & children. Some of the colored people who were raised here were taken along--I sat on the front step as they were driven by just like we would drive cattle. Some laughed & seemed not to care--but nearly all hung their heads. One woman was pleading wonderfully with her driver for her children--but all the sympathy she received from him was a rough "March along"--at which she would quicken her pace again. It is a query what they want with those little babies--whole families were taken. Of course when the mother was taken she would take her children. I suppose the men left thinking the women & children would not be disturbed. I cannot describe all the scenes"
Additional sources included a letter of Jenkins' own men and numerous other eyewitnesses collaborating these events. Numerous newspaper accounts were read by a historian at a public meeting, including the Lancaster Daily Express, June 20, 1863 which claimed that Jenkins and his men "went to the part of the town occupied by the colored population, and kidnapped all they could find, from the child in the cradle up to men and women of fifty years of age." 
General Jenkins was mortally wounded and captured during the Battle of Cloyd's Mountain. A Union surgeon had to operate on him and amputated his arm. Jenkins never recovered and died on May 21, 1864 in Dublin, Virginia. Initially he was interred in Dublin but later moved to the family plantation at Green Bottom. Finally he was moved to the Confederate section at Spring Hill Cemetery in nearby Huntington, West Virginia.
Sources
Dickinson, Jack L.. Albert Gallatin Jenkins. e-WV. December 07, 2015. Accessed April 01, 2017. https://www.wvencyclopedia.org/articles/1005.
Green, Hillary, "The Persistence of Memory: African Americans and Transitional Justice Efforts in Pennsylvania," in Paul Quigley and James Hardon, eds. Reconciliation After Civil Wars: A Global Perspective, New York: Routledge, 123-149.
Jacob Hoke, The Great Invasion of 1863; General Lee in Pennsylvania. Dayton, Ohio: W.J. Shuey, 1887. 
James C. Mohr (ed.), The Cormany Diaries: A Northern Family in the Civil War (Pittsburgh: 1982), pp. 329–30.
Letter of Isaac Reynolds, August 9, 1863. http://russellvets.org/letters/reynolds12.html
Lancaster Daily Express, June 20, 1863 
Wallace, George Selden. Cabell County Annals and Families. Richmond, VA. Garrett & Massie, Publishers, 1935.
Johnson, Flora Smith. The Civil War Record of Albert Gallatin Jenkins, C. S. A.. WV Division of Culture and History. July 01, 1947. Accessed May 03, 2017. http://www.wvculture.org/history/journal_wvh/wvh8-1.html.
Letter of Priscilla Marshall to Orlando Brown, April 4, 1866, Records of the Assistant Commissioner for the State of Virginia, Bureau of Refugees, Freedmen and Abandoned Lands, 1865-1869, National Archives and Records Administration, Record Group 105, M1048, roll 17. Creation of machine-readable version.
In 1993, Ed Ayers led a team of scholars at the University of Virginia in the creation of the Valley of the Shadow Project. This pioneering work made thousands of records relating to the Civil War in Franklin County available online. This database includes a dozen sources confirming the nature and scope of Jenkins' raid http://valley.lib.virginia.edu 
Additional Information