Atlas Block Building
Introduction
Listed on the National Register of Historic Places, the Atlas Block building has been an important landmark in Columbus since its construction in 1915-1916. It is historically significant for its architecture and impact on the commercial and entertainment history of the town. In terms of architecture, Atlas Block is a well-preserved example of an early Western commercial building. Constructed with local sandstone sourced from a quarry just north of town, it features decorative stonework, recessed entries, and display windows. The building is home to a popular establishment called the New Atlas Bar, which opened when the building was constructed (the original name was simply the Atlas Bar).
Images
The Atlas Block Building was constructed in 1916 and remained a fixture in Columbus ever since.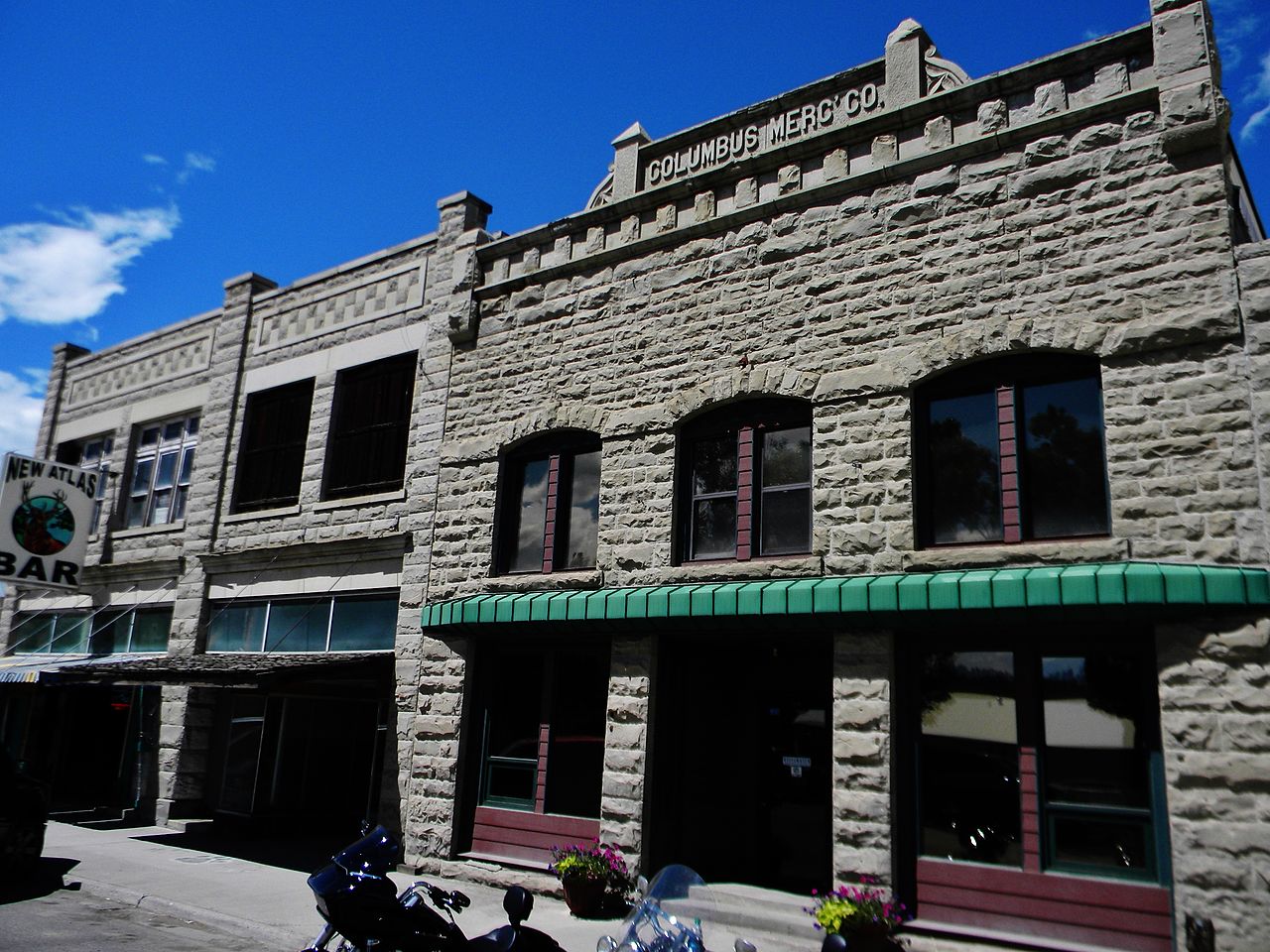 Backstory and Context
By the time the Atlas Block Building was erected, Columbus had become an established community. It was founded around 1890 by, it appears, by the Northern Pacific Railroad and originally named Stillwater. The presence of the railroad made Columbus an important economic hub, attracting business and residents to the town. Columbus eventually became the county seat in 1913.
This was the context in which the Atlas Block Building was constructed. Its builders were local stone mason (and future mayor from 1915-1916), Michael Jacobs, and saloon owner Thomas Mulvihill, both of whom were prominent figures in the community at the time. A store called Annin and Banks Dry Goods (after the owners James Annin and L. B. Banks) opened alongside the Atlas Bar in 1916. Other dry goods stores would occupy this side of the building in the coming decades. The space above it was later used as a doctor's office and apartments. From the very beginning, the Atlas Bar has always displayed taxidermy animals (more 70 are original) and been a place for patrons to play pool, get food and alcoholic beverages, and socialize. It originally sold cigars as well and but no longer appears to do so. The bar featured a dance floor, women's sitting room, and a bowling alley as well.
Sources
Axline, Jon & Brownwell, Joan L. "Atlas Block." National Park Service - National Register of Historic Places Nomination Form. August 24, 2011. https://s3.amazonaws.com/NARAprodstorage/lz/electronic-records/rg-079/NPS_MT/11000588.pdf.
Weiser, Kathy. "New Atlas Saloon in Columbus, Montana." Legends of America. Last Updated June 2018. https://www.legendsofamerica.com/mt-newatlas.
Image Sources
Jon Roanhaus, via Wikimedia Commons: https://commons.wikimedia.org/wiki/File:Atlas_Block_NRHP_11000588_Stillwater_County,_MT.jpg

Additional Information