Trapper's Cabin
Introduction
This simple structure was moved to the Frisco Historic Park & Museum in 1993 from the alley between Fifth and Sixth Avenue on Main Street. The cabin was restored and staged to resemble a trapper's cabin from the 1800s. While this structure was built circa 1942, the logs were pulled from Curtin, a mining town in the Tenmile Canyon. It was common practice in rural areas to construct new buildings with logs from abandoned businesses, houses, mines, and towns. These logs are believed to date back to the 1880s at the start of a major mining rush into the Tenmile Canyon.
Images
This undated photo depicts the Trapper's Cabin prior to its move to the Frisco Historic Park. You can see Mount Royal in the background and the large drifts of snow in front of the structure.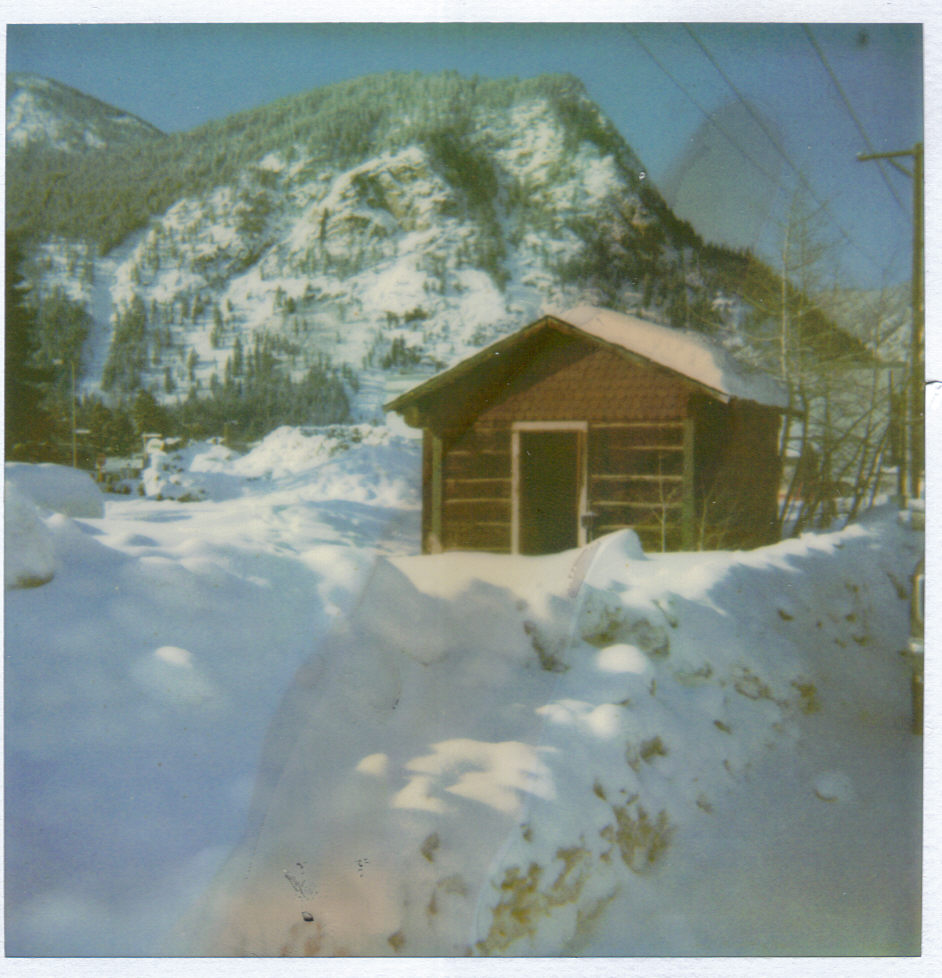 A modern day view of the Trapper's Cabin.Every few years the buildings are coated with brown sealant on the bottom two or three logs.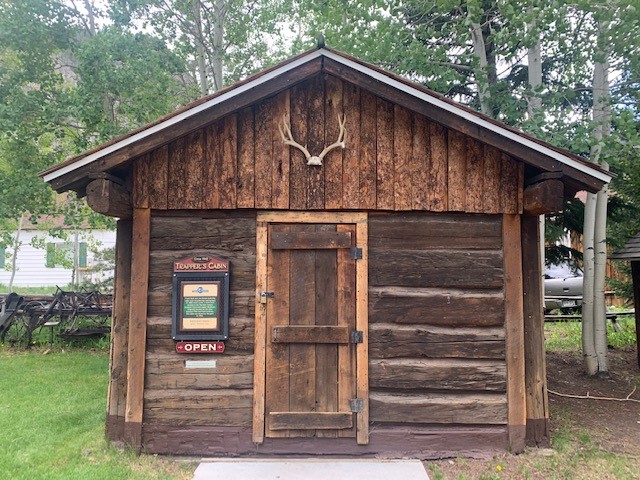 The Trapper's Cabin at its original location in the alley between Fifth and Sixth Avenues on the north side of Main Street.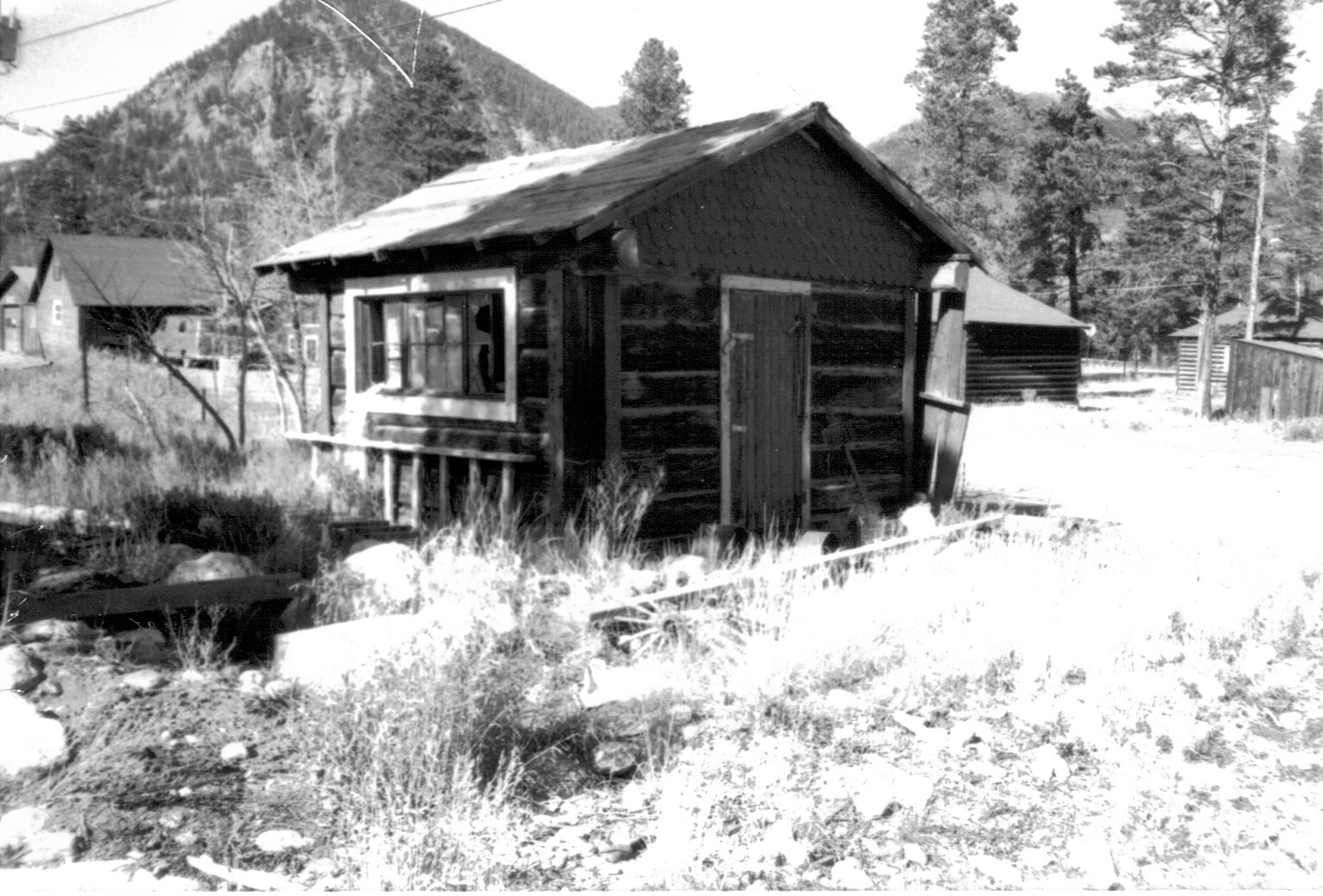 The ribbon-cutting ceremony for the Trapper's Cabin at the Frisco Historic Park & Museum. Circa 1993.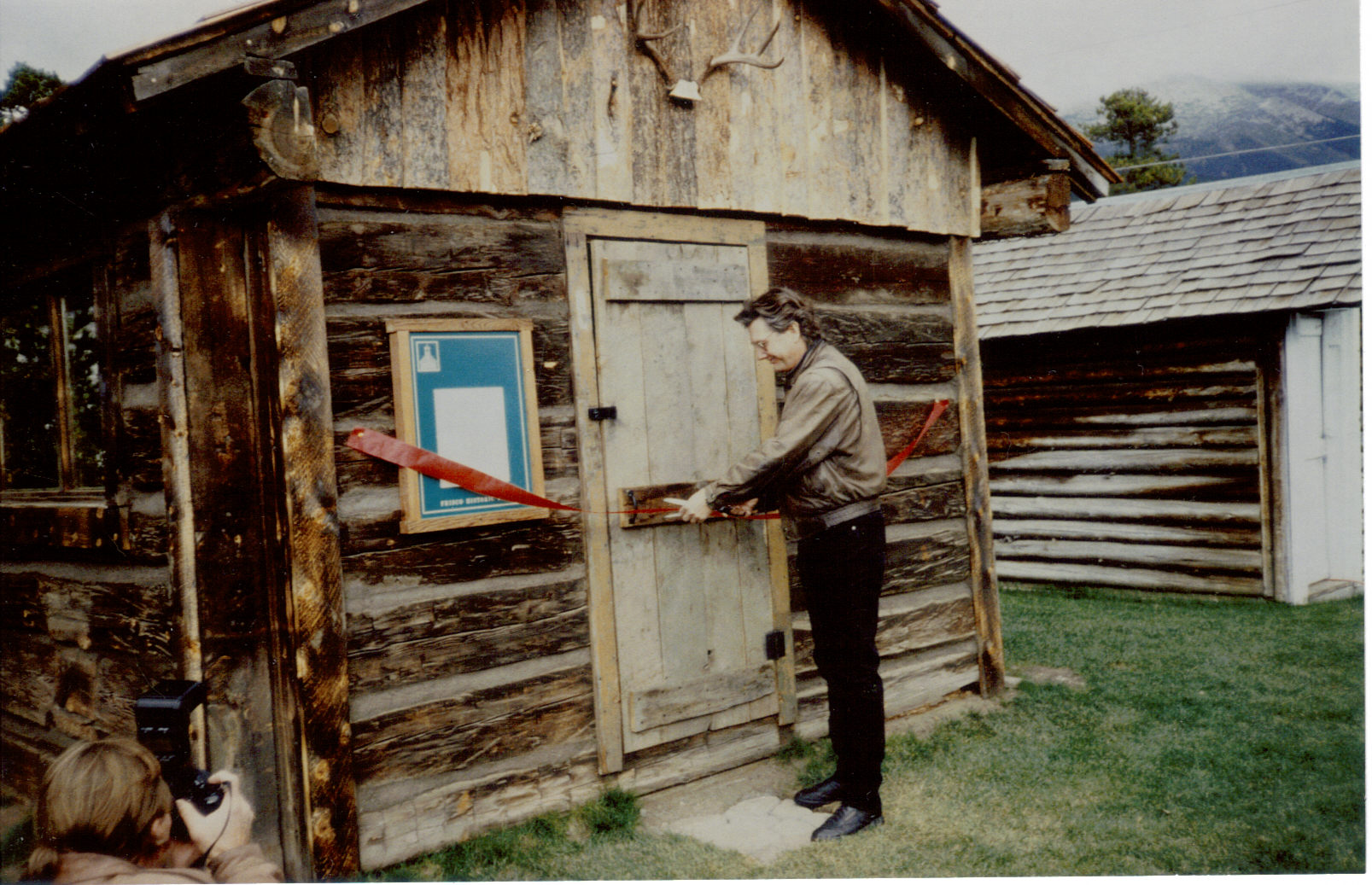 Backstory and Context
Euro-American trappers and mountain men are closely associated with the over-trapping of the beaver and its near extinction. Through their work with trapping companies or as free-lance individuals, these men also hunted elk, bison, mountain sheep, beaver, and grouse in the area of modern Summit County. At the height of the beaver trade, a heavy pelt in excellent condition could fetch around six dollars at four dollars a pound. The best beaver pelts were found in winter when the beaver's fur was thickest.
Trappers skills and knowledge of the Rocky Mountain High Country were taken from the Ute Peoples who hunted, fished, and lived in the Blue River Valley for thousands of years. A few trappers sought out the knowledge and experience of local Native peoples and their trade networks while others sought to dominate and push their way into the best trapping spaces. The most well-known Euro-American trappers, like Jim Bridger, were often bilingual, speaking both European and Native languages. They married into Native families, and yet frequently acted as Army scouts and participated in the forced removal and genocide of Native peoples.
The Ute Peoples have a longstanding history in the area through the ancient Uto-Aztecs and their development into the one people, twelve bands, and the existing structure of three tribes. They have a strong oral history that tells thousands of years of tribal history in a territory encompassing Utah, Arizona, Colorado, Wyoming, and parts of Nevada and New Mexico with an extensive trade network that moved goods across the continent. Large trading events, like the Rocky Mountain Rendezvous, began after 1821 with Mexican independence from Spain. Native peoples, Mexican trappers, and Euro-American trappers came to these events ready to trade. Free-lance trappers depended on their skills at trapping and bartering to make a profit and purchase supplies for another season. Trappers that worked for a trapping company were outfitted with supplies, horses, and food as part of their salary.
In Colorado, approximately twenty-four of trading forts were constructed in the first half of the nineteenth century. Many of them were established during the height of beaver fur trade in the 1820's and 1830's, with few of them lasting longer than five years. Other trapping companies chose to launch expeditions from larger Euro-American towns across the Great Plains from places like Missouri. The end of the beaver fur trade came as the beaver population edged on collapse in the late 1830's. The fashion industry turned its attention to silk from China and the luxurious bison robes obtained through trade with the Plains Indians. Many trappers turned into Army scouts or caravan guides as Euro-Americans continued to encroach into Native territories.
Sources
Hafen, LeRoy R. Colorado Mountain Men. Colorado Magazine. January 1st 1953. 15 - 28.
Mountain Men, Blackhawk Museum. Accessed June 30th 2020. https://Blackhawkmuseum.org/mountainmen
Mountain Man Artifacts, History Colorado. Accessed June 30th 2020. https://www.historycolorado.org/mountain-man-artifacts.
Grand County History Stories- Mountain Men/Trappers, Grand County Historical Association. Accessed June 30th 2020.
Andrews, Evan. 6 Legendary Mountain Men of the American Frontier, HISTORY. August 31st 2018. Accessed June 30th 2020. https://www.history.com/news/6-legendary-mountain-men-of-the-american-frontier.
Emmons, Bob. Mountain Men, Pikes Peak Historical Society. Accessed June 30th 2020. http://www.pikespeakhsmuseum.org/mountain-men/.
Potter, James M. Ute History and the Ute Mountain Ute Tribe, Colorado Encyclopedia. May 9th 2016. Accessed June 30th 2020. https://coloradoencyclopedia.org/article/ute-history-and-ute-mountain-ute-tribe.
History.com Editors. Jim Bridger Born, HISTORY. July 17th 2019. Accessed June 30th 2020. https://www.history.com/this-day-in-history/jim-bridger-born.
Newton, Cody. The Fur Trade in Colorado, Colorado Encyclopedia. January 5th 2020. Accessed June 30th 2020. https://coloradoencyclopedia.org/article/fur-trade-colorado.
University of Northern Colorado. Doing History, Keeping the Past- Trappers and Traders, Hewit Institute. Accessed June 30th 2020. https://www.unco.edu/hewit/doing-history/trappers-traders/trappers/.
State of Colorado. Ute History Unit, Elementary Primary Source Sets. Accessed June 30th 2020. https://www.cde.state.co.us/cosocialstudies/pssets.
Image Sources
Frisco Historic Park & Museum Collection

Frisco Historic Park & Museum Collection

Frisco Historic Park & Museum Collection

Frisco Historic Park & Museum Collection

Additional Information