Latrobe Memorial Stadium
Introduction
The Latrobe Memorial Stadium is a venue to many sporting events held each year. As the home field of the Greater Latrobe School District, the stadium is almost always in use whether it be for football games or track and field meets. The stadium also sits alongside the Rogers-McFeely Memorial Pool.
Images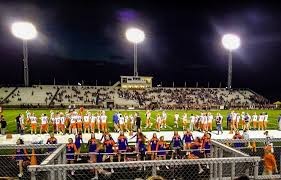 Backstory and Context
On September 28, 1951, the Memorial Stadium was officially dedicated during a game between Latrobe High School and Donora High School. It is one of the products of the Latrobe Football Committee's fundraising efforts in the 40's and 50's. The stadium was built between World War II and the Korean War. It was named a "living memorial for all those who served their country in the time of war.
In an effort to raise money to build the professional football hall of fame and community center, Latrobe hosted an NFL preseason game with the Pittsburgh Steelers facing the Green Bay Packers in 1952. The Steelers defeated Green Bay at a score of 7-6. The front end of the stadium was where the hall of fame was supposed to constructed, however today the Rogers-McFeely Memorial pool sits in that spot.
In 2014 the stadium was named the Arnold Palmer Field House in honor of his $1 million gift to the construction through the Greater Latrobe Partners in Education Foundation.
Sources
Finoli, David. Aikens, Tom. The Birthplace of Professional Football. Southwestern, PA. Arcadia, 2004.
Federoff, Stacey. Palmer Field House Dedicated on Golf Legend's 85th Birthday, TribLive. September 10th 2014. Accessed July 1st 2020. https://archive.triblive.com/local/westmoreland/palmer-field-house-dedicated-on-golf-legends-85th-birthday/.
Image Sources
http://stadiumconnection.com/pa/stadium.php?id=3798

Additional Information