This entry includes a walking tour! Take the tour.
Introduction
Located on a hill, this 29-story skyscraper includes an observation deck that offers some of the very best views in the city. Planning for the building began in 1931 following a special referendum in which Kansas City voters overwhelmingly approved the city's ten year plan for infrastructure and public works development. The building design was heavily influenced by city political boss Tom Pendergast, whose concrete company profited from the city contract, as did other construction firms connected to the Pendergast political machine. This building is not only one of the ten tallest buildings in Kansas City, it is the fourth-tallest city hall in the world.
Images
The city hall construction project employed hundreds of workers between 1931 and its dedication on October 25, 1937.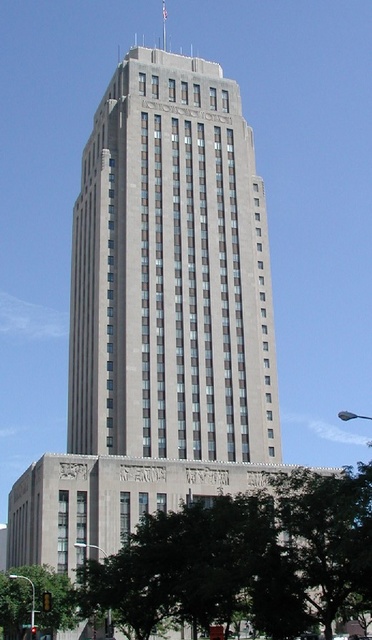 The city offers free tours that include a visit to the observation deck. This is the best view of the city and is available on weekday mornings and afternoons.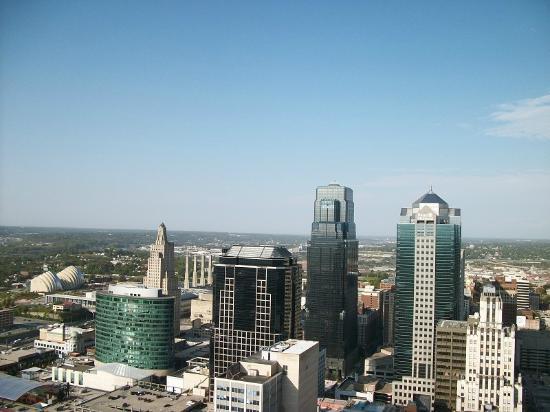 Backstory and Context
City Hall stands as a monument to Kansas City's history in the early 20th century, a history that was dominated by the Pendergast family political machine. In 1880, Irish immigrant James Pendergast moved to Kansas City and used his gambling winnings to open a bar. That bar provided a chance to James Pendergast to make political connections, and those connections led to nine straight terms on the city council. The long-serving city councilman developed considerable influence, but that would pake in comparison to the informal network of power developed by his younger brother, Tom, who became chairman of the Jackson County Democratic Club. During their years of influence, the Pendergast brothers and political friends built a machine that controlled prosecutors and police through bribes, had ties to the mafia, and used the government to benefit their private businesses. The Pendergasts used patronage to reward their friends, and given the way that these funds flowed to neighborhood leaders and residents, many Kansas City residents continued to vote for James Pendergast and other politicians that were part of the Democratic political machine. Meanwhile, middle-class reformers and political rivals worked to expose the Pendergasts for political corruption. 1
Even before the era of prohibition, Kansas City, Missouri flourished as a spot for taverns while neighboring Kansas City, Kansas saw statewide prohibition enacted in the 1880s. During the years when the Pendergasts exercised influence over the city, Kansas City police and civic officials all but ignored the federally imposed Prohibition resulting from the enactment of the 18th Amendment in 1919. Not only did James Pendergast's bars remain open, but Kansas City Missouri earned a reputation as a "wide-open town" as bars and jazz joints operated without fear of prohibition's enforcement. Kansas City's federal prosecutor was on Pendergast's payroll, and reportedly, no one in Kansas City Missouri was ever arrested for violating the Volstead Act, the federal law meant to enforce the 18th Amendment.2
In 1925, Tom Pendergast benefitted from a vote that changed Kansas City's government as it went from 32 city councilors in two chambers to 12 council members in one chamber, led by a city manager. The Pendergast machine easily achieved a voting majority and subsequently appointed a weak city manager and the mayor who followed the wishes of Tom Pendergast in exchange for his support in each election.3
During the Depression when President Roosevelt routinely provided funds to urban centers for city projects, Pendergast was able to gain more power and wealth through a ten-year plan he conceived building civic structures, most of which were were built with concrete supplied by Pendergast's Ready-Mixed Concrete company and other companies that provided kickbacks to Pendergast. One of those buildings was the City Hall tower that stands today.4
Just as this building's tower was near completion, the Pendergast machine was coming to an end. Tom Pendergast pleaded guilty to tax evasion on May 24, 1939, partly due to the Federal Government's actions towards cleaning up local political corruption.
City Hall now offers tours that include a chance to view the city from the observation deck and a statue of Abraham Lincoln reading to his son Tad in the building's south plaza. 
Sources
1 Lawrence H. Larsen and Nancy J. Hulston, Pendergast! (Columbia, Missouri: University of Missouri Press, 1997). 1-10.
2 Ibid., 61-62.
3 Theodore A. Brown, The politics of reform;: Kansas City's municipal government, 1925-1950( Kansas City: Kansas City Community Studies, 1958), 
4 Larsen and Hulston, Pendegrast!, 85-86, 91-99.
Additional Information