The Basque Market
Introduction
Located in the old Grove St. warehouse, the Basque Market was established in 2000 during the development of Boise's Basque Block. Along with the other Basque business located in the area, the Market aims to preserve traditional Basque cuisine and culture in Boise. Through the variety of Basque foods sold at the market and the cooking classes offered, the Basque Market serves to educate the community and provide quality Basque goods.
Images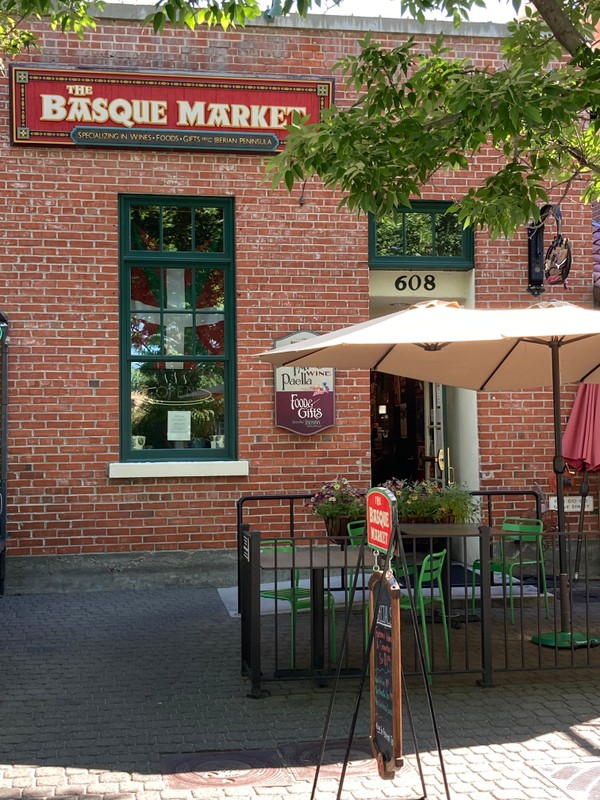 Backstory and Context
In the late 1800s during the development of the city of Boise, Grove street was primarily residential. Among many other early settlers, Cyrus Jacobs, who would later serve as mayor, built one of the first family homes on Grove St. in 1864. As Boise continued to expand, Grove St. became a popular place to establish boarding houses for immigrants entering the United States for work. This development shifted Grove St. into a business district and in the early 1900s, a large warehouse was constructed near several Basque boarding houses established on the block. Since then, Grove St. has been a popular business area in downtown Boise that hosts a variety of different establishments including a number of Basque owned restaurants and organizations on the Basque Block. 
Over time, the Grove St. warehouse has been renovated into a variety of businesses. Currently, it houses the Basque Market and the restaurant Bardenay, which were both established in 2000. Like many other Basque owned establishments on the Basque Block, the Basque Market is dedicated to preserving Basque culture in Boise. Not only does it sell a variety of Basque goods from both local and international vendors, but they also provide catering for large events, host wine tastings, and offer Basque cooking classes to the community. Through these services offered, the Basque Market is dedicated to educating the local community about the history of the Basques in Idaho and their traditional cuisine. 
Sources
Mackey, M. L. (Ed.). Etxea: The Cyrus Jacobs-Uberuaga House. Boise, ID. Basque Museum & Cultural Center, 2010.
Grove Street Warehouse, The Historical Marker Database. Accessed July 14th 2020. https://www.hmdb.org/m.asp?m=119189.
About Us, The Basque Market. Accessed July 14th 2020. https://www.thebasquemarket.com/about-us/.
Image Sources
Provided by Kristina Cockerille

Additional Information