412 N. Milwaukee Avenue
Introduction
The building at 412 North Milwaukee Ave has had an impressive run of being a local drinking establishment for the past 85 years (as of 2020). Located on the east side of Milwaukee Ave, the building is currently part of O'Toole's restaurant. Looking at the Milwaukee Avenue facade of O'Toole's, the left section of the building with the dining patio is part of a 1994 addition, the right-hand section, however, is much older. Built around 1905 the original section was known as the "Hanby Block," having been built as a business prospect by Lewis Hanby. Despite its slender width, it has been occupied by many well known businesses over the years including by Ray Furniture and Paint before 1923. In 1933 it was known as Park View Tavern and has remained as a restaurant and bar ever since. Beginning in the 1970s it was home to Flagg's tavern, and in 1993 it became Mickey Finn's Brewery. The current O'Toole's opened in 2015.
Images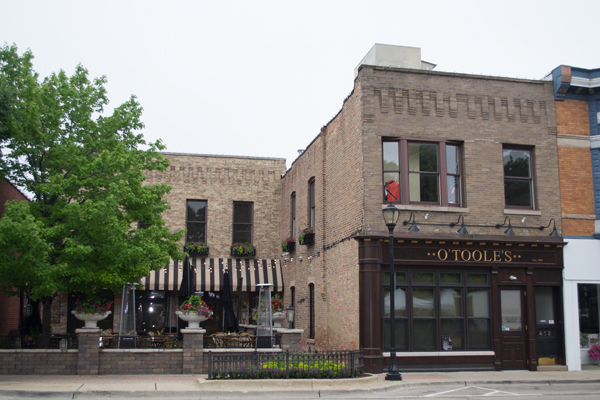 400 block of Milwaukee Avenue, before 1907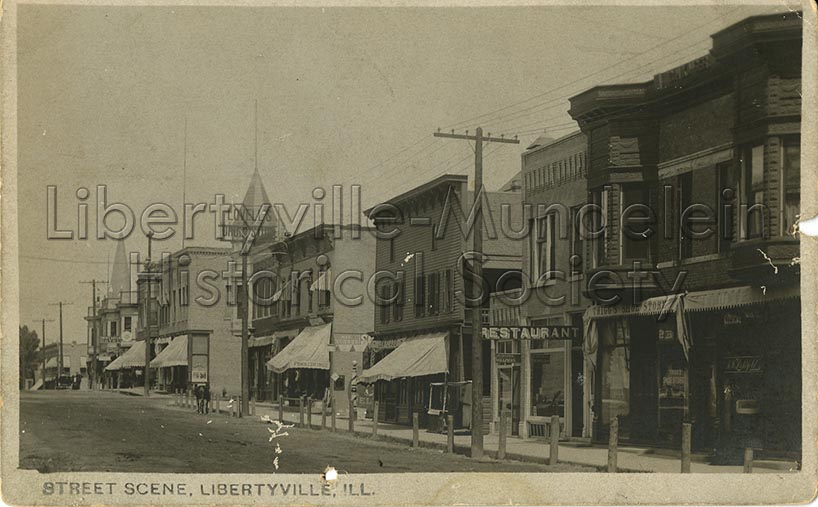 Close up of Hanby Building, before 1907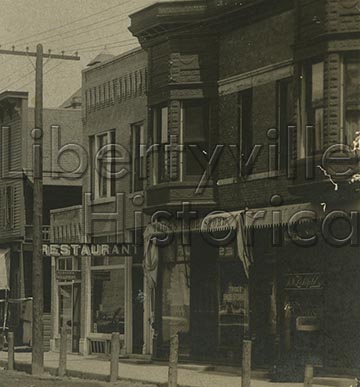 Hanby and Kaiser Buildings, 1956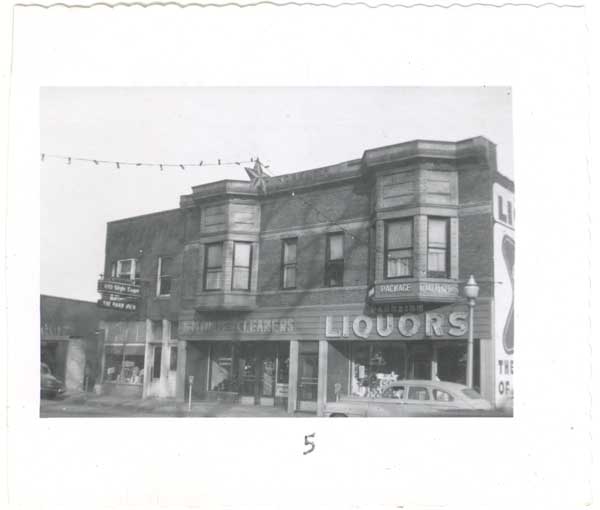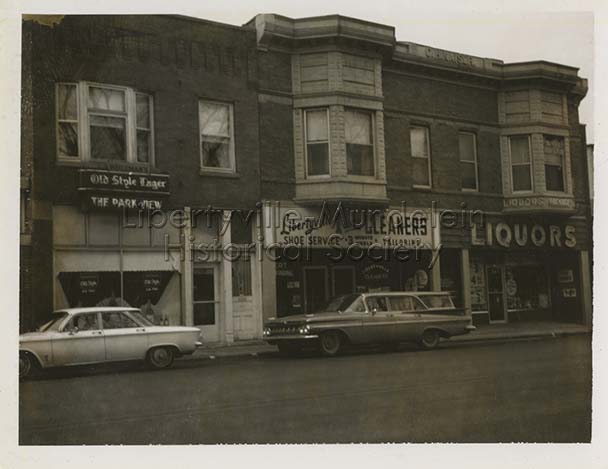 Backstory and Context
Lewis Hanby was born in 1849 in New York. He settled in Libertyville in 1872 becoming a well known figure. He served on the village council with other well known business men: C. H. Kaiser, George A. Wright, J. E. Triggs, E. W. Butterfield, and Frederick Grabbe. He was also director of the Lake County Fair Association and long-time supporter of the fair. He passed away in Libertyville in 1929.
Hanby's building at 412 N. Milwaukee appears to have been first occupied by a restaurant owned by John Crocker. The restaurant was already established in the Kaiser Building next door, and moved into the premises in October 1905. It's unclear how long the restaurant was there, but in early photos a "Restaurant" sign can be seen on the building. Between 1907 and 1914, J. B. Morse operated a men's store here before moving to a storefront further north on Milwaukee Avenue. By 1919 the space was used by Ray Furniture and Paints as an annex, providing extra square footage to their official location (from 1911 to 1923) in the Kaiser Building.
In 1929 the Hanby building was bought up with the majority of the block by a group of investors, or syndicate. Consisting of businessmen from Libertyville and Waukegan the syndicate had plans to redevelop the whole block with theaters, hotels, and restaurants. These ideas never materialized, to the good fortune of the turn-of-the-century buildings like 412 N. Milwaukee that would have been demolished.
Mention of the planned opening of Park View Tavern appears in the Independent Register newspaper in 1933, several months before the repeal of Prohibition. Congress and Illinois loosened regulations early that year permitting the sale of low point beer--3.2% alcohol by weight. So Archie Foss, being quick to act, opened Park View in June. Named for it's view of Cook Park, the tavern served beers made by Anheuser Busch, Schlitz, and Pabst, and conducted fish fries. By 1950 M. E. Sloan was proprietor of the establishment. It continued to be Park View until the 1970s.
Thomas R. Flagg, graduated of Libertyville High School and then worked as a barber in Waukegan before returning to town and operating the tavern from the mid-1970s until 1983. He changed the name to Flagg's, remembered as a favorite spot for locals.
Mickey Finn's opened at 412 North Milwaukee in 1993, and expanded into a brewery and pub in 1994, constructing a large addition wrapping around the north and east sides of the building. Finn's was the first business to brew on the premises and, in fact, was the first brew pub in Lake County. William Sugars and Pat Elmquist were co-owners until selling to Brian Grano in 2004.
Today's occupant, O'Toole's of Libertyville, described as a gastropub on Facebook, continues the restaurant and bar tradition of the building. Humberto Martinez Jr. and Sarah McKinnon who felt the brick building suited the vibe they wanted for the establishment, opened O'Toole's in 2015 after substantial renovations to the building. O'Toole's may have also made history by being the first restaurant requiring valet parking for all guests when the restaurant opened. At the time, Libertyville's Church Street public parking was closed for construction of a parking structure and all spots downtown were in high demand.
Sources
Thomas R. Flagg, Obituary, DailyHerald.com. July 8th 2018. Accessed June 28th 2020. https://www.legacy.com/obituaries/dailyherald/obituary.aspx?n=thomas-r-flagg&pid=189492299&fhid=16260.
Hickey, Laura. Lane, Arlene. Then and Now Libertyville. Charleston, SC. Arcadia Publishing, 2010.
Cook Memorial Library Clippings File, Businesses
"Local Items of Interest to Libertyville Readers." Lake County Independent October 18th 1905.
"Local Syndicate Buys Block in Libertyville Business District." The Libertyville Independent-Register (Libertyville) August 8th 1929.
"To Open Tavern in Hanby Block." Independent-Register (Libertyville) June 15th 1933. .
"Advertisement - Park View Tavern." Independent-Register (Libertyville) July 20th 1933. .
Kambic, Rick. "New Kid on the Block." Libertyville Review (Libertyville) July 30th 2015. , Business sec.18.
Maps, Library of Congress. Accessed June 28th 2020. https://www.loc.gov/maps/?q=Libertyville.
"Local Items of Interest to Libertyville Readers (Crocker Restaurant)." Lake County Independent August 13th 1905. .5.
"The New Store, Ready for Business." Lake County Independent, March 8, 1907, p.4.
"Moving." Lake County Independent, July 10, 1914, p.5.
Image Sources
Village of Libertyville. HistoricLibertyville.com

Libertyville-Mundelein Historical Society

Libertyville-Mundelein Historical Society

Libertyville-Mundelein Historical Society. Cizek Collection.

Libertyville-Mundelein Historical Society. Photo Book 2.

Additional Information