624 N. Milwaukee Avenue - Finstad Eat Shoppe
Introduction
Built in 1926-27, the current building at 624 N. Milwaukee Avenue has been home to several restaurants. It was built on the site of a former Blacksmith shop and tire store dating back before 1897. The Finstad Eat Shoppe, owned and operated by Miss Gyda Finstad, moved into the new building in 1927 and became the first restaurant to do business at this location. The restaurant tradition continues at 624 N. Milwaukee Avenue with current occupant The Green Room which opened in 2013.
Images
The Green Room, circa 2016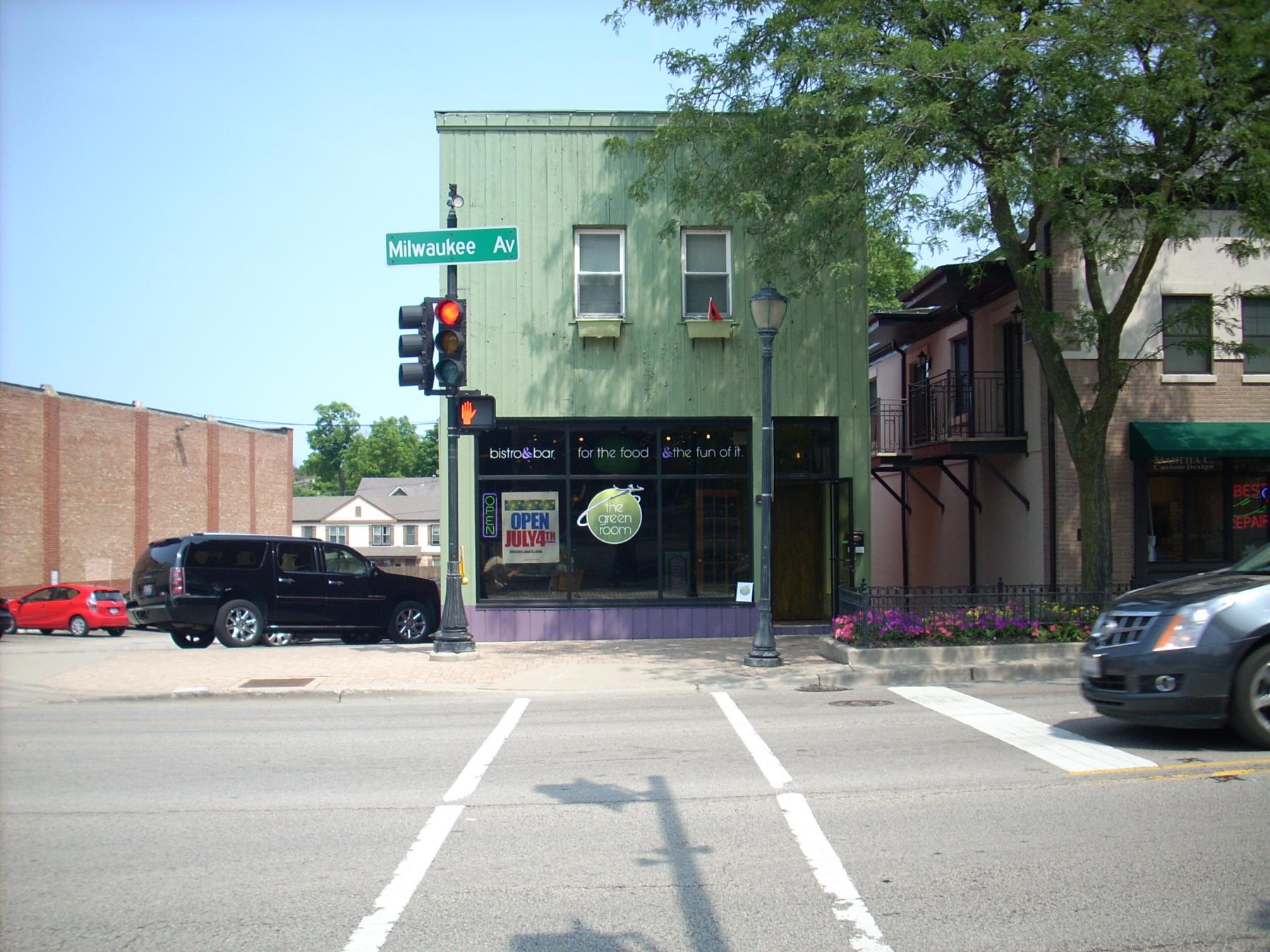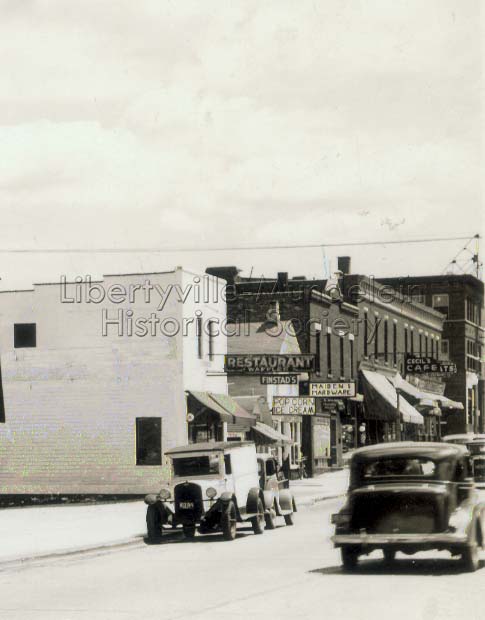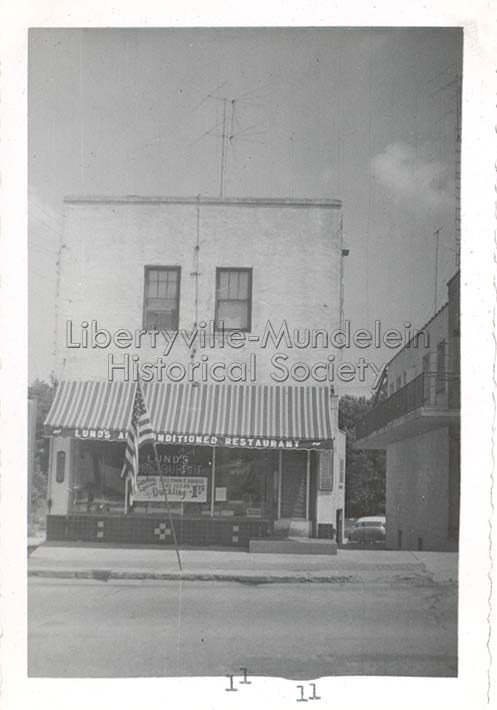 Henry Yee's, circa 1974-1976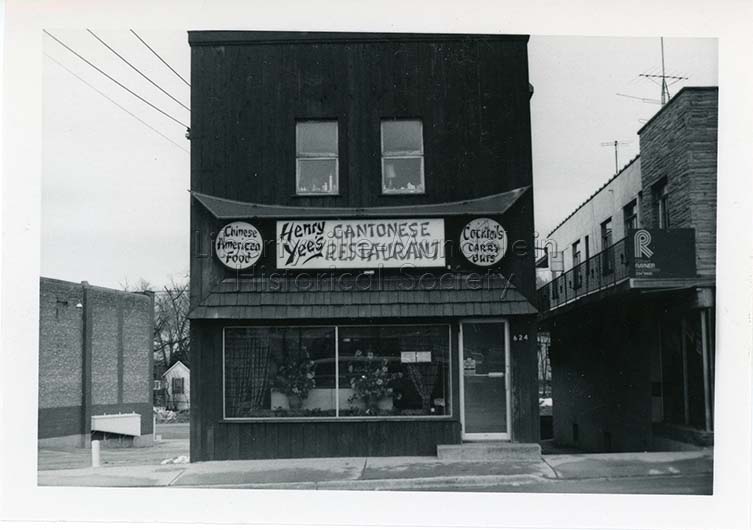 Backstory and Context
Miss Gyda Finstad joined her brother, Libertyville businessman Bert Finstad, in Libertyville in 1923. Bert and Gyda had immigrated from Norway. Bert settled in Libertyville. Gyda first lived in Chicago "where she spent several years in lunch room work." Her Libertyville restaurant business outgrew two Milwaukee Avenue locations before she moved her restaurant to the newly completed one-story building where she opened the Finstad Eat Shoppe in 1927.
The federal and state governments had loosened regulations for the sale of low alcohol content beer shortly before the repeal of Prohibition and The Eat Shoppe was one of the first Libertyville businesses to apply for a Libertyville 3.2% alcohol beer beverage license in 1933.
Miss Finstad operated her restaurant at this location for close to twenty years, with the exception of one year. She sold the business to Albert. W. and Augusta Hagie from Deerfield, IL in 1931. By June of 1932, she had purchased the business back and continued operating her restaurant for several more years. A second story was added to the building in in 1936.
The Hansen Restaurant served up food here for a time in the early 1940s.
The Otterness Restaurant, run by Oscar and Bernice Otterness, offered culinary delights from 1944 until 1956. An ad in the 1949 Libertyville Directory proclaimed "Good Food – Well Served." Oscar and Bernice lived above the restaurant. Bernice continued to run the restaurant for four years after Oscar's 1952 death.
Kitchener and Ivy Lund opened Lund's Colonial Restaurant and Lounge in 1956. Immigrants from Canada, the Lunds moved from Chicago to Lake County. As seen in a 1957 photo of Lund's Restaurant, they offered "home-cook'd" specials such as Long Island duckling for $1.75. They ran the restaurant until they were tragically killed in a car accident in December 1966.
Henry Yee's Restaurant moved to this building from across the street (707 N. Milwaukee Avenue) by 1969. A community staple, Henry Yee's closed in 2012. The Green Room, which was opened by Maria Mandarino and Daniel Temesy in 2013 now occupies the building.
Sources
"Real Estate Transfers." Lake County Independent. April 21, 1916, pg. 2.
 New York, Passenger and Crew Lists (including Castle Garden and Ellis Island), 1820-1957 [database on-line]. Provo, UT, USA: Ancestry.com Operations, Inc., 2010.
"Additional Locals." Libertyville Independent. November 20, 1924, p. 4.
 "Finstad Cafe Sold." Independent Register. March 5, 1931, p. 1.
 "Gyda Finstad takes over Restaurant." Independent Register. June 9, 1932, p. 1.
 "Several Apply for Beverage Licenses," Independent Register. June 8, 1933.
 "Oscar Otterness, Local Restaurant Owner, Dies Tuesday at Age of 52." Independent Register. April 10, 1952, p. 1.
  "Restaurateur, Wife Die in Auto Crash." Independent Register, December 22, 1966, p. 1.
 Gyda Finstad obituary. Independent Register. December 3, 1970, p. 6.
 Zawislak, Mick. 2012. "Libertyville's Dining Boost." Daily Herald, February 25, 2012.
"Bernice Otterness - Saturday, May 21, 1994." n.d. Erickson Crowley Peterson Funeral Home. Accessed July 30, 2020. https://ericksoncrowley.com/book-of-memories/1922179/Otterness-Bernice/obituary.php.
 "Ching Yiu Chung – January 2, 2018 " n.d. Burnett-Dane Funeral Home. Accessed July 31, 2020. https://www.burnettdane.com/obituaries/Ching-YiuChung-33376/#.
"Frank Iverson." U.S. World War II Draft Cards Young Men, 1940-1947. Ancestry.com.
Telephone books. Libertyville-Mundelein Historical Society collection.
"Complete Finstad Building." Libertyville News, July 9, 1936, p.2.
Image Sources
Village of Libertyville. HistoricLibertyville.com

Libertyville-Mundelein Historical Society.

Libertyville-Mundelein Historical Society. Cizek Collection.

Libertyville-Mundelein Historical Society. Libertyville Township Assessor collection.

Additional Information